VISIT TRAVELER'S COMPANY PARTNER SHOPS!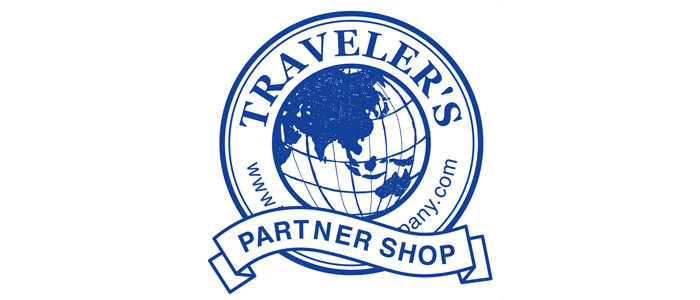 例えば、店主やスタッフがユーザーで、トラベラーズノートを愛情とともに扱っているから地元ユーザーにも出会えるかもしれない。さらにトラベラーズファクトリー限定アイテムや、その土地の名所や名物をモチーフにデザインしたオリジナルスタンプやリフィルがある。そんなトラベラーズカンパニー公認のパートナーショップが世界中にあったら、トラベラーズノートとの旅はもっと楽しくなるはず。「トラベラーズカンパニー・パートナーショップ」はそんな想いで企画をしました。
しかし今、新型コロナウィルスの影響で世界は大きく変わってしまいました。
世界には自由に出歩くことが難しい町があるし、国境を越えて旅をすることも簡単ではありません。また通常通り営業できていないお店も多くあります。

リアルに出会い、話をすることで、異なる文化背景を持つ異国の人たちと交流し、共通の喜びを見出していくことこそ旅の醍醐味であり、「パートナーショップ」はそのきっかけとなるような場でありたいと考えています。だけど、しばらくそれは難しいことになりそうです。
この状況がいつまで続くのか。半年なのか1年なのか、それとももっと長く続くのか。私たちには分かりません。
だけど、いつかまた自由に旅をして、人と出会い、話をすることができる時が来ることを私たちは信じています。旅のない人生なんて考えたくもないですよね。

その時「トラベラーズカンパニー・パートナーショップ」が世界のどこかにあるように、今から少しずつ準備をはじめていきたいと思います。
スペインのマドリードに続き、まずはアメリカの2店舗を追加しました。こちらの店舗ではトラベラーズファクトリーのオリジナル商品の一部を扱っていただきます。また、それぞれの近所のおすすめスポットも紹介していただきました。
まだ多くの人にとって、その場所を旅することは難しい状況だと思います。だけど、おすすめスポットを眺めながら、いつかそこを旅することを想像していただけたらと思います。
また旅が自由にできるようになるまで、きっと少年や少女だった頃そうしていたように、世界を旅することを夢想して、トラベラーズノートに向かっていただけたら嬉しいです。
Have a nice trip!
Imagine a store you can go where owners and visitors all use TRAVELER'S notebook. Serving as a hub for users of TRAVELER'S notebook, you can meet other travelers on their journey, and exchange ideas and stories. More than just a hub for travelers, you can also purchase TRAVELER'S FACTORY exclusive items along with original stamps and refills designed with the motifs of local famous sights and specialties.

If we had partner shops officially approved by TRAVELER'S COMPANY around the world, traveling with TRAVELER'S notebooks would be even more fun. So, we were able to launch "TRAVELER'S COMPANY PARTNER SHOP" turning those exact thoughts into reality.

However, the world has now dramatically changed due to COVID-19 pandemic.
There are now many places where people are even unable to go outside freely and travelling overseas is not as easy as it used to be. Besides that, many of the shops are not able to open like they used to before.

Discovering the shared joy by socializing with foreigners from different cultural backgrounds and speaking to them in person is the real pleasure of travelling and we would like our "PARTNER SHOP" to be the place where those interactions can be experienced.
However, it would probably be a bit hard to make this happen for the time being. How long the current situation would continue, half year, one year or even longer, we really do not know how long that would be.
Having said that, we do believe that we will one day be able to travel around freely again, meet people and speak in person. We do not even want to imagine living life without travelling.

By then, as TRAVELER'S COMPANY PARTNER SHOP should exist somewhere in the world, we would like to make preparations step by step from now on.
Following Madrid in Spain, we are adding 2 shops in the US. They carry TRAVELER'S FACTORY exclusive items and also respectively introduced their recommendations nearby.
It may be difficult for many of you to travel to those recommended places physically, but that does not stop us from imagining what those places will be like when we can travel there.
Until we are able to travel around freely, it would be pleasing if you could spend time with TRAVELER'S notebooks whilst dreaming of travelling the world, like you probably did when you were younger.
Have a nice trip!

---
※「TRAVELER'S COMPANY」および「トラベラーズノート」は株式会社デザインフィルの登録商標です。 *"TRAVELER'S COMPANY", "TRAVELER'S notebook" and "TRAVELER'S FACTORY" are trademarks of Designphil Inc.