About TRAVELER'S notebook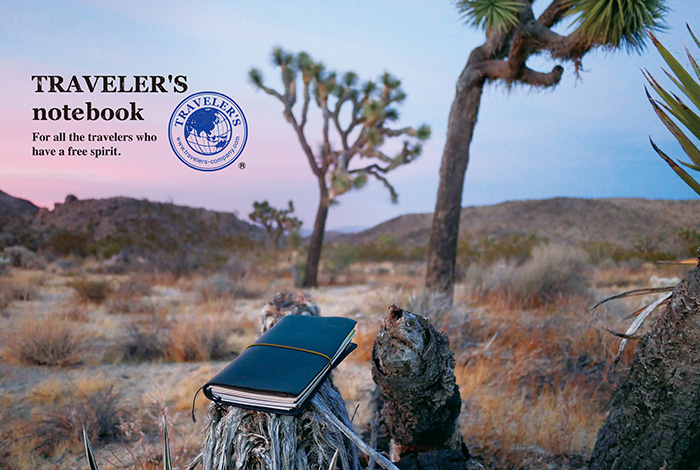 旅を愛するすべての人たちへ
使い込むほどに味と風合いが高まる革素材のカバーと、書きやすさに徹したシンプルなノート。手にとって旅に出たくなる、そんなノートを目指しました。旅の途中、ふと立ち寄ったカフェで、感じたこと、思いついたことを気ままに書き留めてください。また、このノートを携えて歩くことで、日常を旅するような気持ちで過ごしてみてください。毎日見ている景色の中に新しい顔を見つけられるかもしれません。
革製のカバーはタイ北部の都市チェンマイでひとつひとつ手作りで作られています。革を大胆にカットして、ゴムをスズ製のパーツで留めただけのシンプルな作りですが、さり気無い自己主張を感じるカバーです。中のノートは、筆記性を追求して作られたオリジナルの筆記用紙を使用し、日本国内で丁寧に作られています。
たくさんの種類のリフィルやカスタマイズパーツをご用意していますので、永く使ってください。革の風合いが変わり、付いた傷が思い出になる頃、あなたにとってこのノートがかけがえのない宝物になるはずです。
For all the travelers who have a free spirit
TRAVELER'S notebook has a leather cover that ages and becomes better with use, and the simple notebook is easy to use. We hope it tempts you to go traveling having this notebook in your hand. Please write down at random what you feel or what you think in the café you dropped into during your travels. Besides, you may find a new feature every day, going to work, having this notebook in your hand. It may change your life!
Each leather cover is made by hand in Chiang Mai, northern city of Thailand. It appeals to its own raison d'etre by the simplicity; roughly cut leather and a rubber band with the clasp made of tin. The inside notebook is made in Japan carefully and has our original MD Paper made to pursue the highest comfort in writing.
The inside can be changed with refills for this notebook. After using for a long time when the leather quality changes and scratched remain as your memories, this notebook will be more precious than ever to you.
HARMONY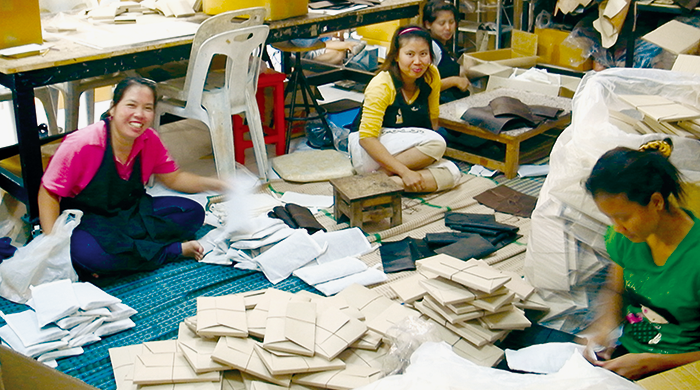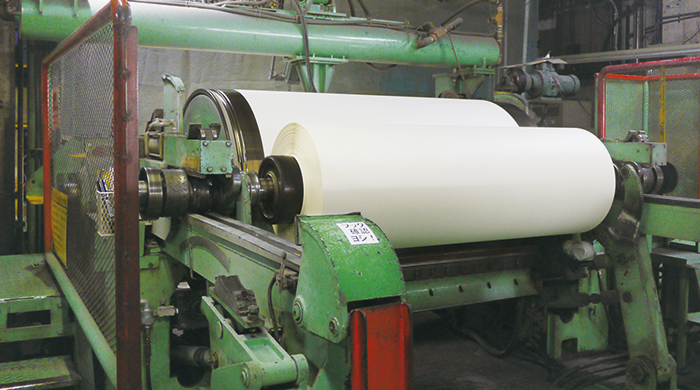 タイのチェンマイで作られた荒削りな風合いが魅力の革カバー。書き味を追求したデザインフィルのオリジナル筆記用紙を使い日本で丁寧に作られたノート。タイの素朴な質感と日本の繊細さのハーモニーで生まれた存在感。手に持ち、書き留めることが喜びになるようなノートです。
TRAVELER'S notebook is all about harmony. The rough cutting leather cover is made in Chiang Mai, Thailand and the refined and delicate notebook is made in Japan where the paper inside is developed by Designphil to make writing enjoyable. Harmony is born from combining those two items. Try holding the notebook in your hand. You'll start to feel the joy from writing down things that come up to your mind.
TRAVEL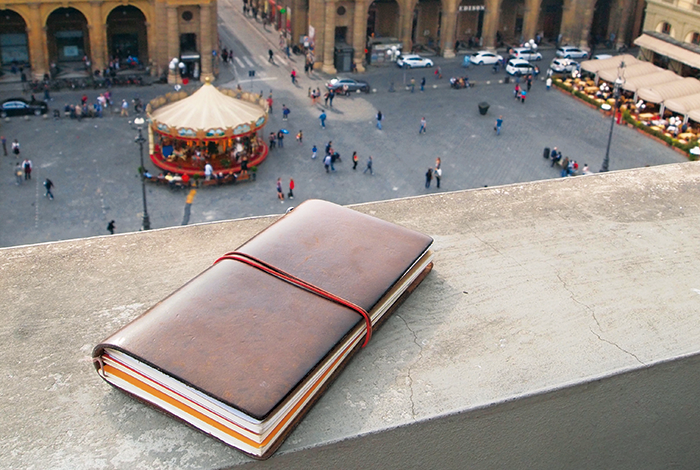 マップやチケットが挟みやすく、手に携えて持ち歩くのにちょうど良いサイズです。このノートを手に、旅に出てみてください。さらに、このノートを携えることで、旅するように毎日を過ごしてください。一箇所に留まらずに、動き続ける精神のことをFree Spiritと言います。このノートがあなたのFree Spiritを呼び覚ますきっかけになってくれれば幸いです。
Notice how easy it is to carry this notebook in your hand. This size makes it easy to slip maps and tickets you collect when traveling. So why stay home? Try going on a journey with this notebook in your hand. Even try carrying this notebook in your daily life as if this is your actual trip. After all, "Free Spirit" comes from this constant action of seeking something, and we hope this notebook can wake the "Free Spirit" that exists inside you.
CUSTOMIZE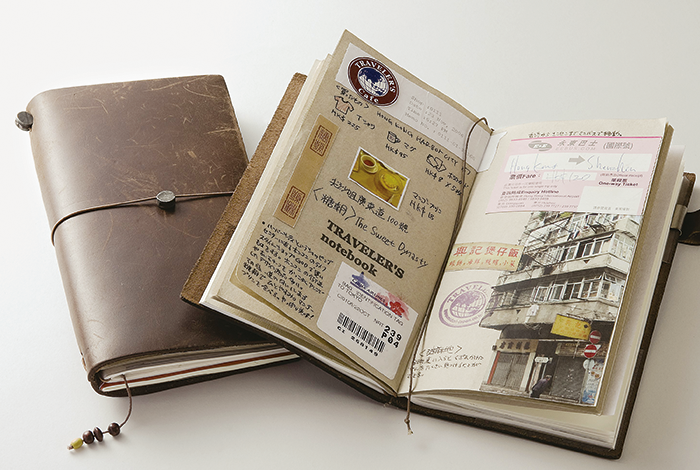 加工方法や機能性を絞り込み、出来る限り無駄を削ぎ落としたシンプルなデザイン。それは同時に、使う人がカスタマイズしやすい形になりました。旅で見つけたチャームをゴムに付けたり、お気に入りのステッカーを表紙に貼ったりして、自分らしくカスタマイズしてください。使い込むほどに深くなる革の色艶とともに、あなたの個性がそこに織り込まれていくことでしょう。
There's a reason for this simple design. We made the design simple so that people can customize it the way they want. You can put a charm you found through the band and or even paste your favorite sticker on the cover of your notebook. Please express yourself through this act of customizing. The more you use this notebook, the more the color and texture of the leather cover becomes profound. Though this change, you should see yourself being reflected on the notebook.
---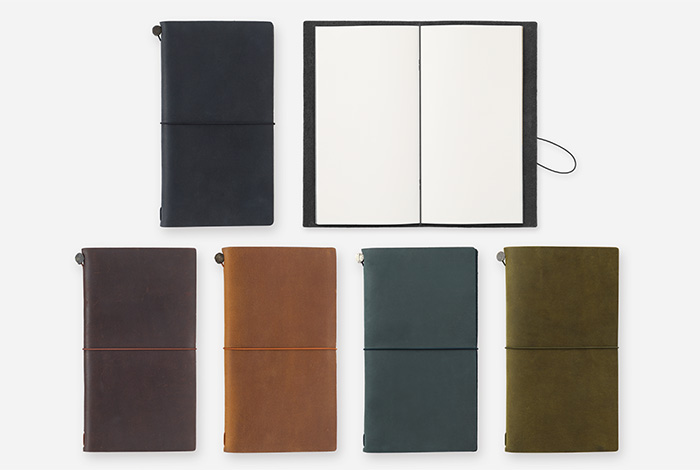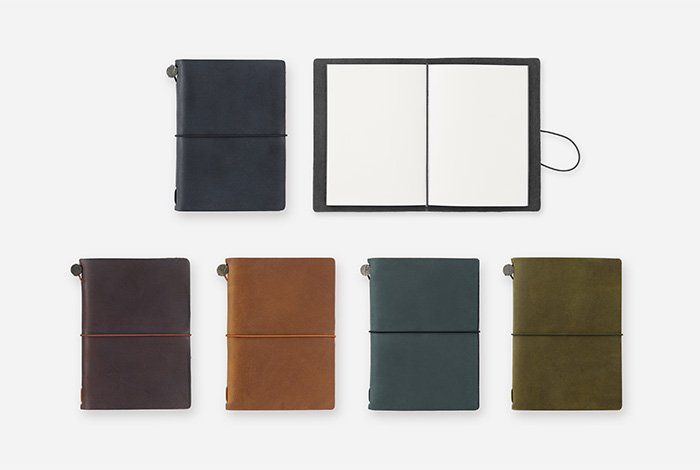 ---
※「TRAVELER'S COMPANY」および「トラベラーズノート」は株式会社デザインフィルの登録商標です。
*"TRAVELER'S COMPANY", "TRAVELER'S notebook" and "TRAVELER'S FACTORY" are trademarks of Designphil Inc.