BACK TO LIST
Good Postage
(North Carolina, USA)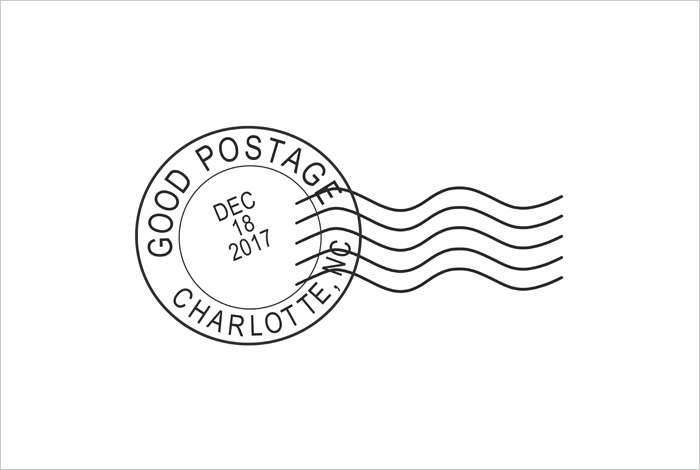 オーナーのジェーンさんに、お店のこと、トラベラーズノートとの出会いについて教えていただきました。
Good Postageは、ノースカロライナ州シャーロットにある紙製品を扱っているお店です。キャンプ・ノース・エンドと呼ばれる75エーカーの広大な工業用地にあって、ここには他にもアーティストや小さなブランドのショップ、ローカルショップなどがたくさん集まっています。私は、お店で販売しているオリジナルの紙製品のイラストを描いています。また、愛用している画材やノート、ペン、鉛筆、その他の文房具をキュレーションもしています。そして、ペットのミニ・オーストラリアン・シェパード、ウィニーと、素晴らしいスタッフのチームが、毎日お店を手伝ってくれています。
私とトラベラーズノートとの出会いのきっかけは、インスタグラムでした。それからというものトラベラーズノートの魅力にはまって、自分の店でも販売を始めて、日々お客さんに紹介しています。
The store owner Jane told us about the store and how she met TRAVELER'S notebook.
Good Postage is a paper goods shop in Charlotte, NC. We are located in a 75-acre industrial site called Camp North End, that is full of other artists, makers, and small businesses. I create all of the illustrations for the paper goods in the shop! As well as curate a selection of art supplies that I love to use, notebooks, pens, pencils, and other stationery accessories. Winnie my mini Australian Shepard helps me run the shop everyday as well as my fabulous team!
I came across TRAVELER'S notebook on Instagram! I became obsessed with them and was so excited to bring them into the shop and share them with my customers!
---
STORE LOCATOR
---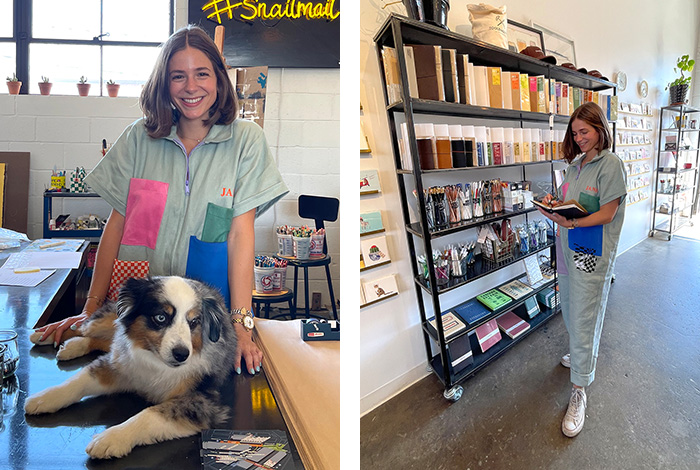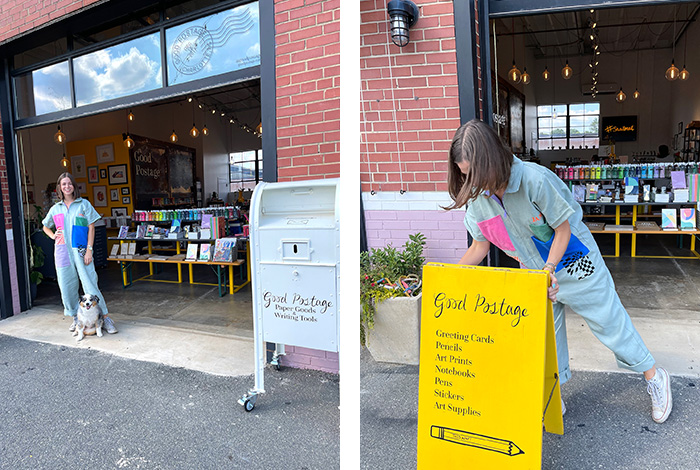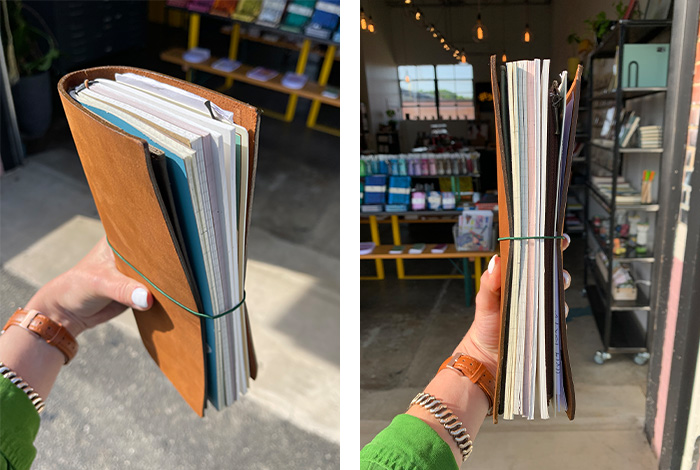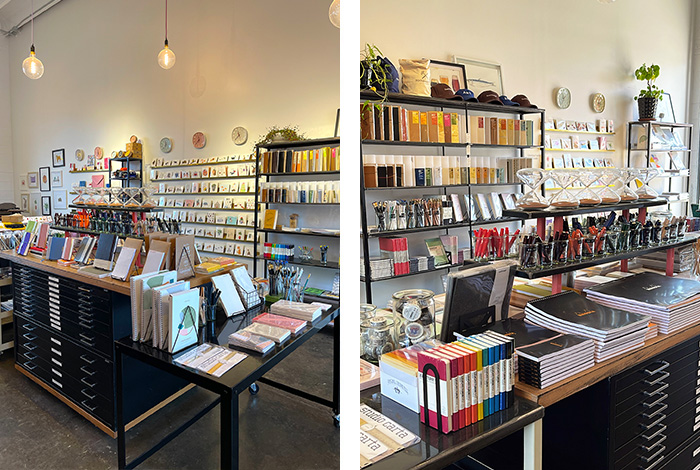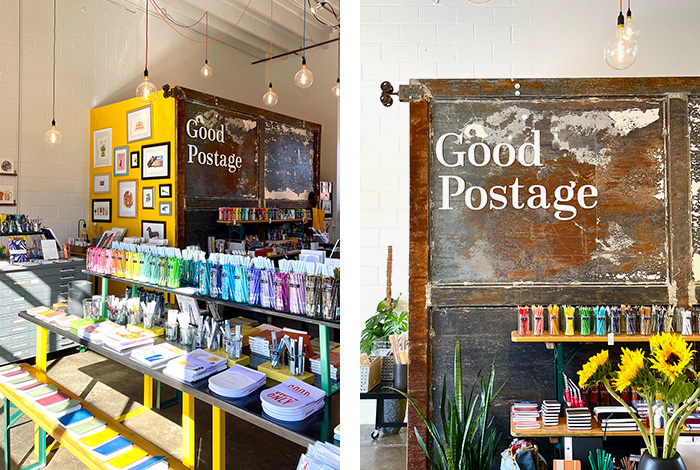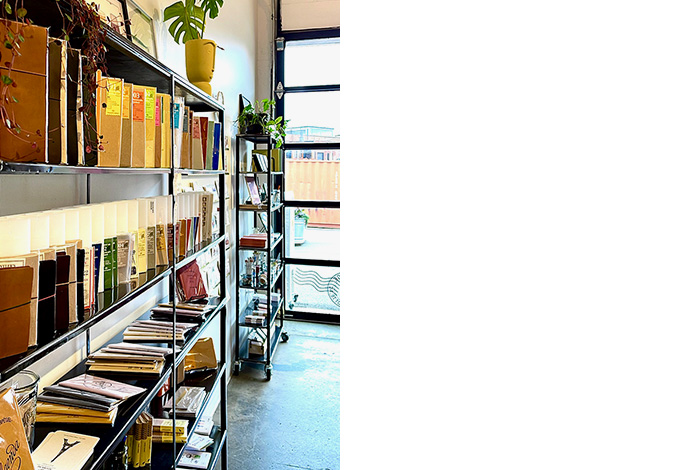 ---
Collect TRC PARTNER SHOPS Original Stamps!
店舗限定のオリジナルスタンプをご用意しています。パートナーショップを訪れた旅の証として、ぜひ皆さんのトラベラーズノートにスタンプを押してみてください。
Original stamps exclusive to our Partner Shops are available. We hope you will stamp your TRAVELER'S notebook as a proof of your trip to our Partner Shops.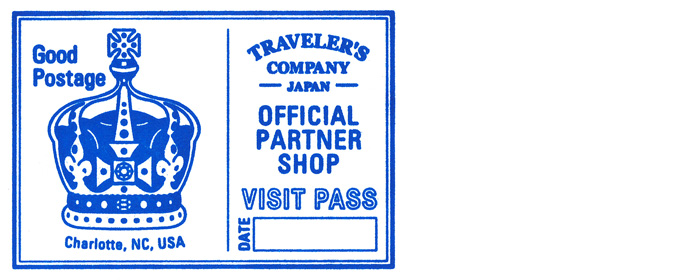 シャーロットは、その地名の由来となったジョージ3世の王妃シャーロットにちなみ、クイーン・シティーとも呼ばれています。そのため、街中に王冠のモチーフが使われています。スタンプには、その王冠をデザインしました。
Charlotte is also known as the Queen City, after Queen Charlotte of George III, from whom it takes its name. For this reason, crown motifs are used throughout the city. The crown is designed on the stamp.
---
Recommended Travel Spot From The Shop Owner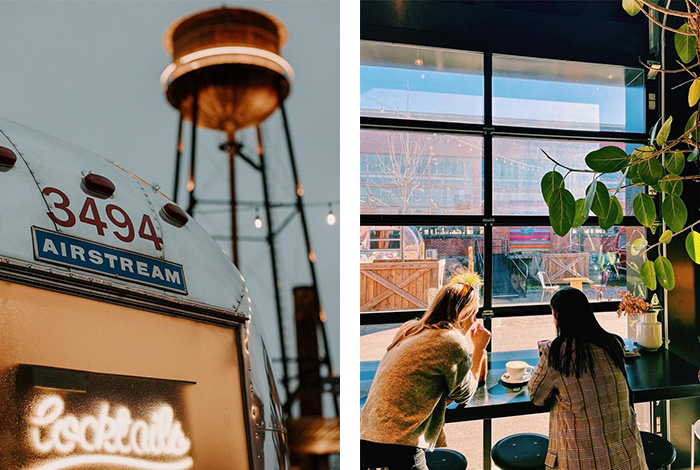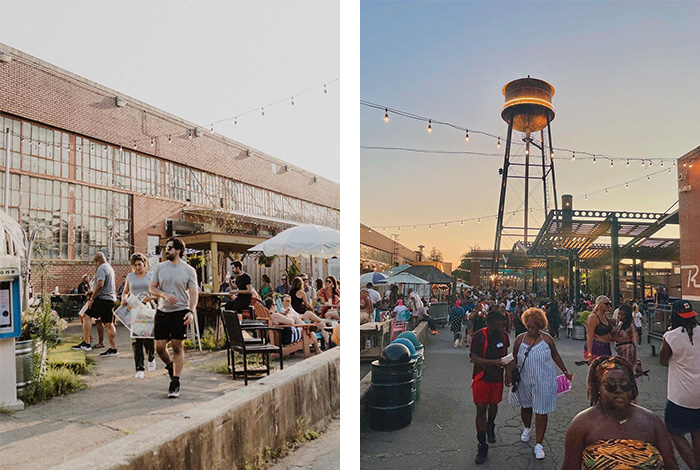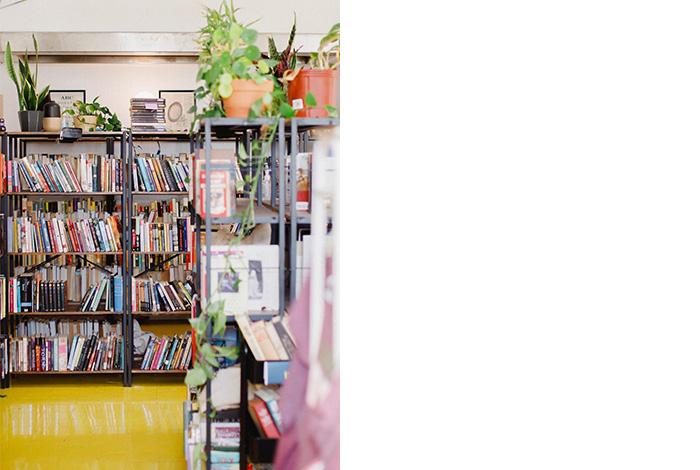 Camp North End(ショッピングエリア)
キャンプ・ノース・エンドは、私たちのショップもあるかつて工業用地だった75エーカーの広大なエリアです。キャンプ・ノース・エンド内には、たくさんのローカルショプやアーティストが集まっています。Hex Coffee Roastersでコーヒーを飲んだら、ショッピングモールLokalまで歩いて行って、ローカルブランドのアイテムを買うことがおすすめです。Lokalの中にある古本店、That's Novel Booksもお見逃しなく。
キャンプ・ノース・エンドには他にもたくさんのおすすめのローカルショップがあるので、名前だけも紹介しておきますね!
Camp North End is the 75-acre industrial site that our shop is located in. Inside Camp North End there are tons of small businesses and artists. I highly recommend getting a coffee at Hex Coffee Roasters then walking over to Lokal and shopping local makers. Don't miss That's Novel Books, a used bookstore inside of Lokal.
Other great small businesses in Camp North End:
-Wentworth and Fenn, a bakery
-Free Range Brewery
-Saru, a ramen bar
-Popbar
---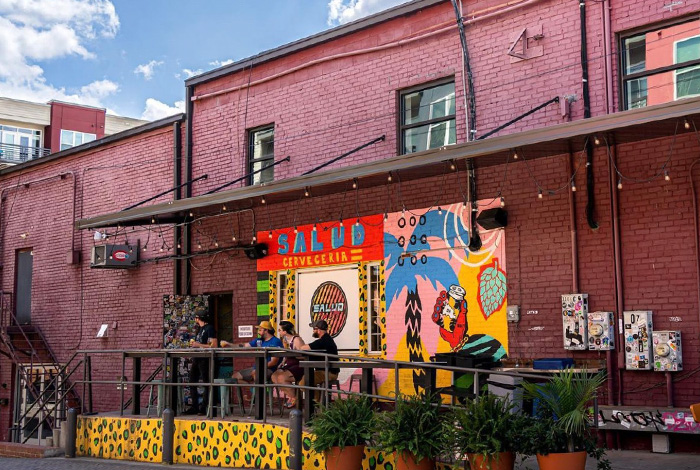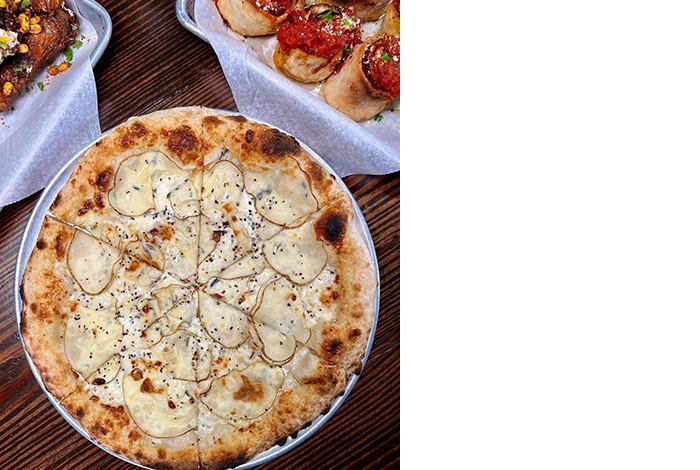 Salud Beer Shop & Cerveceria(ピザ屋さん)
Saludは、シャーロットで私たちが一番好きなピザスポットです。ノダというエリアにあるSaludは、ただのピザ屋さんではありません。1階にはボトルショップがあり、クールでおいしいワインやビールを買うことができ、もちろんピザも食べられます。2階はSalud醸造所で、本当においしいビールを醸造し、朝食には自家製パンのビアリーやピザも提供しています。
Salud is our favorite pizza spot in Charlotte! Located in Noda, Salud is a lot of things all in one. Downstairs is Salud's bottle shop, you can buy and drink funky, delicious bottles of wine and beer from all over, and of course eat pizza. Upstairs is Salud's brewery, where they brew really delicious beer, make homemade Bialys for breakfast, and also serve their pizza.
---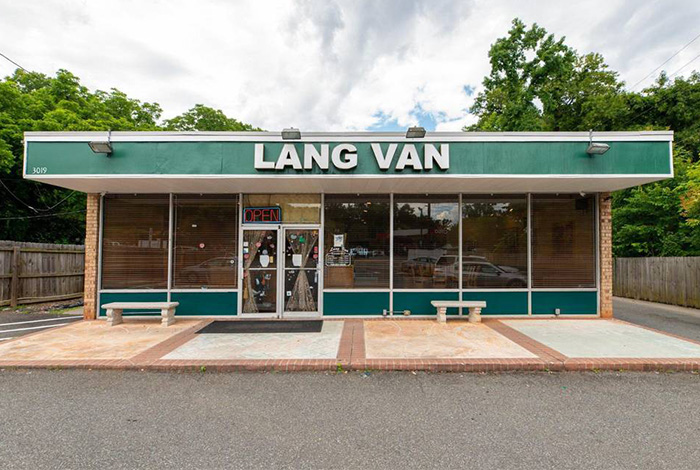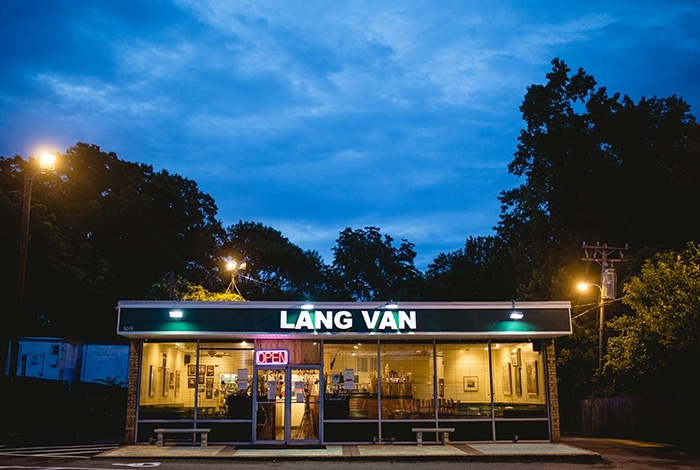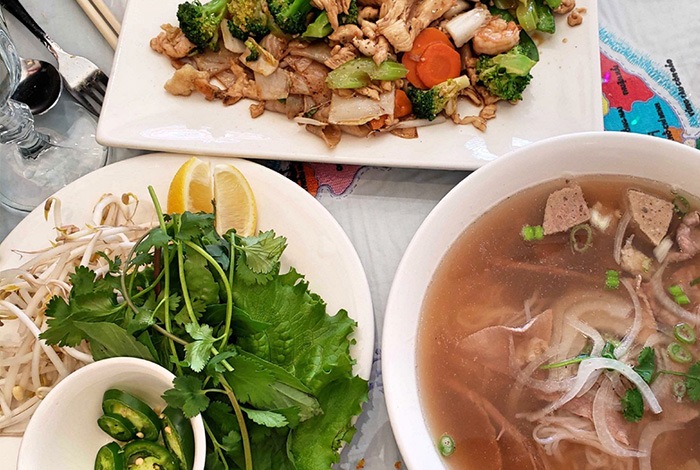 Lang Van(レストラン)
Lang Vanはシャーロットの有名店です。30年前から営業している家族経営のお店で、とても美味しいベトナム料理が食べられます。店員さんもとても親切で、店内で食べてもテイクアウトしても、何週間もこの食事の夢を見ることになるほどおいしいですよ。
Lang Van is a Charlotte staple. Open for 30 years Lang Van is a family owned spot serving the most delicious Vietnamese food. The staff is so sweet and whether you eat in the restaurant or get takeout you will dream of this meal for weeks after!
---
※「TRAVELER'S COMPANY」および「トラベラーズノート」は株式会社デザインフィルの登録商標です。
*"TRAVELER'S COMPANY", "TRAVELER'S notebook" and "TRAVELER'S FACTORY" are trademarks of Designphil Inc.