BACK TO LIST
Penny Post
(Alexandria, USA)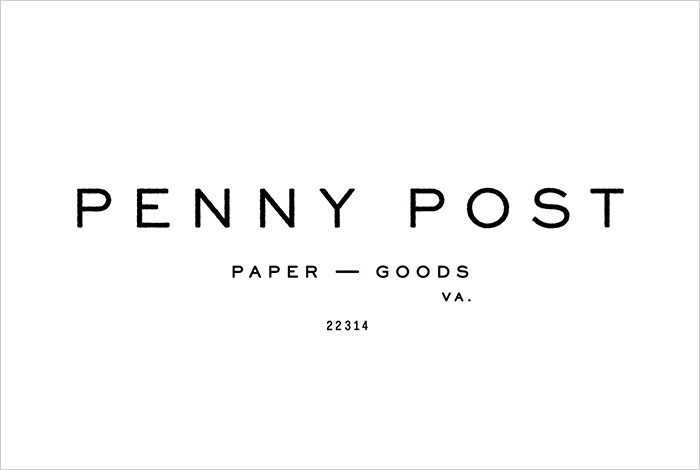 オーナーのエイミーさんがPenny Postについて語ってくれました。
「こんにちは! 私たちPenny Postは、真剣に紙と向き合いたいと考える人たちのためのまじめな紙の専門店としてオープンしました。でも、紙に興味があれば、どんな方でも大歓迎です。私たちの小さな店の中は、手紙を書く人に受け取る人、夢見る人、リストを作る人、メモを取る人など、紙を使って何かをしようとする人が楽しんでもらえるものがいっぱいです。
 私たちが大切していることのひとつは、『つながり』です。お客様と、地域社会と、そして自分自身との『つながり』を意味しています。そんな『つながり』を持つためは、昔ながらの手紙という方法が最も良いと私たちは考えています。手紙を書く文化は、このデジタル時代になってもずっと残り、誇りを持ってその伝統を受け継いでいきたいと考えています」
また、トラベラーズノートについても語ってくれました。
「私たちの店に来るお客様には、最高にセンスが良い人がたくさんいます。2017年にオープンして間もなく、あるお客様がトラベラーズカンパニーのことを教えてくれました。トラベラーズノートを知らなかった私たちはすぐにこのノートについて調べました。そして、この町の人たちに、すぐにでもこの世界を伝えたいと思いました。トラベラーズカンパニーが築いてきたコミュニティと、私たちが大事にしている「つながり」という価値観は完全にシンクロしています。トラベラーズカンパニーの仲間の一員になれることは、これ以上ない喜びだと感じています!」
Hi! We are Penny Post, a serious paper store for serious paper people. Actually, we're for not-so-serious people too. In fact, they are our favorites. With a nod to nostalgia and a special blend of sweet and salty, our little shop on the corner is chock full of treasures meant to delight the letter writer and receiver, the dreamer, the schemer, the list maker, and the note taker. One of our core values is connection. For us that means connecting to each other, to our customers, to the community, and to ourselves. What better way to do that than with the age-old art of letter writing? A constant over time and memoriam, the handwritten letter continues to live on even through the digital age and we are certainly here for it. Pleased and proud to continue the tradition.
We have the best customers with the greatest taste. So, when one of them mentioned Traveler's shortly after we opened in 2017 we had to find out more. After digging deeper we knew we had to bring this amazing system to the folks in Alexandria. One of our values is connection and the community that Traveler's has built is totally in sync with that. We could not be more excited to be a part of the Traveler's community.
---
STORE LOCATOR
---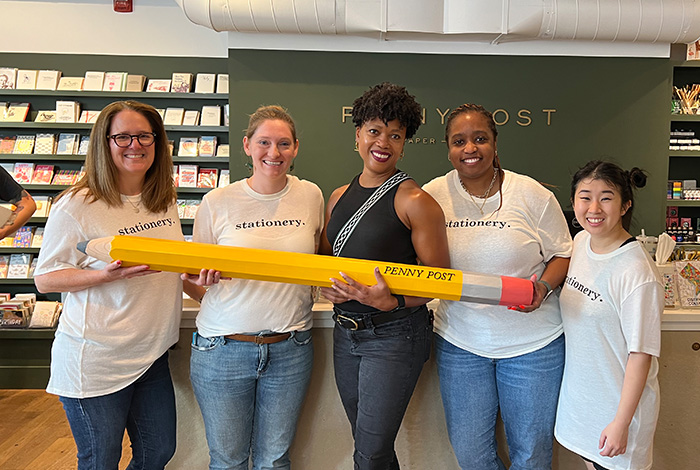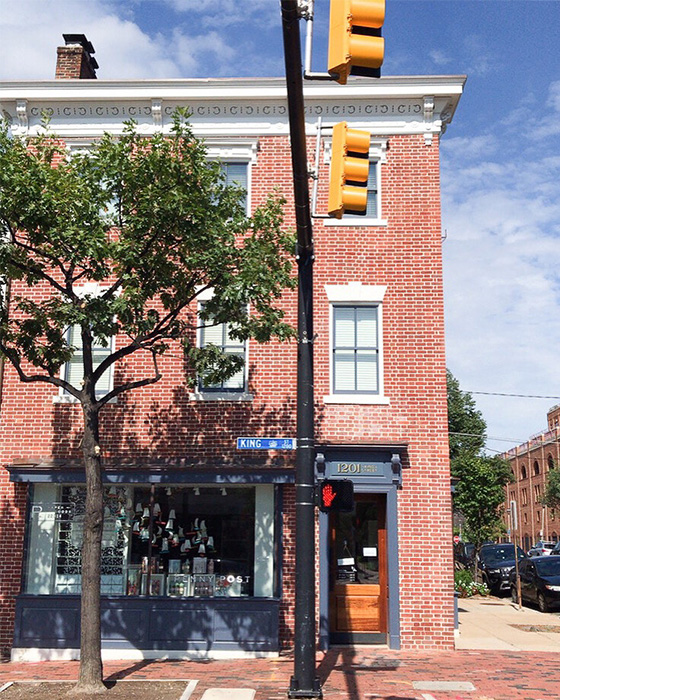 ---
Collect TRC PARTNER SHOPS Original Stamps!
店舗限定のオリジナルスタンプをご用意しています。パートナーショップを訪れた旅の証として、ぜひ皆さんのトラベラーズノートにスタンプを押してみてください。
Original stamps exclusive to our Partner Shops are available. We hope you will stamp your TRAVELER'S notebook as a proof of your trip to our Partner Shops.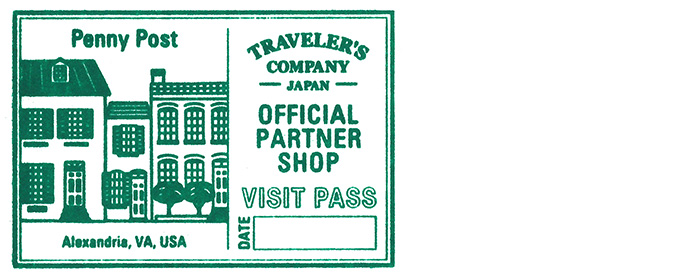 Penny Postがあるアレクサンドリアは、旧市街の歴史ある街並みも魅力のひとつです。スタンプは、1830年に建てられた幅わずか3.5メートルのスパイトハウスをモチーフにデザインしました。
Alexandria, where Penny Post is located, is also home to the historic Old Town district. The stamp was designed based on the Spite House, built in 1830 and only 3.5 meters wide.
---
Recommended Travel Spot From The Shop Owner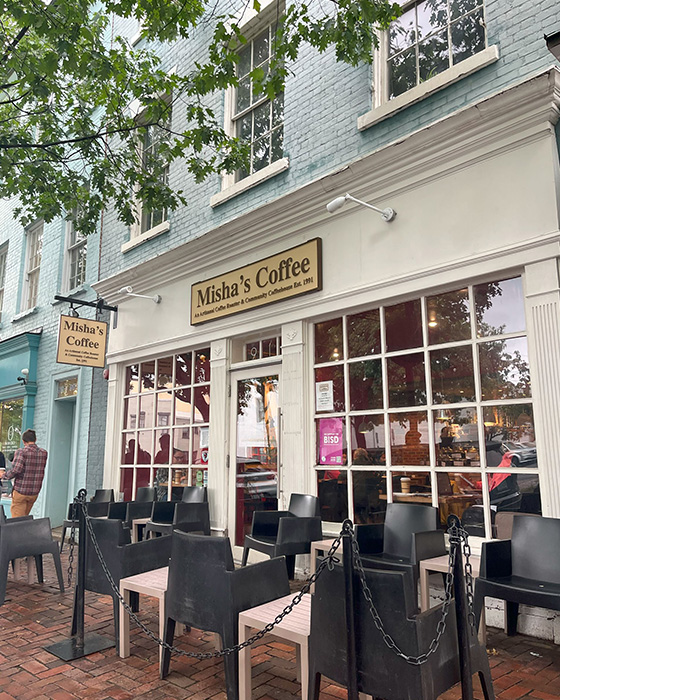 Misha's Coffee House and Roaster(カフェ)
Penny Postのスタッフみんなが大好きで、行きつけのコーヒーショップです。店内で焙煎されているミーシャのコーヒーは、私たちのパワーの源です。最近、ウォーターフロントに2号店をオープンしています。そこでは素敵な屋上からの眺めも楽しめます。
The entire Penny Post team LOVES Misha's and this is our go-to coffee joint. Misha's coffee is roasted on premises and it runs in our team's veins. Misha's has recently opened a second location on the waterfront with a lovely rooftop view.
---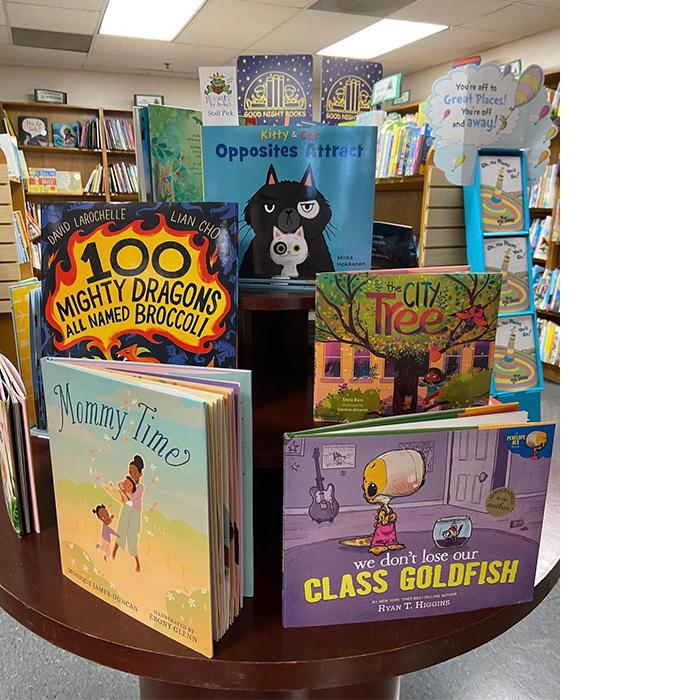 Hooray for Books!(書店)
ここはオールド・タウンの中で私たちが一番好きなお店の一つです。児童書専門店ですが、大人から子どもまで楽しめる本がぎっしり詰まった書店です。子どもはもちろん、ご両親もきっとお気に入りの本が見つかるはずです。アレクサンドリアに住んで一番良かったと思うのは、自分の子供たちが幼い頃、ここに連れていくことができたことです。そのおかげで、子どもたちは今でも本が大好きです。
This is one of our favorite stores in all of Old Town. The most wonderful children's book store chock full of books for all ages. From toddlers to their parents, Hooray for Books can help you find a book you are sure to love. Some of my fondest memories of living in Alexandria are bringing my children here to pick out books that turned them into lifelong readers.
---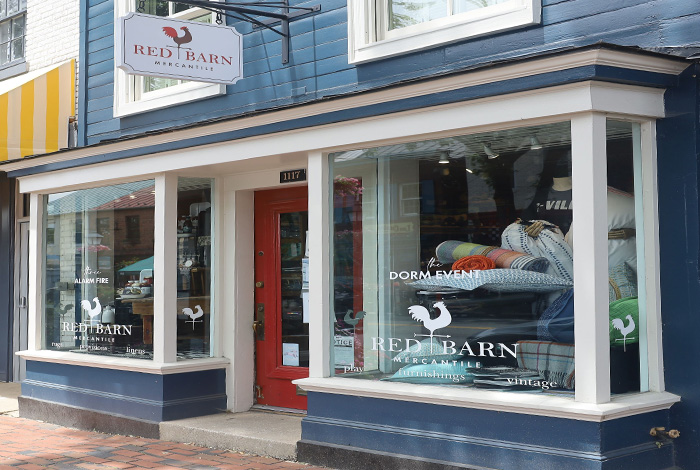 Red Barn Mercantile(ライフスタイルショップ)
私たちの姉妹店、Red Barn MercantileとPippin Toy Co.も紹介させてください。実はPenny Postは、ギフトやホームグッズを扱うライフスタイルショップRed Barn Mercantileから生まれました。ここはカードからソファまで何でも手に入る、ノスタルジックな雰囲気が漂う魅力的な小さな店です。Pippin Toy Co. は、最近できた子ども向けのおもちゃとギフトのお店です。ぜひ、あわせてこちらにもお立ち寄りください!
We would be remiss if we didn't mention our sister stores Red Barn Mercantile and Pippin Toy Co. Penny Post was incubated in Red Barn Mercantile, a lifestyle store carrying gifts and home furnishings. You can find anything from a card (yes, we still have them) to a couch here! With a nod to nostalgia it's a charming little store if I do say so myself. Pippin Toy Co. is our brand new children's toy and gift store. We can't wait for you to see it!
---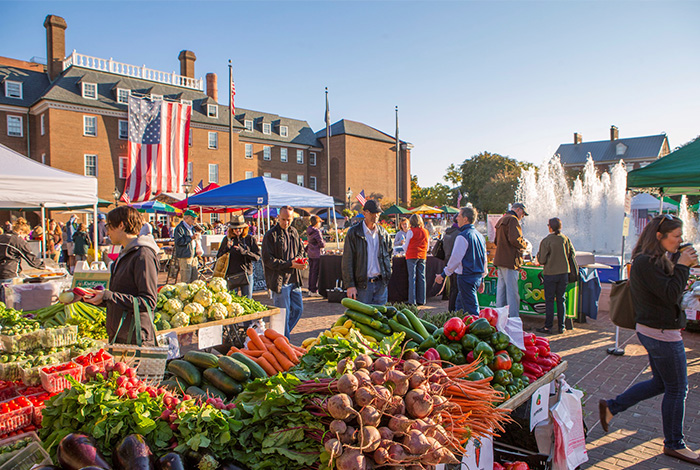 Old Town Farmer's Market(マーケット)
オールドタウン・ファーマーズ・マーケットは、国内で最も歴史のあるファーマーズマーケットです。あのジョージ・ワシントンもこのマーケットで農産物を売っていたそうです。毎週土曜日に開催されています。地元で採れたきれい花など、必要なものはすべてここで見つけることができます。
The Old Town Farmer's Market is the longest consecutively run farmer's market in the country. George Washington used to take his produce to this market to sell. A Saturday staple you can skip the grocery store and find everything you need right here including gorgeous locally grown flowers.
---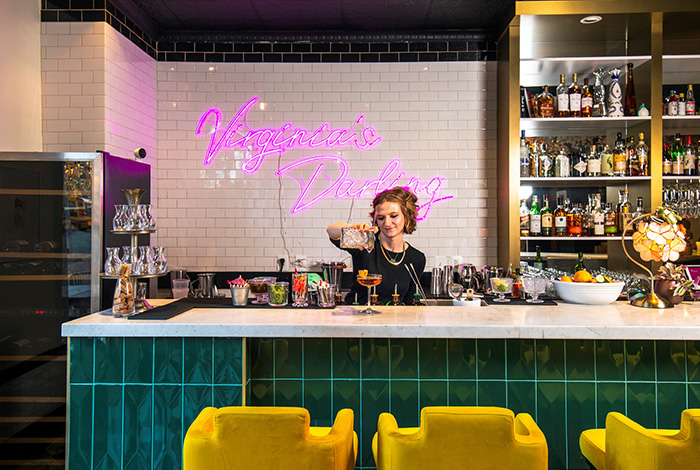 Virginia's Darling(レストラン)
素晴らしいレストランのディナーとおばあちゃんの料理がミックスされたような楽しいビストロです。シェフのニコール・ジョーンズが作る料理は、本当に特別です。伝統的なフレンチステーキタルタルにデビルドエッグとカリカリのポテトチップスを添え、おいしいワインを友達と一緒に味わえば、最高の夜を過ごせるでしょう。
A delightful bistro with a mix of fine dining and your grandmother's cooking, Chef Nicole Jones has created something really special. The classic French steak tartar with deviled eggs and crispy Lays potato chips paired with a delicious wine from their list of women-owned wineries and good friends is the perfect evening out.
---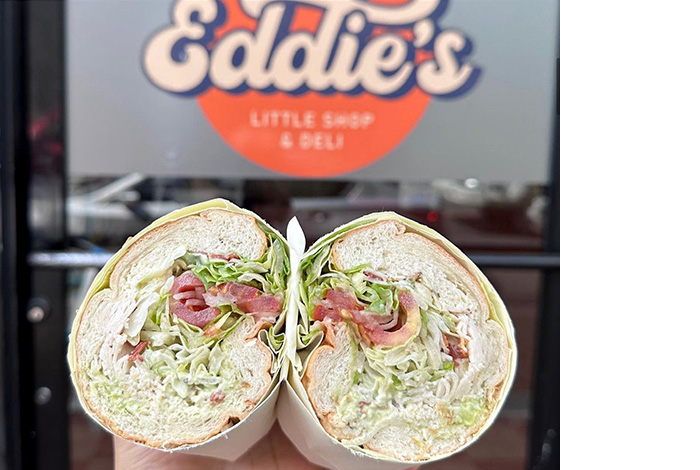 Eddie's Little Shop and Deli(デリ)
古いコンビニエンスストアを改装したこちらのデリは、アレクサンドリアで一番おいしいサブサンドイッチを作ってくれます。私たちのお気に入りはNo 128。クラシックなイタリアンサブにナッツ風味のペストソースがトッピングされた絶妙なサンドイッチです。お店の外にもテーブルがありますので、ぜひ外のテーブルに座って、街を歩く人を眺めながらおいしいサンドイッチを楽しんでください!
Taking over an old convenience store, Eddie's Little Shop and Deli makes the most incredible sub sandwiches anywhere in Alexandria. One of our favorites is the No 128. A classic Italian sub topped with a nutty pesto is *chef's kiss* delicious. Grab a bistro table outside and do a little people watching while you eat.
---
※「TRAVELER'S COMPANY」および「トラベラーズノート」は株式会社デザインフィルの登録商標です。
*"TRAVELER'S COMPANY", "TRAVELER'S notebook" and "TRAVELER'S FACTORY" are trademarks of Designphil Inc.