BACK TO LIST
OBLATION papers & press
(Portland, USA)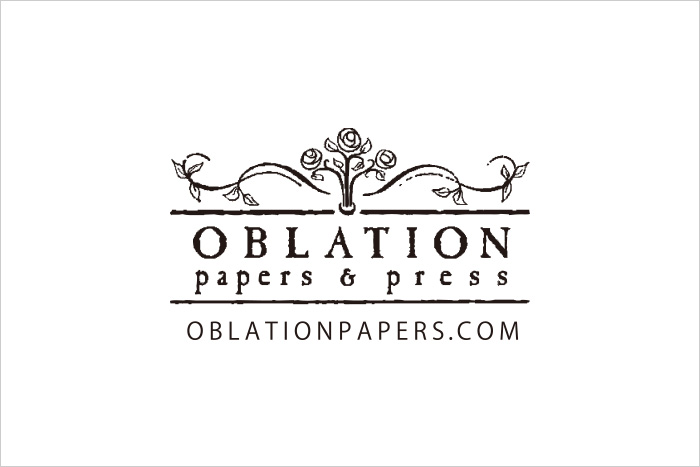 リッチ夫妻が、紙のブティックのような店をポートランドにオープンしたのは1989年のこと。昔ながらの製法で作られたオリジナルのカードやノートなどが並ぶ店内は、紙が持つ温かさに溢れている。
ロックの歌詞から引用された言葉を活版で印刷したカードや、手漉きのコットンペーパーを使って手製本で作られたノートなど、ほとんどのオリジナル商品が地元ポートランドで作られている。そんなオリジナル商品とあわせて、リッチ夫妻が世界中から集めてきた紙製品も販売している。
彼らとトラベラーズノートとの出会いは、買い付けで訪れたパリにあるセレクトショップ、メルシー。革や紙の質感、佇まいに惚れ込み、その仕入れ方法を調べようと書き留めたのが始まりだ。だけど、その方法は意外にあっさり分かってしまう。なぜなら、それからわずか数日後、ニューヨークの展示会で、偶然デザインフィルのスタッフと出会ったのだ。まさに旅での出会いが起点となっているのがトラベラーズらしい。
It was in the year 1989 when Mr. and Mrs. Rich opened a shop in Portland. The store can be described as a boutique dealing with papers, and the shop is filled with original cards and notebooks that are made based on traditional manufacturing techniques. The shop is filled with this warm feeling coming from the paper.
Products such as cards with words from rock lyrics applied through letterpress printing and handmade notebooks made from handmade cotton paper are all made in Portland. Along with these original items, paper products that Mr. and Mrs. Rich collected from around the world are also sold.
They first encountered TRAVELER'S notebook at Merci, a select shop in Paris. They were in Paris to buy products to sell in their shop, and they fell in love with the texture of the leather and paper, and its feeling. Through the visit, they were curious to know as to how to purchase the notebook, and even took note on its method. But sooner or later, they were able to find out the method easily. After a few days, they coincidentally met with the staffs from Designphil at an exhibition in New York. This encounter originating through a travel resembles the values of TRAVELER'S.
---
STORE LOCATOR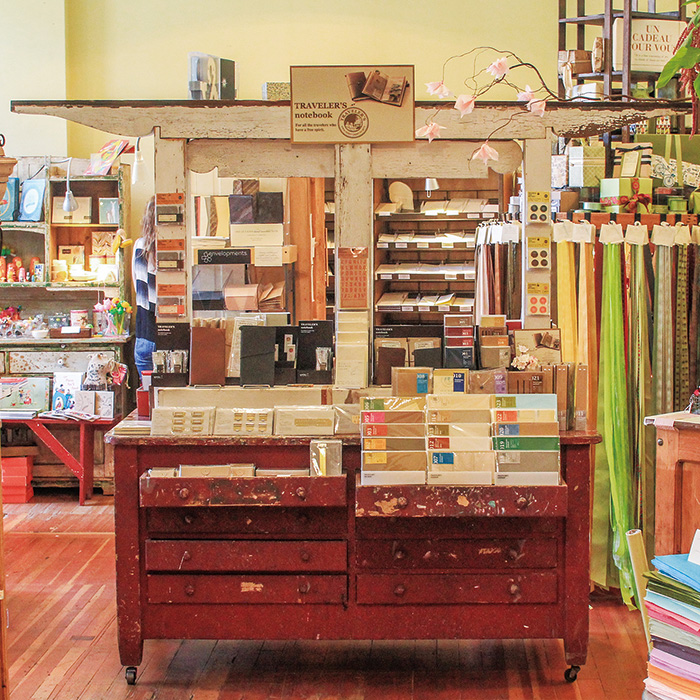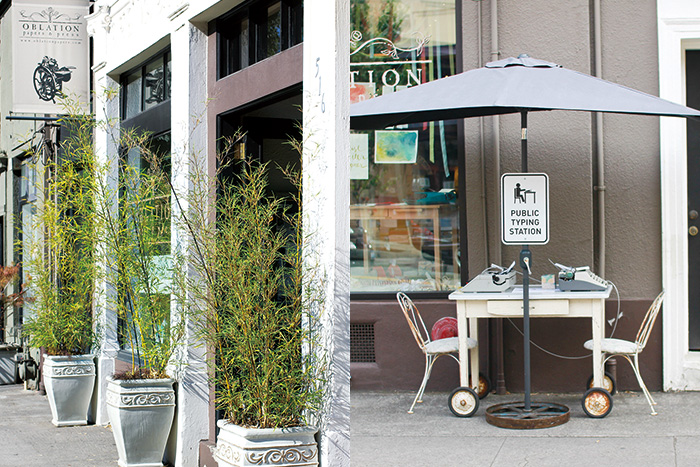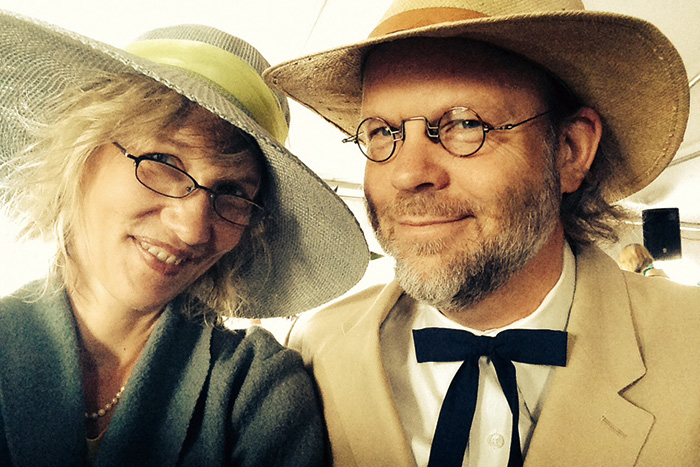 ---
Collect TRC PARTNER SHOPS Original Stamps!
店舗限定のオリジナルスタンプをご用意しています。パートナーショップを訪れた旅の証として、ぜひ皆さんのトラベラーズノートにスタンプを押してみてください。
Original stamps exclusive to our Partner Shops are available. We hope you will stamp your TRAVELER'S notebook as a proof of your trip to our Partner Shops.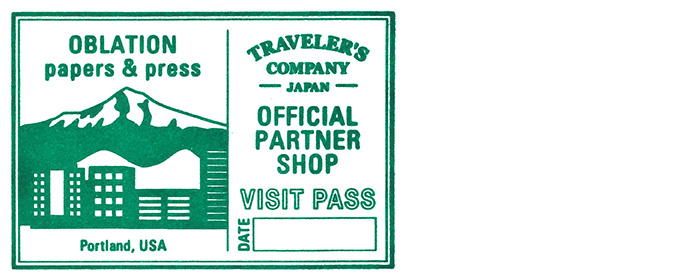 ポートランドがあるオレゴン州を象徴する名峰、フット山をモチーフにしました。夏は登山客、冬はスキー客で賑わう人気のスポットでもあります。
The motif is based on Mount Hood, a famous peak that symbolizes the state of Oregon, where Portland is located. It is also a popular spot for mountain climbers in summer and skiers in winter.
---
Recommended Travel Spot From The Shop Owner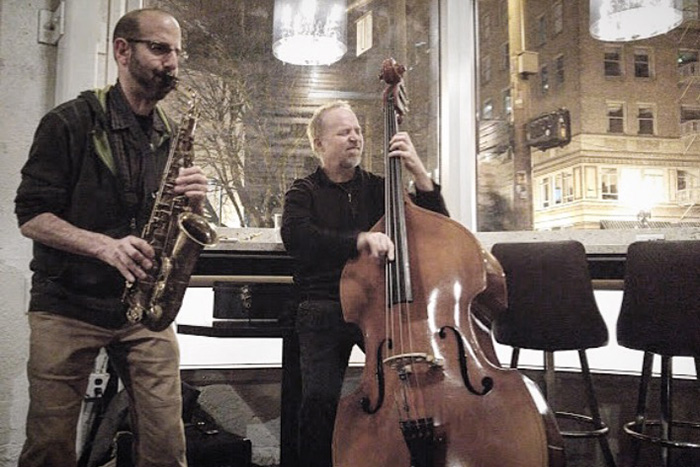 リビングルーム・シアター
仕事が終わり、リラックスするために私たちがよく立ち寄るがポートランドの映画館、リビングルーム・シアター。パウエルブックストアとエースホテルに挟まれた通り沿いある、この映画館では、世界各地のインディーズ映画を心地よい座席で楽しむことができます。ピノ・ノアールのワインに、地中海サラダやオーガニック・ガーリック風味のポップコーンをオーダーし、映画を鑑賞しながら楽しむ、なんてこともできるのです。映画が終わったら、ロビーにあるジャズバーでライブ演奏に耳を傾けながら特製ジントニックを楽しむのもおすすめです。
Living Room Theaters
After a big day at the paper shop, we like to take a relaxing stroll to the Living Room Theaters. Across the street from Powell's City of Books and the Ace Hotel, Living Room Theaters welcome their guests to international indie films with plush reserved seating. We might pre-order a Mediterranean salad and glass of Pinot Noir, or garlic popcorn, which will be delivered to our table during the film. Before returning to the farm for the night, we stop at the lobby jazz bar for a local aviator gin and tonic, and drink in the live music … unwind.
---
※「TRAVELER'S COMPANY」および「トラベラーズノート」は株式会社デザインフィルの登録商標です。
*"TRAVELER'S COMPANY", "TRAVELER'S notebook" and "TRAVELER'S FACTORY" are trademarks of Designphil Inc.