BACK TO LIST
TOOLS to LIVEBY
(Taipei / Kaohsiung, Taiwan)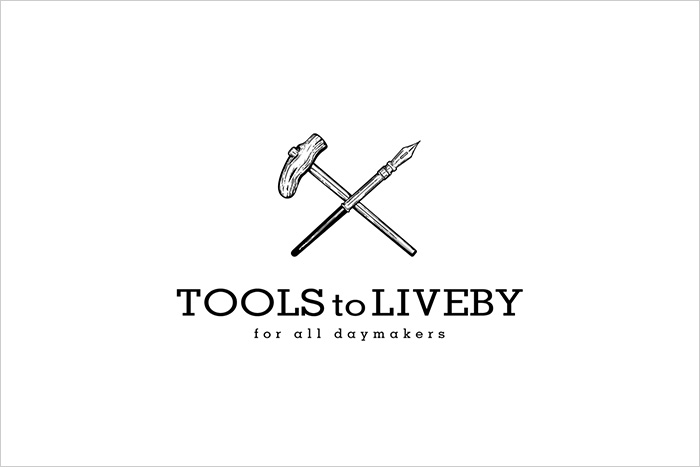 TOOLS to LIVEBYは、デザイナーでもあるオーナーのカレンさんのステーショナリー好きが高じてはじまったショップです。
2012年に台北にオープン。その後高雄に2店舗目がオープンしました。古い建物の風合いを活かした素敵な空間には、トラベラーズノートとともに、カレンさんのセレクトによる美しいステーショナリーたちがセンス良く置かれています。
そんなカレンさんがショップについて語ってくれました。
「TOOLS to LIVEBYは、世界中から探してきた素晴らしいステーショナリーによって、デスク周りの風景を変えていきたいと考えています。そんなステーショナリーを気軽に使うことで、毎日の生活を楽しくすることができると私は考えています。
私たちが取り扱っている文房具や暮らしの道具は、ヨーロッパ、アメリカ、日本を中心にセレクトしています。ブランドの多くは、長い歴史を持ち、長い間販売され、時の試練を乗り越えてきたものばかりです。
また、海外商品だけでなく、自分たちで商品をデザインして販売することも徐々に始めています。
生活を楽しみ、日々の生活の細部にまで気を配る人たちに、実用性と美しさを兼ね備えた道具との暮らしをお届けできるようなショップでありたいと考えています」
さらにトラベラーズノートとの出会いについても語ってくれました。
「トラベラーズノートのことは香港でステーショナリー・雑貨のバイヤーをしているパトリックさんから知りました。パトリックとの出会いは、約10年前に写真共有サイトのFlickrで彼のページをフォローしたことがきっかけです。彼がアップする素敵な写真や文房具の情報を、私は興味を持ちながらいつもチェックしていました。
ある日、彼が自分のトラベラーズノートを紹介しているのを見て、私も絶対に欲しいと思いました。年に1、2回は東京に行くのですが、その際にトラベラーズノートを購入して以来、ずっと愛用しています。2012年、TOOLS to LIVEBYをオープンする前に、パトリックにアドバイスを求めてメッセージを送りました。当時、私はショップ運営の経験ありませんでしたが、文房具店を開こうと思っていて、トラベラーズノートを扱うにはどうしたらいいかと尋ねました。
本当に取り扱いができるのかとても不安でしたが、パトリックはとても親切に、『トラベラーズノートの会社を紹介するから連絡してみてよ。やったほうがいいよ 』と励ましてくれました。そして、その日からTOOLS to LIVEBYでは、トラベラーズノートをお気に入りの商品としてずっと扱っています。
また、トラベラーズノートのイベントに参加するために香港に行ったとき、フェリーの中で船酔いしたものの、自分のトラベラーズノートを手にイベントに参加できたことがとても嬉しかったのを覚えています」
TOOLS to LIVEBY is a store that was started by Karen, the owner and designer, because of her love for stationery.
It opened in Taipei in 2012. A second store was opened in Kaohsiung. In a beautiful space that makes the most of the texture of an old building, you can find beautiful stationery that Karen has selected from around the world, along with TRAVELER'S notebooks, all tastefully arranged.
Here is what Karen talked about the store.
"TOOLS to LIVEBY expects to change the scene of our desk by looking for the finest writing instruments from all over the world. Making everyday pleasurable mood starts from using stationery readily.
TOOLS to LIVEBY selects stationeries and life tools around Europe, America and Japan.
Most of those classic brands have long-term history and have been sold in the marketplace for a long time, which stands the test of time.
Excepting importing various products from overseas, TOOLS to LIVEBY is gradually starting to design and sell our own products.
Hopefully, we can bring a lifestyle store that combines practical and aesthetic to our friends, who enjoy life and care about small details in daily life."
She also told us about her encounter with TRAVELER'S notebook.
"I find the traveler's notebook by Patrick from Hong Kong. I met Patrick on Flickr 9 or 10 years ago when I first began following his Flickr page. He shares wonderful pictures and information on stationeries which I've always been interested in.
One day I saw him share his own TRAVELER'S notebook and I thought it looked very useful, I must own one as well. I travel to Tokyo at least once or twice a year, on one of my trips I got myself one and have been using them ever since. In 2012, before opening TOOLS to LIVEBY, I wrote to Patrick on Flickr asking him for suggestions. I told him that I have no experience in retail but I'm planning to open a stationery shop and would like to carry TRAVELER'S notebook as one of our items. I was nervous because I wasn't sure if they would accept my request, but Patrick was very kind and encouraged me, "Why don't you write a letter to the Traveler's Notebook company, give yourself a try." So I did, and from day one, TOOLS to LIVEBY have been carrying TRAVELER'S notebook as one of our favorite products.
I also remember when I went to Hong Kong to join Patrick's TRAVELER'S notebook event, even though I was feeling seasick on the ferry, I was very happy to be attending this event, holding my TRAVELER'S notebook in my hand."
---
STORE LOCATOR
Taipei City Shop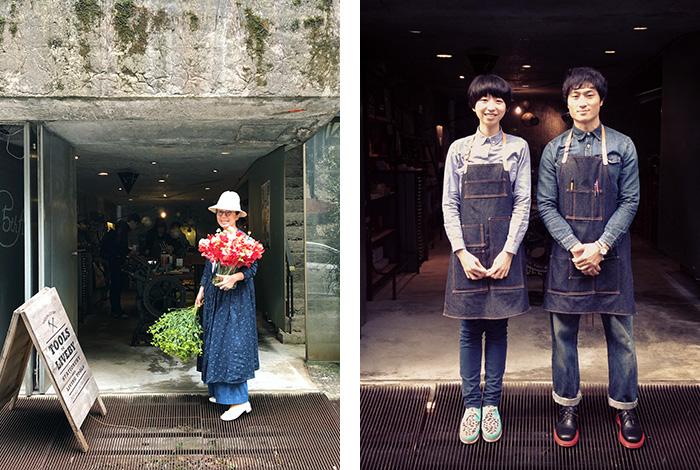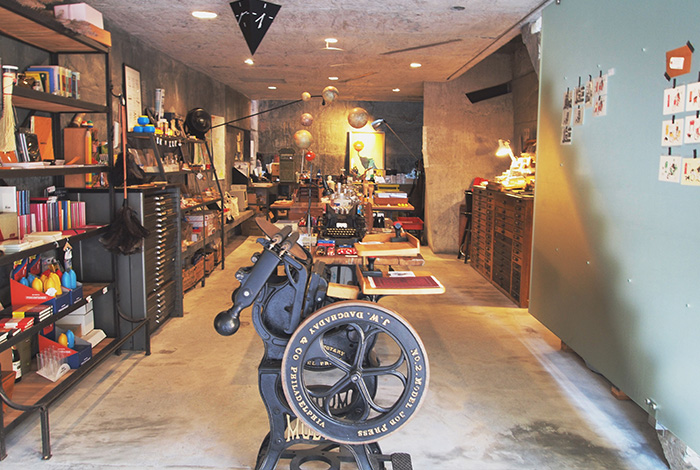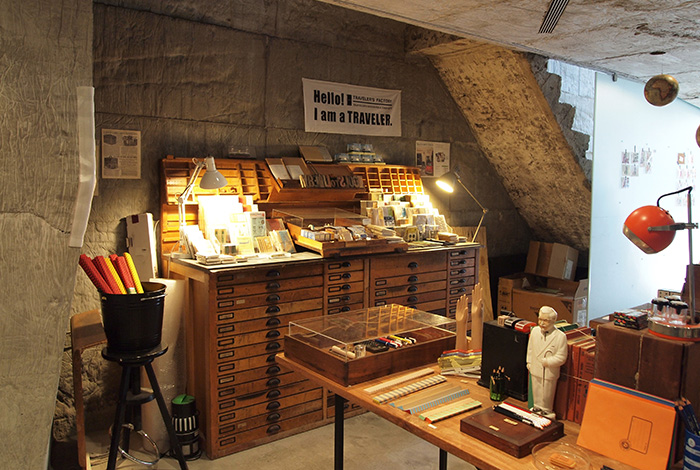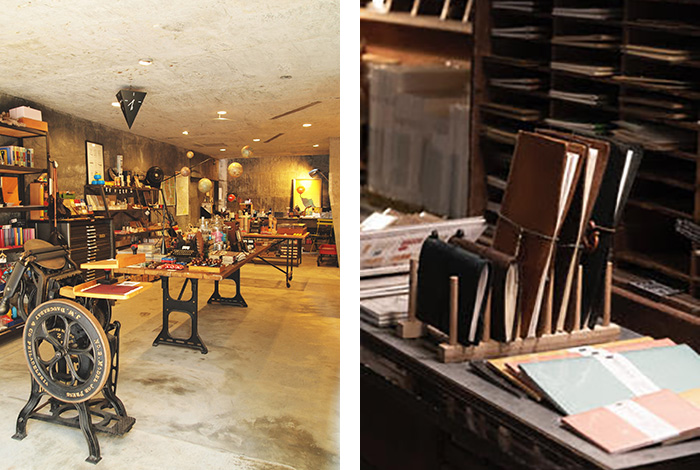 Kaohsiung City Shop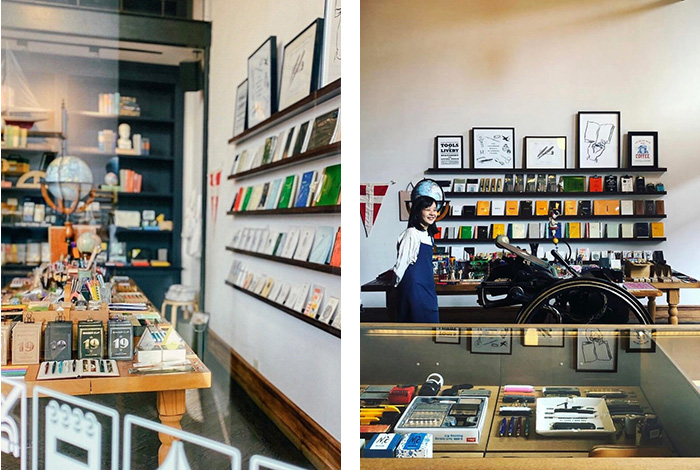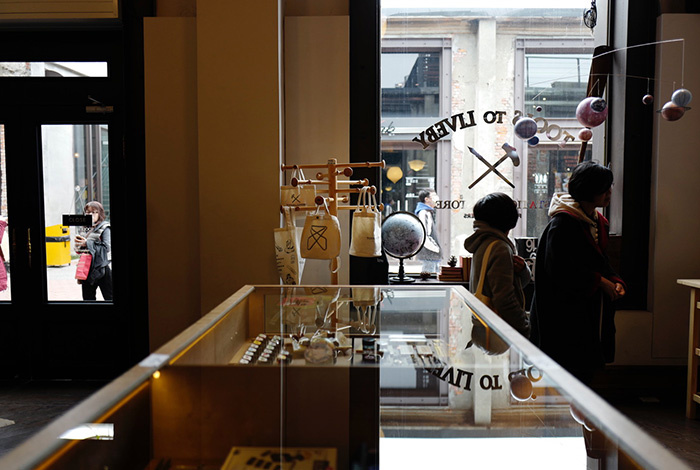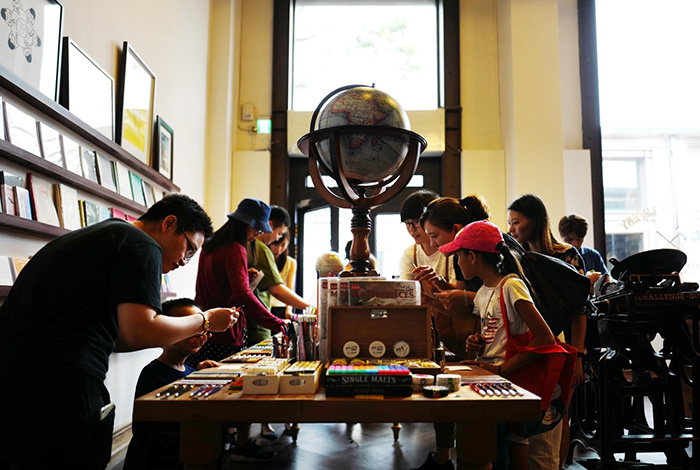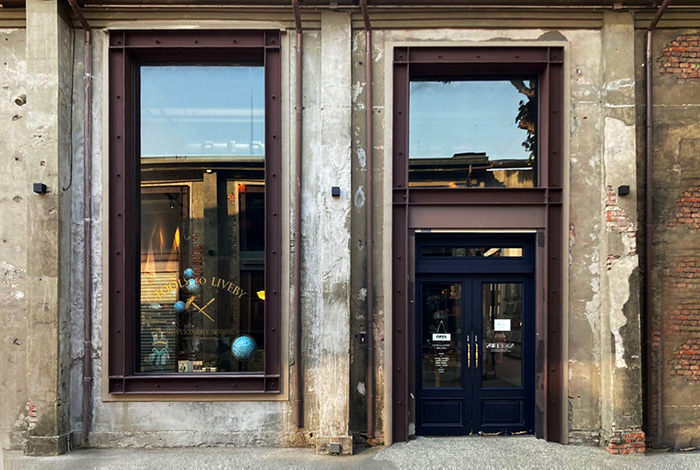 ---
Collect TRC PARTNER SHOPS Original Stamps!
店舗限定のオリジナルスタンプをご用意しています。パートナーショップを訪れた旅の証として、ぜひ皆さんのトラベラーズノートにスタンプを押してみてください。
Original stamps exclusive to our Partner Shops are available. We hope you will stamp your TRAVELER'S notebook as a proof of your trip to our Partner Shops.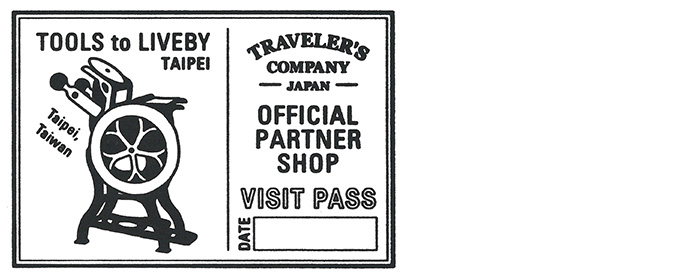 TOOLS to LIVEBY TAIPEI
店内に象徴のように置かれているヴィンテージの手押し活版印刷機をモチーフにデザインしました。
The design was based on the vintage hand-pressed letterpress that is placed symbolically at the front of the store.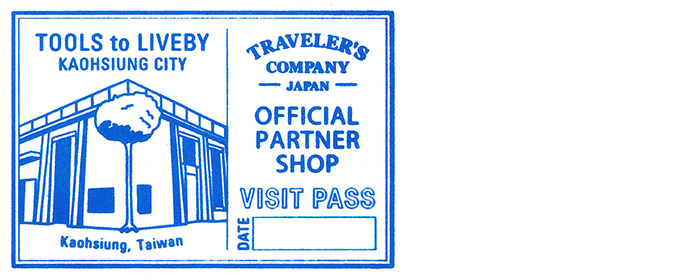 TOOLS to LIVEBY KAOHSIUNG CITY
ショップは、古い倉庫をリノベーションした建物にあります。スタンプはその歴史を感じる倉庫をモチーフにデザインしました。
The store is located in a renovated warehouse. The stamp was designed with the historical warehouse as its motif.
---
Recommended Spots from The Shop Owner in Taipei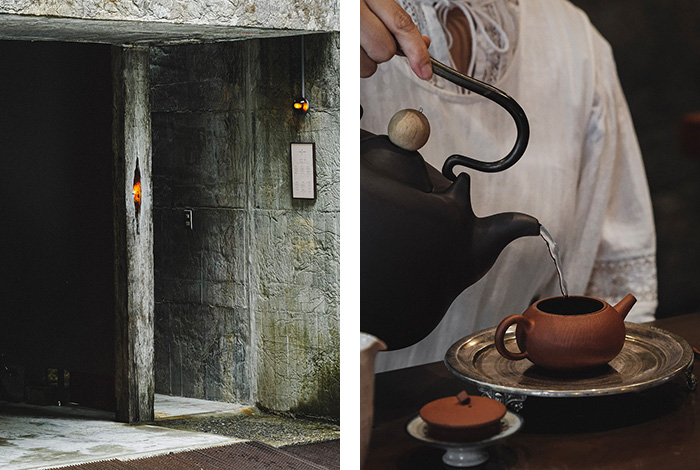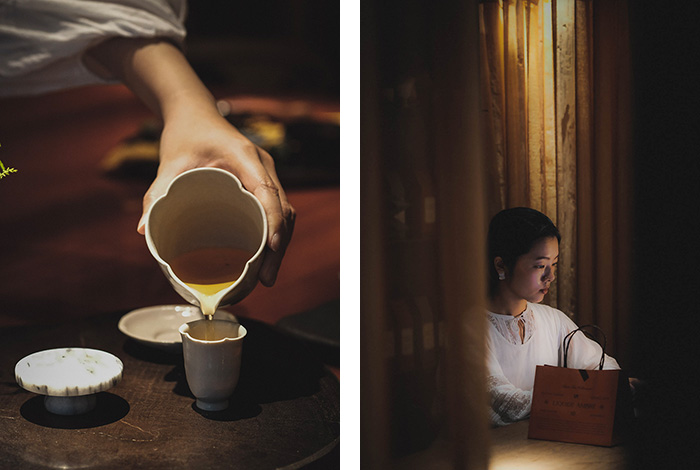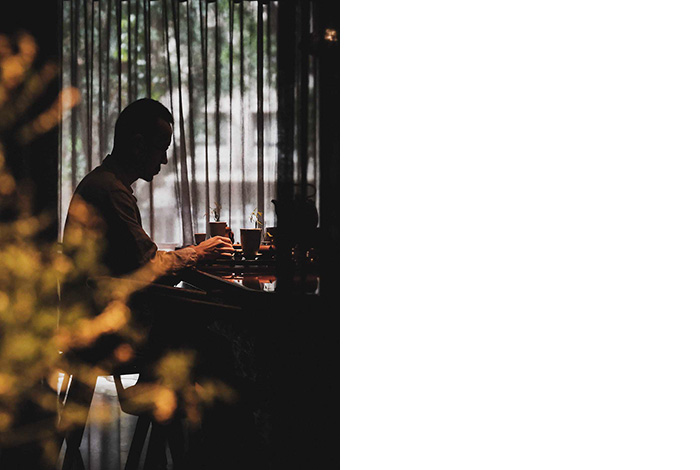 Liquide Ambré (ティーサロン)
台湾茶道の新たな美学を表現したティーサロンです。厳選された台湾茶は、環境に優しい有機栽培の茶園で生産されたものを中心に、品質の高いものばかりです。毎月、茶道具や彫刻、陶器など、さまざまなテーマにした展覧会が開催されています。ティーサロンは6席しかないので、行く前に電話で確認することをお勧めします。
A tea salon which represents a new aesthetic of Taiwanese Tea ceremony. The Taiwan Tea selection is all with good quality and focusing on Tea from nature friendly and organic Tea Farm. There often have exhibitions for different subjects every month, such as Tea props, sculptures, pottery…ect. The Tea salon only has 6 sets, so call before going.
Liquide Ambré
2F., No.15, Ln. 72, Leli Rd., Da'an Dist., Taipei City 106, Taiwan
www.liquideambre.com
---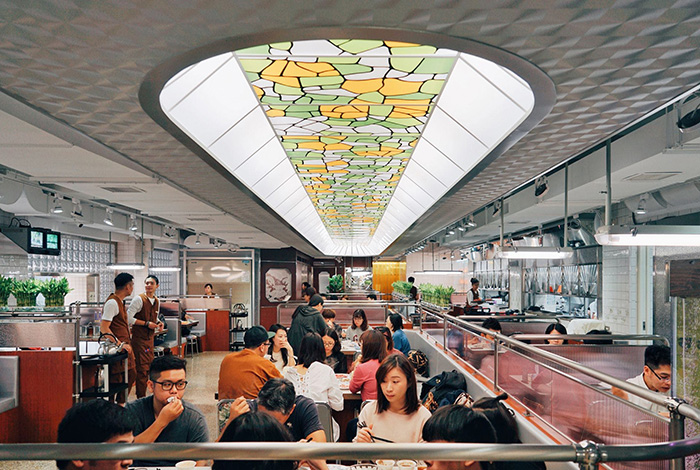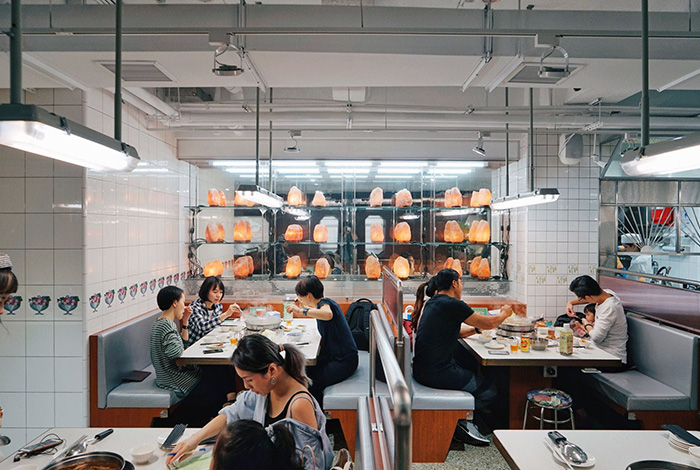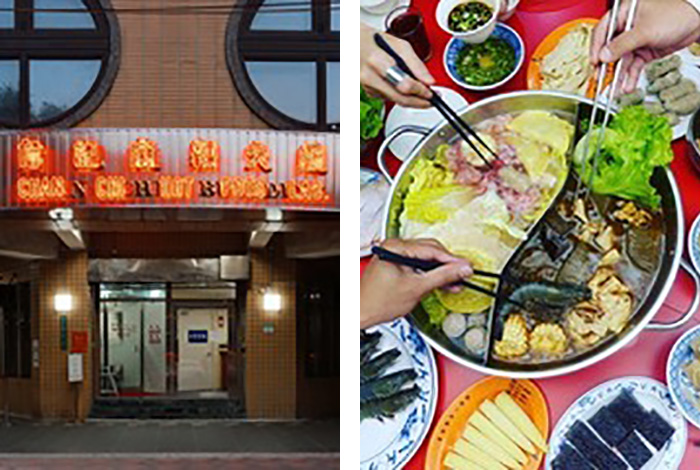 Chan Chi Hotpot Lab Da'an Store (レストラン)
台湾ローカルのスパイシーな火鍋を食べてみたい方にお勧めのお店。活気があってとても居心地がよい雰囲気も魅力です。リーズナブルで美味しい料理が食べられるので、とても人気があります。行く前には必ず予約を。
If you'd like to try very Taiwanese street style of spicy got pot, here is the good place to go. With a very cozy and lively atmosphere. Nice food with reasonable prices. Very popular, need reservation before you go.
WChan Chi Hotpot Lab Da'an Store
1, 60, Section 3, Heping East Road, Da'an District, Taipei City, TW
facebook
---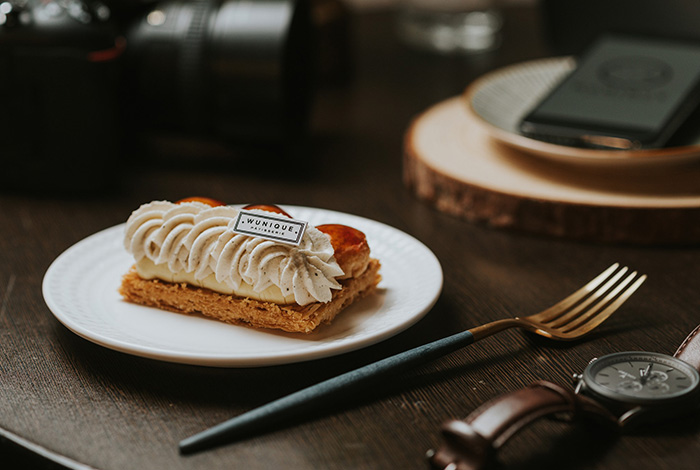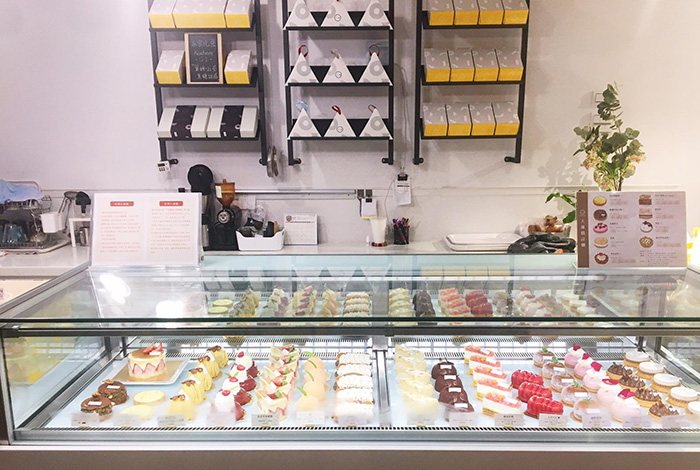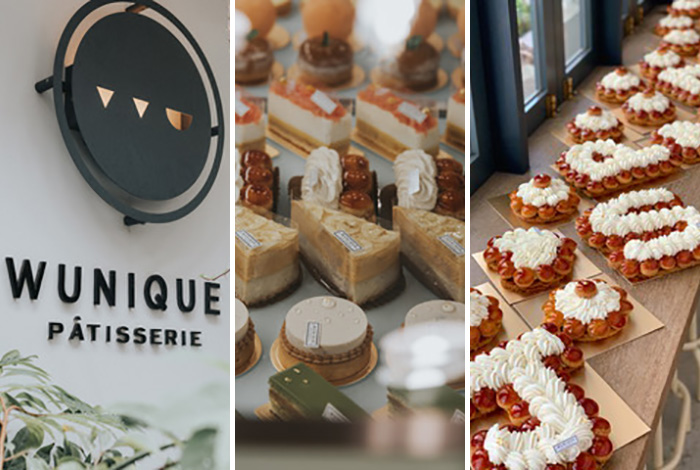 WUnique Pâtisserie (パティスリー)
素敵で居心地の良いパティスリーです。この店に行ったら、ミルフィーユがおすすめ。生地は薄くてサクサクしていて、滑らかなバニラカスタードが入って、とても美味しいですよ。
Nice and cozy patisserie, delicious desserts and small sweats. Have to try their Mille Feuille, the crust is thin and crispy, with smooth vanilla custard. Very delicious!
---
Recommended Spots from The Shop Owner in Kaohsiung City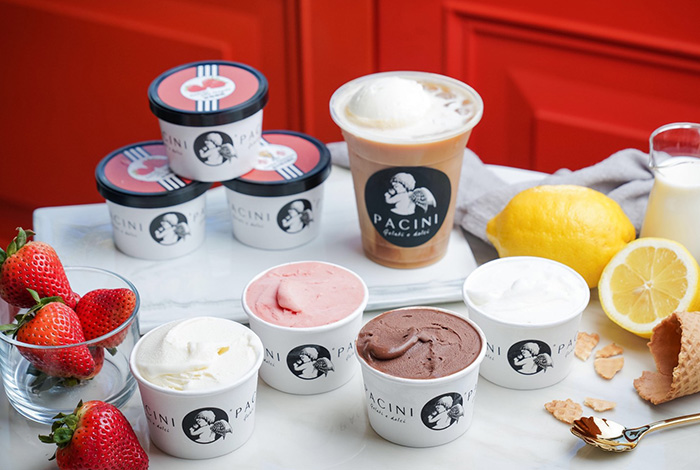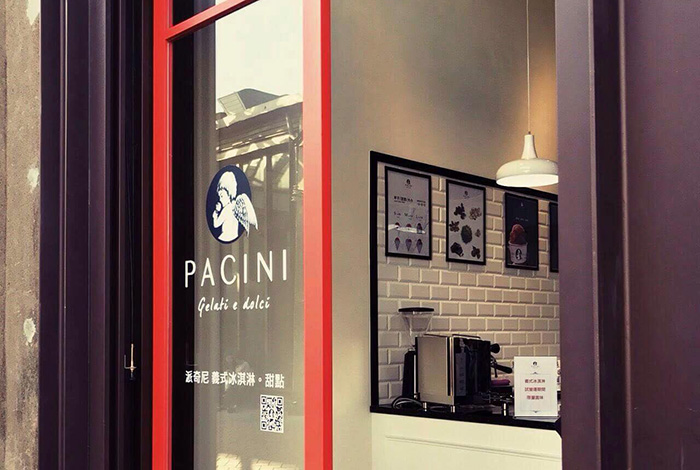 Pacini gelati e dolci(ジェラート)
オーナーは本場イタリアフィレンツェでジェラート作りを学んだという本格的なイタリアンジェラートのお店です。
The Owner learned Gelato making in Florence, Italy. Authentic Italian Gelato!
---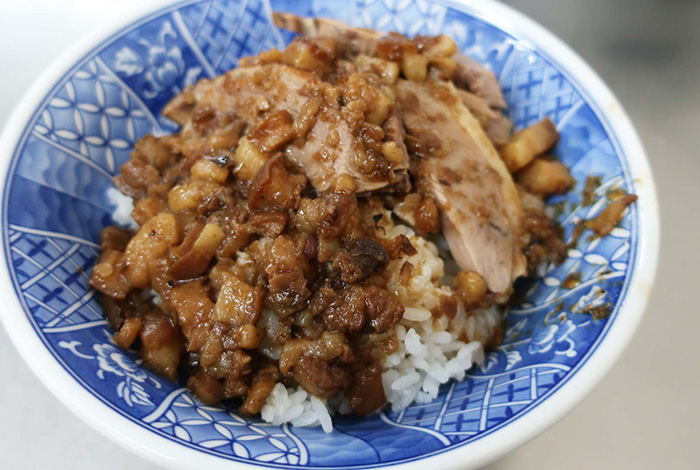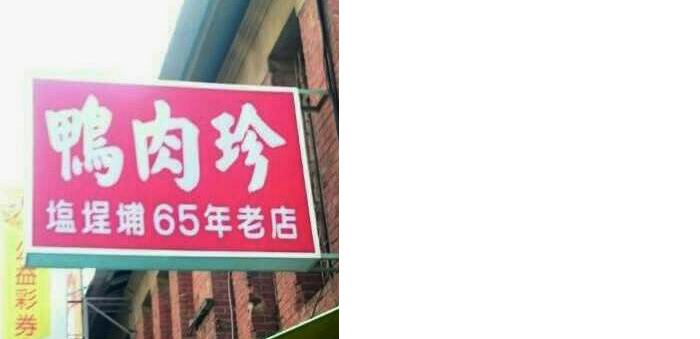 Duck Zhen(食堂)
台湾の伝統的な市場の食べ物で、とても美味しいですよ。ランチタイムに食べるのがお勧めです。
Traditional Taiwanese market food, tasty and better try on lunch time.
Duck Zhen
No.258, Wufu 4th Rd, Yancheng Dist, Yancheng, Kaohsiung, Taiwan
facebook
---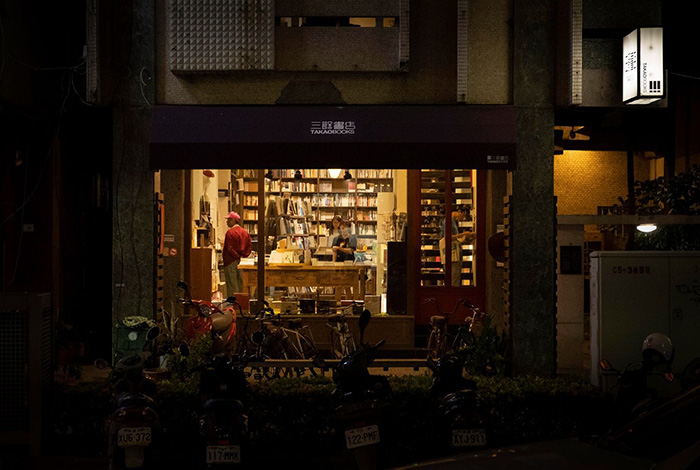 TaKaoBooks(書店)
地元で最も古い個人経営の書店の1つです。
One of the oldest local independent bookstores.
---
※「TRAVELER'S COMPANY」および「トラベラーズノート」は株式会社デザインフィルの登録商標です。
*"TRAVELER'S COMPANY", "TRAVELER'S notebook" and "TRAVELER'S FACTORY" are trademarks of Designphil Inc.