BACK TO LIST
Flywheel
(New Norfolk, Australia)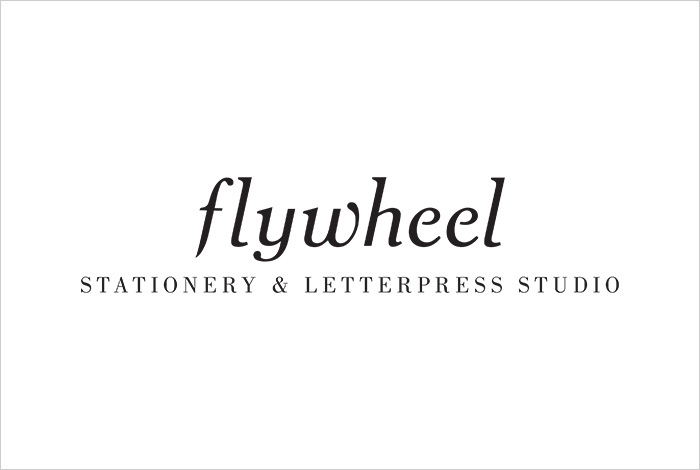 Flywheelは、オーストラリアのタスマニア州南部のダーウェント・バレーにある活版印刷スタジオを併設するステーショナリーショップです。最初は小さな活版印刷の工房としてはじまりましたが、その後文房具の取り扱いを始め、今のスタイルに成長しました。店内には、世界中から厳選された文房具を幅広く取り揃えています。オーナーやスタッフの皆さんは、ジャーナリング、手紙、カリグラフィーなどのさまざまな技法を使ったアナログの表現を守り続けることに大きな喜びを感じるような方ばかりです。
店舗をオープンしたばかりの頃、素敵なお客様がとても熱心にトラベラーズノートを紹介してくれたことがきっかけとなり、自分たちも知れば知るほど同じようにトラベラーズノートのとりこになってしまったそうです。
Flywheel is a stationery store and letterpress studio situated in the Derwent Valley in the south of Tasmania, Australia. What started as a small letterpress printing venture, quickly grew into the shop that we are today, stocking a wide range of carefully curated stationery goods from around the world that are both well made and an absolute pleasure to use. We take great pleasure in keeping the art of journaling, letter writing, calligraphy, and various crafts alive and well.
We first discovered Traveler's after one of our lovely customers mentioned the company when we first opened our store. They were so enthusiastic about the brand that we just had to look into it and equally fell in love!
---
STORE LOCATOR
---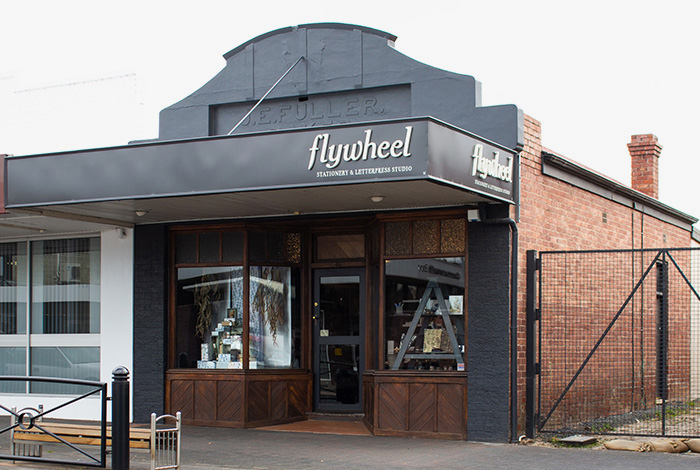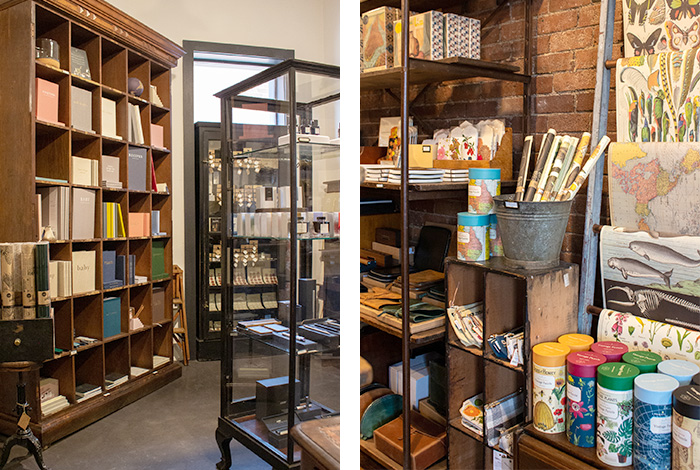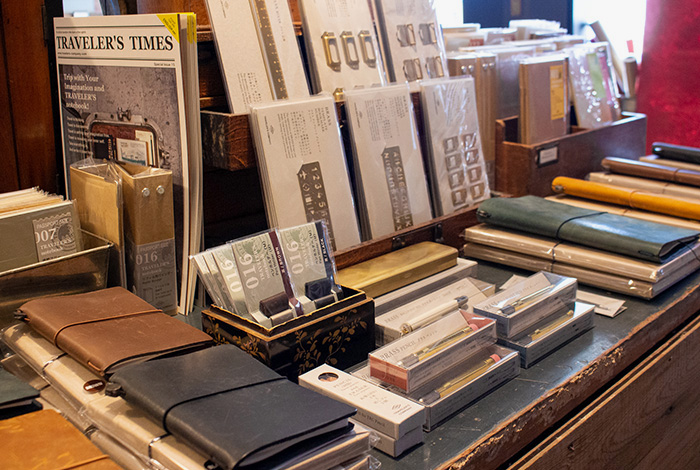 ---
Collect TRC PARTNER SHOPS Original Stamps!
店舗限定のオリジナルスタンプをご用意しています。パートナーショップを訪れた旅の証として、ぜひ皆さんのトラベラーズノートにスタンプを押してみてください。
Original stamps exclusive to our Partner Shops are available. We hope you will stamp your TRAVELER'S notebook as a proof of your trip to our Partner Shops.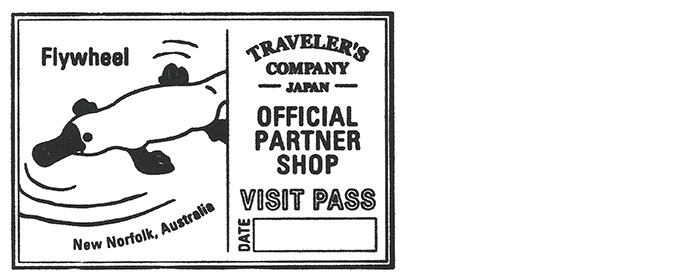 オーストラリアに生息する不思議な哺乳類、カモノハシをモチーフにデザインしました。ショップがあるタスマニア州はカモノハシの生息地でもあります。
The design is based on the platypus, a mysterious mammal that lives in Australia. The state of Tasmania, where the store is located, is also a habitat of the platypus.
---
Recommended Travel Spot From The Shop Owner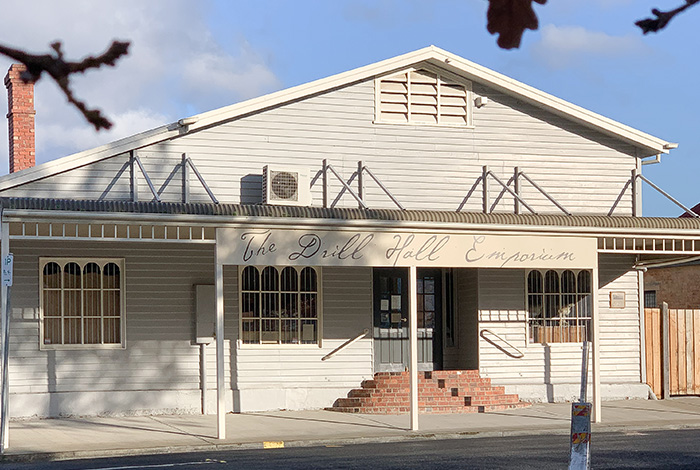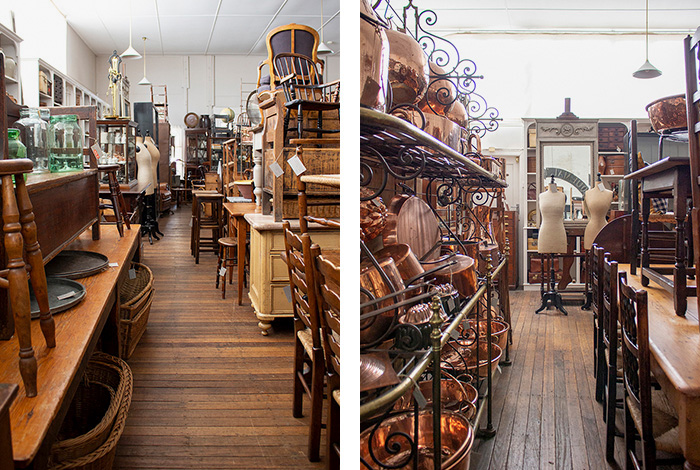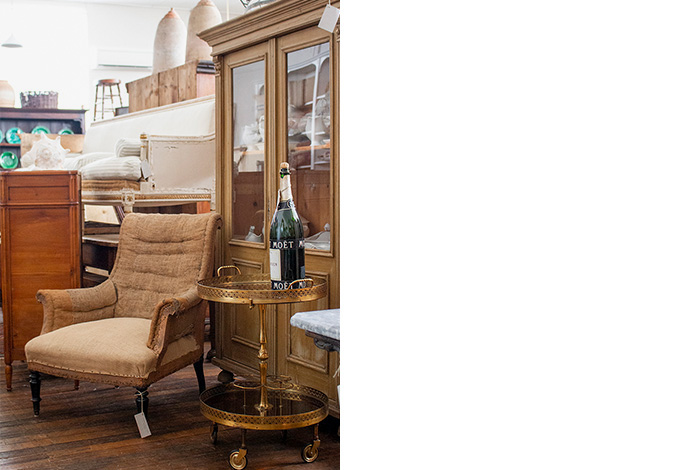 The Drill Hall Emporium(アンティークショップ)
The Drill Hall Emporium Antiquesは、Flywheelの姉妹店のひとつで、20年以上前から営業している家族経営のアンティークショップです。地元で見つけたものから、海外へ買い付けに行って手に入れたものまで取り扱われ、ここだけでしか手に入らない特別な買い物が楽しめます。この街は「タスマニアのアンティークの中心地」と言われています。他の店でも質が高く美しく一風変わったものを見つけることができるはずです。
The Drill Hall Emporium Antiques is one of our sister stores and has been run by our family for over 20 years now. From local finds to pieces sourced during overseas buying trips, a visit to The Drill Hall always makes for a unique shopping experience. New Norfolk is often referred to as "the antiques capital of Tasmania" and we can recommend each store for their quality, beautiful and quirky finds (just ask us for the map!).
---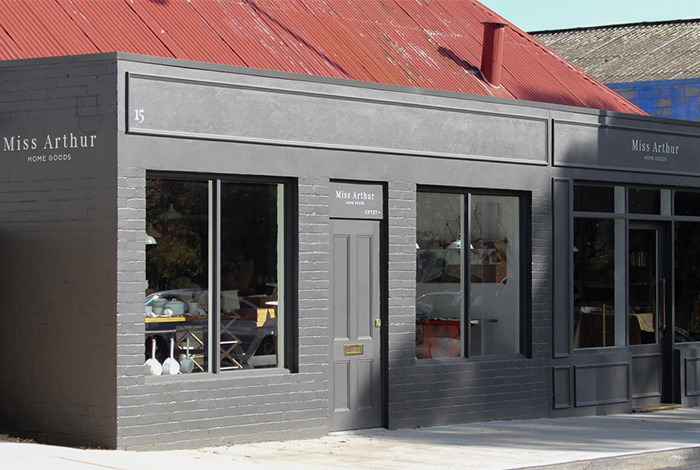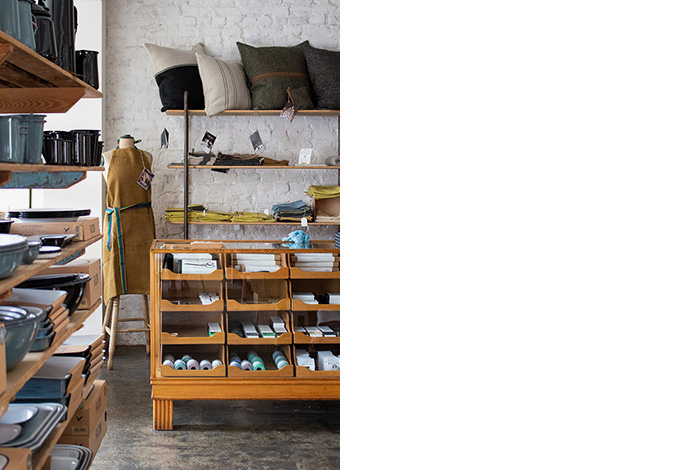 Miss Arthur(日用品店)
昔からある職人によって作られたハンドメイドの日用品は、日々の暮らしに満足感をもたらしてくれます。Flywheelによる新しいお店、Miss Arthurは、そんな想いからはじまりました。1840年代の建物をリノベーションした魅力的な店内を歩けば、ありふれた日常が再び感動的なものになると思います。「もしあなたが一日中掃除をしなければならないのなら、そのための美しい道具があったほうがいいでしょう!」とMiss Arthurのスタッフはいつも話すそうです。
Our newest venture, Miss Arthur, is a home goods store born from the love of handcrafted and traditional products that bring quality and satisfaction to everyday rituals. Walking around this charmingly renovated 1840's store makes the mundane inspiring once more; we always say, if you have to spend the day cleaning you may as well have beautiful tools for the job!
---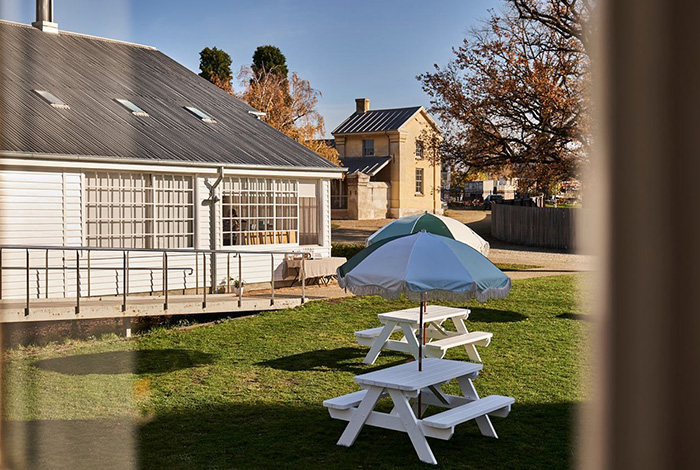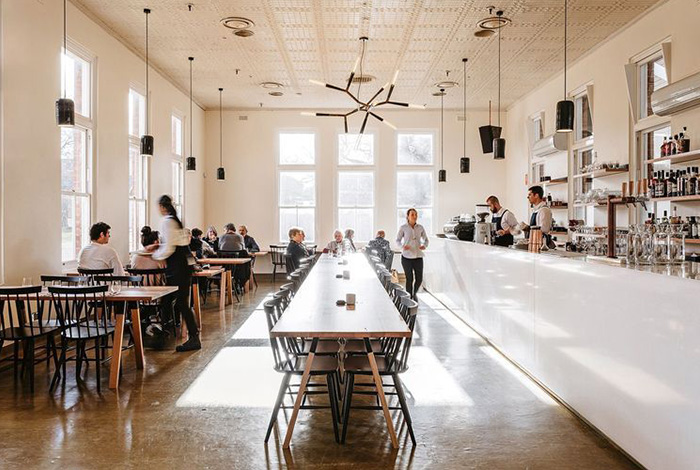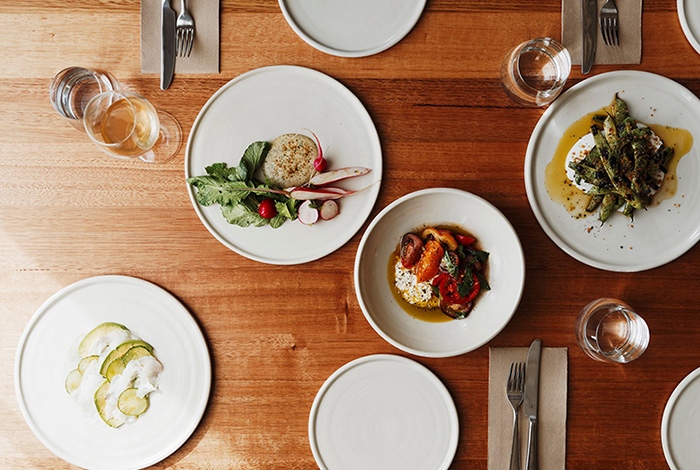 The Agrarian Kitchen Eatery(レストラン)
Flywheelの近くに、友人のロドニーさんとセヴェリーヌさんが経営する「The Agrarian Kitchen」という世界レベルののレストランがあります。地元の旬の食材を使った本格的な料理を楽しむことができ、常に進化する本格的な料理を堪能できます。また、近くの芝生の上で、ポークとフェンネルのソーセージロールやスイーツを食べながら、ピクニックランチを楽しむのもおすすめ。
We are so lucky that our friends Rodney Dunn and Séverine Demanet have a world class restaurant, The Agrarian Kitchen, right on our doorstep. Here, local and seasonal produce is celebrated, making for an authentic and ever-changing dining experience. They have recently expanded their restaurant and opened a takeaway kiosk section for a more casual lunch time offering, and we can't go past a picnic lunch on the nearby lawns, often featuring a pork and fennel sausage roll and a sweet treat.
---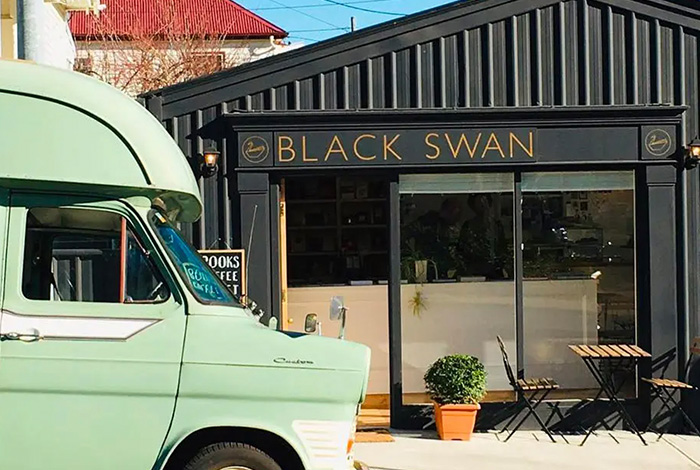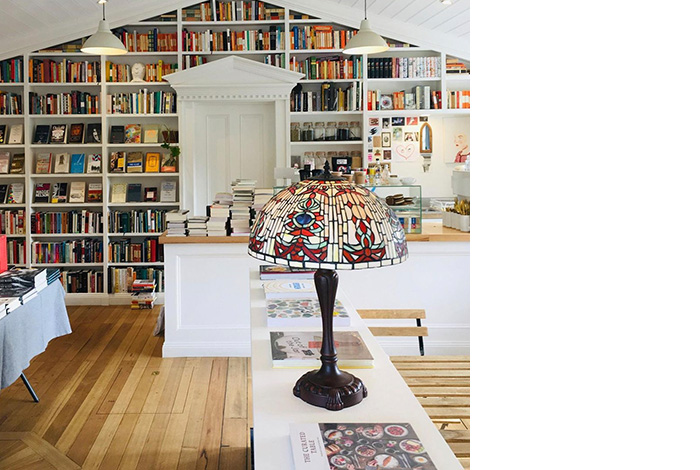 Black Swan Bookshop(書店)
Black Swan Bookshopは、オーナーのアレックスさんが厳選した本が並ぶ書店兼カフェです。すべての棚から、アーティストであり、大工であり、造園家でもあるという多彩なアレックスさんの情熱がにじみ出ていて(棚ももちろんご自身が作られたものだそうです!)、現代アート、古典小説などあらゆるジャンルの本が並んでいます。本が並ぶ美しい空間でいただけるコーヒーとバタークッキーもおすすめ。
Black Swan is a perfectly curated book store and café owned by Alex Okenyo, who happens to be outrageously talented as an artist, carpenter and landscape gardener. His passion oozes from every shelf (built by himself of course!), with books covering all genres from contemporary art, baking and classic fiction. Not only is the space beautiful, but an excellent coffee and delicious Butterbing cookie are the cherry on top!
---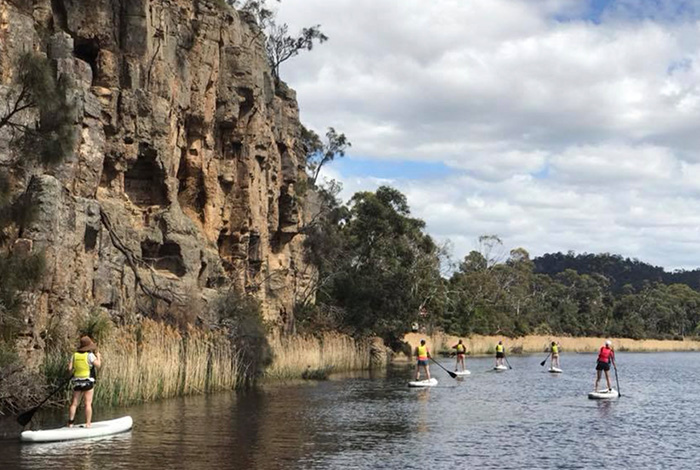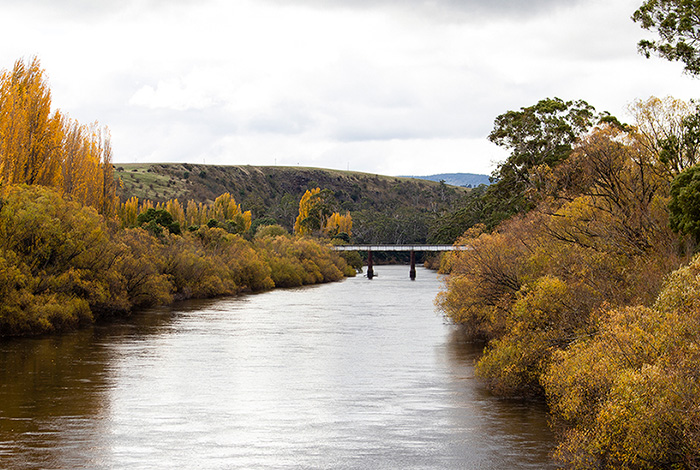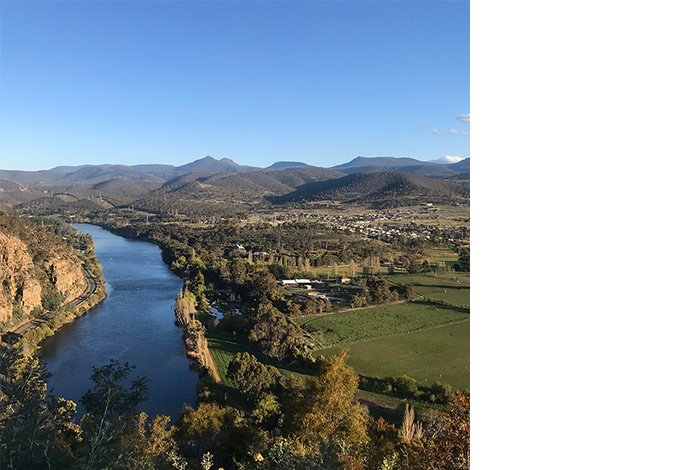 The Derwent River
ニューノーフォークの中心部を流れるダーウェント川は、季節を問わず、どこから見ても絵になる風景が楽しめるスポット。パルピットロック展望台からの眺めや、ダーウェント・バレー・スタンドアップ・パドルボード・スクールの体験など、ここに来れば写真に撮りたくなるようなシーンに必ず出会えます。(その多くは、FlywheelのSNSで時々紹介されています)。遊歩道を散策すれば、忙しい一日の終わりを締めくくる最高の時間になるはずです。
No matter the season, the Derwent River that runs through the heart of New Norfolk is picturesque from every angle. Whether you are taking in the view from Pulpit Rock Lookout or getting a more up-close experience with the Derwent Valley Standup Paddleboard School, you will always find a photo-worthy opportunity (many of which we love to feature on our social media from time to time). A stroll along the Esplanade also makes for the perfect way to wind down after a busy day.
The Derwent River
New Norfolk, Tasmania, Australia
---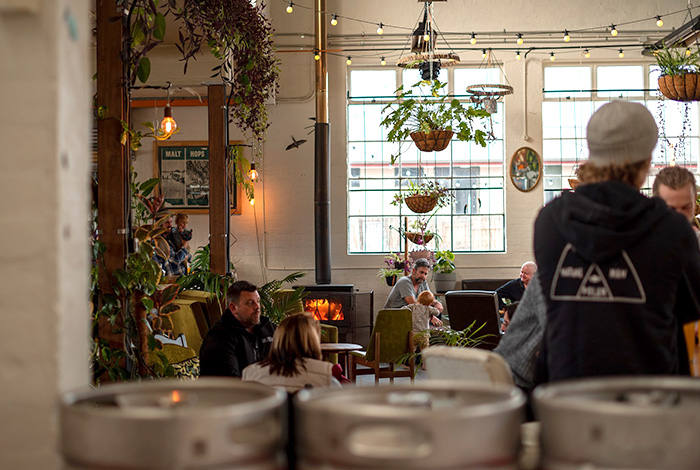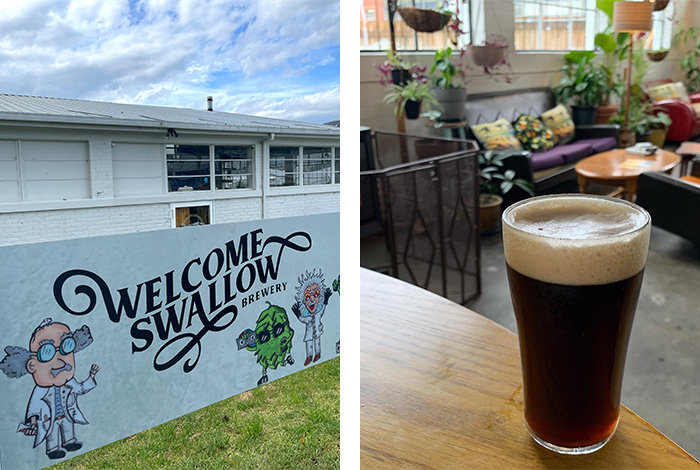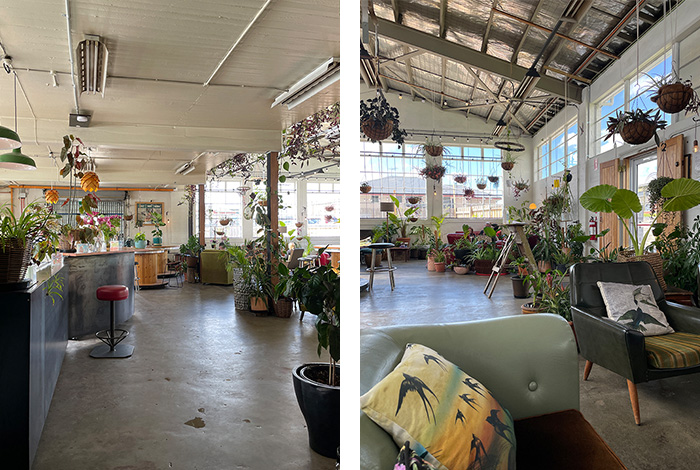 Welcome Swallow Brewery(ブルワリー)
タスマニアのダーウェント・バレーは世界でも有数のホップの産地でもあります。
ウェルカム・スワロー・ブルワリーは地元の素材にこだわり、少量生産のクラフトビールを作っています。Flywheelのスタッフはみんな、ディナータイムにここに定期的に集まってくるフードトラックが大好きです。ここに来たら、店内の緑豊かなテイスティングルームでRnR(爽やかなラズベリービール!)をぜひ楽しんでください。
With the Derwent Valley being one of the best hops growing regions in the world, The Welcome Swallow Brewery showcase their love for local ingredients in their small batch craft beer. We are always tempted by the rotation of food trucks that are recruited for dinner time and you can't pass up the opportunity for an evening with a little RnR (refreshing raspberry beer!) in their lush tasting room.
---
※「TRAVELER'S COMPANY」および「トラベラーズノート」は株式会社デザインフィルの登録商標です。
*"TRAVELER'S COMPANY", "TRAVELER'S notebook" and "TRAVELER'S FACTORY" are trademarks of Designphil Inc.