Refills / Passport Size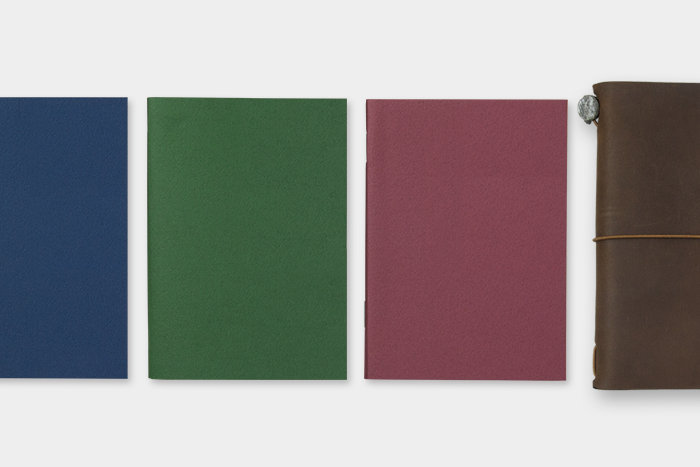 トラベラーズノート リフィル(パスポートサイズ)
トラベラーズノートのパスポートサイズにセットするリフィルです。
パスポートと同じサイズなので、より軽快に持ち歩くことができます。いつも身につけて思い付いたアイデアや出会った言葉など、気軽になんでも書き留めてください。ジッパーケースやクラフトファイルをセットすることで、財布やカードケースとして使ったり、パスポート用のカバーとして使うこともできます。たくさんのリフィルの中からお好みのものを選んでセットし、自分らしい使い方を見つけてください。
連結バンドを使った複数のリフィルのセット方法>>
TRAVELER'S notebook Refills (Passport Size)
These are refills where you set it into your passport size TRAVELER'S notebook. The size is the same as the passport you carry when traveling, so it makes it easier to carry it around. Try writing down things you see, or ideas that come up to your mind. By inserting a zipper case or a file, you can even use this passport size as a wallet, card case, or even as a passport cover. Please choose your favorite refills, and discover your way of using it.
How to set several refills to TRAVELER'S notebook.>>
PRODUCTS LINE UP / リフィル ラインアップ
---
下記のリフィルはレギュラーサイズ、パスポートサイズ兼用です。
For both Regular and Passport sizes.
---
Discontinued products / 製造終了製品
---
※「TRAVELER'S COMPANY」および「トラベラーズノート」は株式会社デザインフィルの登録商標です。
*"TRAVELER'S COMPANY", "TRAVELER'S notebook" and "TRAVELER'S FACTORY" are trademarks of Designphil Inc.