Refills / Regular Size
BACK TO LIST
009 Repair Kit / リペアキット

発売日:2018年3月29日(木)/ Japan
※お店によって販売時期が異なります。ご購入の際は、お店にご確認の上でお出かけください。

Release Date: April, 2018 / Countries outside of Japan
*The date of release will vary depending on the retail shop. Prior to purchasing, please contact the nearest retail shop.

トラベラーズノートのリペアキットです。
錫製の金具と、ゴムが8本、しおり用の紐が2本セットになっています。本体のノートを留めるゴムや、表紙を留めるゴムバンドの付け替えができます。ゴムが伸びてしまったり、切れてしまったときの修理やカスタマイズにご使用ください。
トラベラーズノートはシンプルな構造なので、簡単に修理やカスタマイズが可能です。壊れたら直す。そして、末永く使ってください。
(レギュラーサイズ/パスポートサイズ兼用)
※2018年3月29日出荷分より、トラベラーズノート リペアキット(009)の仕様が変更となりました。ブルー用のゴムの色が加わり8色になりました。

旧仕様の製品詳細>>
This is the Repair Kit for TRAVELER'S notebook.
It comes with comes with a tin based charm, 8 sets of bands, and 2 stings to use as bookmarks. If the band on your TRAVELER'S notebook gets cut or loosened, please use this to repair. TRAVELER'S notebook is made to be simple to fix and customize. We hope you will treasure and maintain notebook for many, many years.
(For both Regular and Passport sizes)
*Starting from April 2018, the specification of the Repair Kit (009) has changed. The rubber band for blue has been added, making it a total of 8 different colors.
Details of the old specification.>>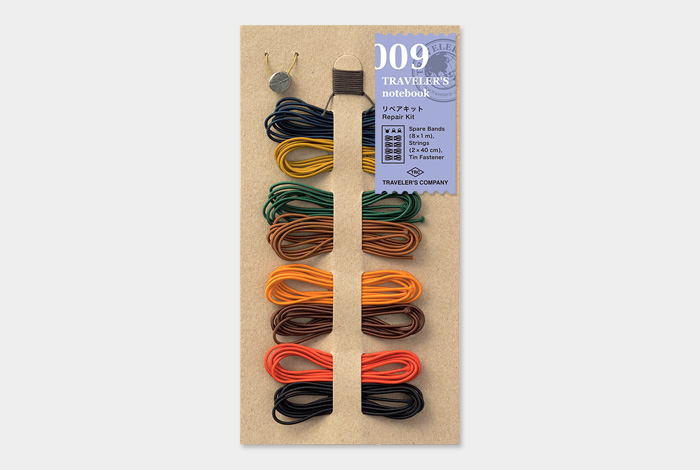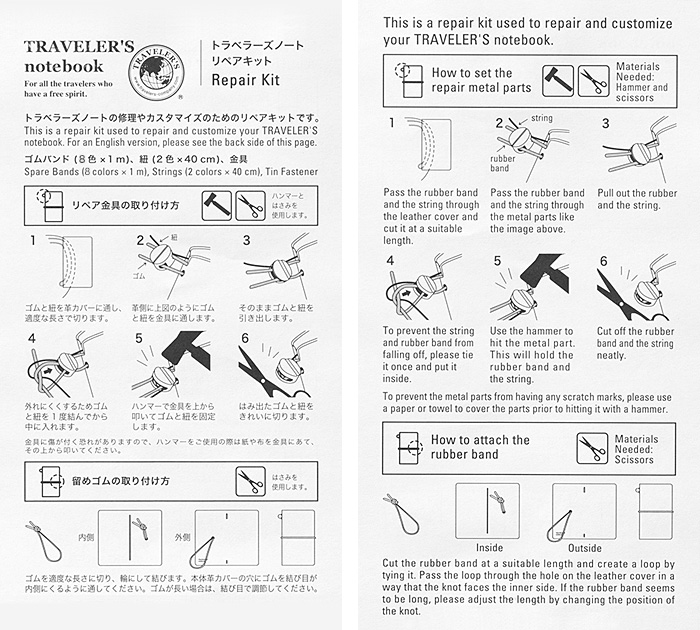 替えゴム8色 各1m、しおり用紐2色 各40cm、スペア金具1個入  800円+税
8 spare band (8 colors, 1m each), 2 strings (2 colors, 40cm each), 1 tin fastener
H207 x W110mm (Package)
MADE IN THAILAND
No.14393006