Refills / Passport Size
BACK TO LIST
005 Blank Notebook <MD Paper> / 無罫 MD用紙(Old specification / 旧仕様)
MD用紙を使ったパスポートサイズの無罫リフィルです。
MD用紙は1960年代にミドリオリジナルのダイアリー用紙として開発され、現在まで品質改良を重ね続けている筆記用紙です。万年筆でもにじみや裏抜けがしにくく、書き味が良い筆記適性を追求した紙です。まっ白の無罫なので、その書き心地を楽しみながら、自由に何でも書き留めてください。
※こちらの製品は旧仕様のため、在庫がなくなり次第終了となります。
※2016年3月より、パスポートサイズ リフィル【005】の仕様がMD用紙から軽量紙に変更となりました。

新仕様の製品詳細>>
This is a passport size refill that uses Designphil's original paper called the MD paper. The MD paper was made in the 1960s, and it pursues the best feeling of writing by preventing the ink from staining or seeping to the back side. There is no printing apllied on this refill so please enjoy the feeling of the MD paper and write anything that comes up to your mind.
*This product has an old specification so please be noted that the sale will end when all the stock has been sold.
*Starting from March 2016, the Passport Size Refill 005 changed its specification from MD Paper to Lightweight Paper.
Details of the new specification>>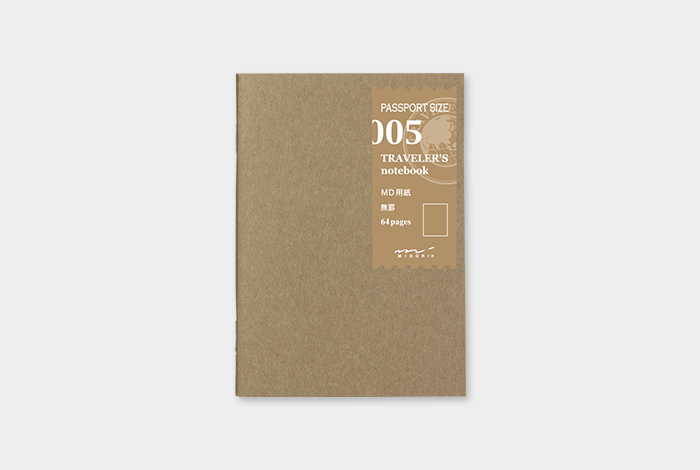 中紙/無罫、64ページ、MD用紙(ステッチャー綴じ) 240円 + 税
Blank, 64 pages, MD Paper (Saddle Stitched)
H124 x W89 x D4mm
MADE IN JAPAN
No.14325006

 Unfortunately, we don't export to individual customers out of Japan.