BACK TO LIST
Inn Daewon, Seoul
ソウル 大元旅館前

Tくんは、学生時代に一緒にバンドを組んでいた仲間の一人です。
同じ学年でしたが、彼は2浪で年齢が2つ上だったため、なんとなく敬意を表し「くん」付けで呼んでいました。
音楽的な趣味が合い、お互いに本や旅が好きなこともあって自然と仲良くなっていきました。
彼は信州から東京に出てきて一人暮らし。私は自宅から2時間かけて大学に通っていたため、バンドの練習や飲み会で遅くなった時はよく彼の下宿に泊めてもらい、明け方まで青臭い話を語り合ったりしました。
パンクロックが好きなのに、堅実な性格の彼が選んだ就職先は、バブル時代の当時はそれほど人気がなかった市役所勤務の公務員でした。
それぞれ就職すると彼は地元へ帰り、私は東北地方に赴任となったため会うチャンスもなくなってしまいました。
そんな彼から、年に1度海外からの絵葉書が送られてくるようになりました。
市役所勤務の彼は比較的休みが自由に取れるようで、毎年10日間ほどの長期休暇をとり、海外へ旅に出ていました。
営業職の仕事に就き忙しく走り回る毎日を送る私にとって、そんな絵葉書は嬉しい反面、嫉妬のような気持ちを感じさせるものでした。
ロンドン、イスタンブール、ニューオーリンズなどから、旅の喜びにあふれた葉書が届くと、旅への渇望がふつふつとあふれてきました。
そんな便りの中に、地元の仲間達とまたバンドを組んでいると書いてありました。
お堅い公務員という仕事を選びながらも彼なりに自由に生きている感じが伝わってきました。
その後、彼が結婚するといつしか絵葉書も来なくなりましたが、私もそのことを気にかけることもなく忙しい毎日を過ごしていました。
10月のソウルは、寒さが1日1日厳しくなっていきます。
出張で、仕事を終えて1人になると、コートを羽織って街を目的もなく歩きました。
学生時代に泊まった安宿がある裏町や南大門市場を歩きながら、湯気の暖かさに誘われて買ったトッポギを頬張り、なつかしい気分に浸りつつ、ソウルの夜の街の雰囲気を楽しみました。
出張中は、少しでも自由な時間が出来るとひとり街をさまよい歩きます。そんな時間がとても好きです。
ホテルに戻る頃はすっかり時間も遅くなり、軽くシャワーを浴びると倒れるように寝入ってしまいました。
朝、突然家からの電話で起こされました。
余程のことがない限り出張先へ連絡が来ることがないので何事かと思い話すと、Tくんの訃報を知らせる電話でした。
旅先で聞くそんな悲しい知らせは、あまりにも唐突で現実感が伴わないものでした。
日本に帰ってから、彼の実家まで行き、ご両親から数ヶ月間入院をしていた話を聞いて初めて彼がいなくなったことを理解できました。
そして、その2ヶ月後、Tくんとのバンドでもその曲をよく演奏し、2人が敬愛するミュージシャンであるザ・クラッシュのジョー・ストラマー急死というニュースが飛び込んできました。
もうTくんから絵葉書が来ることはありませんが、毎年、冬が始まる頃、この大事な人を失った出来事を思い出します。
もし、彼が天国から絵葉書を出すことが出来るのなら、クラッシュの曲にあるこんなメッセージを送ってくるのかもしれません。
「… Stay Free」(自由でいろよ)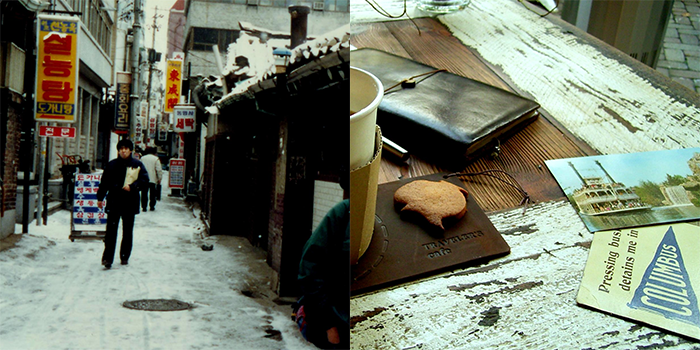 "T-kun" is a friend of mine who we used to form a band back in the days as a student.
We entered college at the same time, but since he was two years older than me, I kind of added the phrase "kun*" in the end to show respect (*the word "kun" is a Japanese word used like "Mr.," except it has an informal and casual feeling compared to "Mr." It is also used after a certain name).
We both shared similar interests in music, and both of us likes books and traveling so we got along pretty well.
He came from the Shinshu region and lived in Tokyo by himself. I on the other hand lived in Tokyo but rode on the train for two hours to get to school. So whenever I would be late after band practice or just drinking, I would sleep over at his house and talk over things that seem young and immature until morning.
Like myself, he enjoys listening to punk rock. Despite how he shows interest in punk rock, his steady and sound personality allowed him to choose a local city government as a working place. Back then, working at a local city government was not popular, given the bubble economy at that time.
Once we graduated and started working, he moved back to his hometown, and I was sent to the Tohoku region to work, so we lost the chance of meeting up.
Since then, he started sending me a post card from overseas once a year. Given how he works at a local city government, it was easy for him to take a leave of absence. He would have ten days of holiday and travel overseas.
As a salesman moving around busily, I was happy about receiving a message from him, but at the same time, it made me feel a little jealous.
Whenever I would receive post cards from London, Istanbul, New Orleans, and other places showing the joy of traveling, my desire towards traveling starts piling up.
On one of the letters that I received, it says that he made a band with his local friends. I was able to sense how he was living his life freely despite working as a public servant.
Once he got married, I started not receiving the post cards, but I could hardly worry about it since I was leading a busy life.
Seoul in October is a time when it gets severely cold day by day.
During my business trip, I would wear a coat and wander around the city once I finish working.
I would walk around areas such as Namdaemoon Market and areas where there are cheap hotels I stayed back when I was a student. While walking around, I would buy and eat Tteokbokki, a Korean food made from rice cake and sweet red chili sauce, and enjoy the night in Seoul.
When I'm on a business trip, whenever I have a spare time, I usually enjoy walking around on my own.
By the time I got back to the hotel, it was pretty late, so I took a shower lightly and crashed into bed.
On morning, I was awaken by the phone call I received from home. I was surprised of the call because unless it's an emergency, I would never receive any calls from my home. As I answered the phone, I was informed of T-kun's death.
This sad message heard during travel was too sudden, and seemed to lack in a sense of reality.
Once I returned to Japan, I visited his hometown and heard from his parents about how he was in a hospital for several months. Through this, I was able to realize the fact that he was gone.
And two months later, Joe Strummer from The Clash also passed away. T-kun and I both played his piece when we formed a band, and both of us showed heavy respect towards him.
I will no longer receive any post card from him, but every year whenever winter starts, I remember the time when I lost my precious person.
If he could send a post card from heaven, I think he might include the following message from The Clash's piece.
"… Stay Free."
LOCATION
ソウル 大元旅館前

Inn Daewon
26 Dangju-Dong, Jong Ro-Ku, Seoul, Korea