BACK TO LIST
Shilin Night Market, Taipei
台北 士林夜市

台湾には、日本のファッションや音楽、アニメなどが好きな若者たちのことを称する「哈日族(ハーリィズー)」という言葉があります。
Nさんは、まさしく哈日族と呼ぶにふさわしい日本好きの台湾人女性です。
高校を卒業し、働いてお金を貯めると、かねてからの目標であった日本への留学を実行しました。
2年間アルバイトをしながら勉強し、日本語の読み書きが出来るようになると、台湾に戻り、日本と取引のある会社で働くようになりました。
そんな彼女とは、仕事上の担当者で知り合ったのですが、明るくオープンな人柄で、仕事以外の話も気軽にするようになりました。
流行りの音楽やドラマなど、日本の好きなことを率直に語る彼女の話は、私を日本人として素直に嬉しい気持ちにさせてくれます。
好奇心旺盛で行動的な性格は、恋愛にも反映されていて、当時は日本人と遠距離恋愛をしていました。
出会ったきっかけを聞くと、インターネット上で知り合い、メールやチャットをするうちに好きになったとのこと。しかし、何度か日本で会ううちに、その男性に奥さんがいることが分かり、大喧嘩の末に別れたそうです。その話を聞き、「ネット上で知り合う男なんてそんなもんだよ。」と軽くいさめると、逆に「日本は遅れてるんだよ。台湾ではそんなの普通のことだよ。」と言い返されてしまいました。
ある日、彼女から会社を辞めるという連絡がありました。
仕事で知り合った香港の男性と結婚し、彼の仕事を手伝うために中国のシンセン(香港に隣接する中国の都市)へ行くという話でした。
台湾では29歳に結婚するのは縁起が悪いそうで、その前に結婚をしたかったというのも決断をした理由のひとつだったようです。
仕事での関わりがなくなってしまうことに、寂しさを感じながらも、彼女らしい大胆な決断にエールを送りたい気持ちになりました。
写真は、Nさんに紹介してもらった台湾最大の夜市、士林夜市で撮影しました。
安くて美味しいものから、食べるのに勇気がいるちょっと怪しいものまで、様々な種類の食べ物が売られているたくさんの屋台。
アクセサリーや服、おもちゃなど雑多ものが売られている店々。
これらが密集し、狭い道を埋め尽くすようにたくさんの人々が歩いています。
台湾らしいパワーを感じる場所でもあり、同時に日本の夏祭りの夜店のような懐かしさを感じさせてくれる場所でもあります。
台湾のお好み焼きのようなものを食べながら夜市を歩いていると、子供の頃の夏休みの気分を思い出しました。
その後、久しぶりにNさんに会う機会がありました。
仕事で日本へ出張に来たとのことだったので、ご主人との仕事も順調にいっているのだろうな、と思い話を始めると、その人とは別れてしまったということから始まる、シンセンに行ってからの波乱万丈の生活を語ってきました。
付き合ってたときは優しかったその男性は、結婚すると急に冷たくなって話もほとんどしなくなってしまったそうです。
決断が早い彼女はわずか半年ほとで、彼と別れることにしました。
しかし、そのまま台湾には帰らずに、いままでの貯金をすべて使って、中国で会社を興しました。
彼との仕事や、前に働いていた会社でのノウハウや人脈を活かし、自ら社長として日本向けの貿易商社の経営を始めているのです。
「日本が好きだから、日本と関係のある会社にしたかったんだ。」とさらりと言ってしまう彼女の行動力と決断力に感服せざるを得ませんでした。
あらためて、もう一度彼女にエールを送りたいと思います。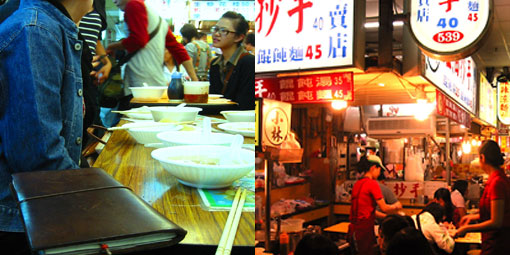 In Taiwan, there is a word called "Harizu," which means young people who love Japanese culture such as fashion, music, and anime.
This reminds me of Ms. N, who is a Taiwanese woman that loves Japanese culture.
After graduating high school, she worked several years to earn the money to study in Japan, which was her goal.
She studied and worked part time for two years, and once she acquired the skill of reading and writing in Japanese, she moved back to Taiwan and started working at a company that does business with Japan.
I met her through business, so most of the conversations were related to those matters, but her bright and open personality allowed us to engage in talks other than business. When I see her talking about how she loves Japan and its trending music and dramas, I can sense the straightness and passion, and makes me feel happy as a Japanese.
Her inquisitive and dynamic personality is also reflected in her love affair, and back then, she was in a long distance relationship with a Japanese man.
When I asked her how she met him, she said that she met him through the internet. By sending messages through emails and online chatting service, she started to love him. However, through the several hangouts she had with him in Japan, she noticed that he was married, and that led to a major fight, ending in a breakup. When I heard that story, I admonished her by saying that "men you meet on internet is basically like that." To my statement, she got back by saying that "Japan is old when it comes to that issue. Meeting somebody online is nothing extraordinary in Taiwan."
One day, I received a message from her saying that she will quit her current job.
According to her explanation, she married with a man from Hong Kong that she did business with, and to help his business, decided to move to Shenzhen (a city in China located right next to Hong Kong).
In Taiwan, marrying at the age of 29 is considered bad luck, and that seems to be one of the reasons why she decided to marry.
I felt lonely about the fact that I could no longer do business with her, but at the same time, I felt like supporting her dynamic decision and wishing her a good luck.
The photo was taken at Shilin night market, which is the largest night market in Taiwan. Ms. N was the one who introduced me to this place.
The market is filled with food stands that sell delicious ones at a low price, mysterious ones that require courage when eating, and other various types. There are also shops that sell accessories, clothes, and toys.
All these stores are clustered together, and various people are squeezing themselves into the thin street, and walking along.
This is a perfect place to feel the power of Taiwan and at the same time, feel the atmosphere of a typical Japanese summer festival.
While walking in the night market eating a Taiwanese pancake, I was able to recall my experiences during summer vacation as a child.
After a while, I had a chance to meet with Ms. N.
She came to Japan as part of her business trip, and when I tried asking how her husband's work is turning out, she started explaining her dramatic life in Shenzhen after breaking up with her husband.
According to Ms. N, her husband was nice when they were in a relationship, but once they got married, he suddenly started treating her in a cold attitude, and hardly spoke with her.
Six months after the marriage, Ms. N divorced with him. This was done based on her ability to make decisions quickly.
After the divorce, she stayed in Shenzhen, where she used all her savings to start her own business. By making full use of the experience built in her former husband's company and her knowledge and personal connections made in her former job, she now runs a trading company as a president that does business with Japan.
"I like Japan, and I wanted to make my company have relations with Japan." I was simply impressed by her action and decisiveness, and the way she said the phrase above naturally.
Again, I would like to support her action and wish her a good luck.
LOCATION
台北 士林夜市

Shilin Night Market, Taipei