BACK TO LIST
CBGB, New York
ニューヨーク ライブハウス CBGB

ニューヨークで、ぜひ行きたい場所のひとつがライブハウスです。
そのライブハウスのなかでも、ロック系の老舗である「CBGB」に行くことが出来ました。
ここは、70年代ニューヨークパンクの全盛時代、ラモーンズ、テレビジョン、パティ・スミスなどが出演していた伝説的なライブハウス。間もなく閉鎖してしまうという話を聞き、出張でのニューヨーク訪問でしたが、なんとか時間を作り行こうと決めました。
仕事が終わり、自由になった時には夜の11時。予定時間より遅くなりましたが、迷わずホテルから地下鉄に乗り込み、メモに書き写した地図を片手に、駅からしばらく歩くと、おなじみのロゴの看板が見えてきました。
少し緊張しながら中に入ると、薄汚れたカウンターバーやバンドのチラシが幾重にも張られた壁がそれらしき雰囲気を醸し出しています。
しかし、意外に小さなステージでは、太目のさえないボーカリストが歌っているのを見て、軽く期待を裏切られた気分になりました。「さえない奴がステージで輝く瞬間こそがロックンロールマジックだしな」と聴き続けましたが、最後まで心を揺さぶられる音を聴くことはありませんでした。
時間は1時になろうとしていましたが、このままホテルに戻る気にもなれず、次のバンドを期待することにします。
次はスリーピースのバンドで、エッジの効いたギターとパワフルなリズムが疾走する、そんな音を聴かせてくれました。 それなりに良い演奏なのですが、ニューヨークの伝説的なライブハウスということで期待していた「特別な何か」を見付けることは出来ませんでした。
それでも、この場所に来たことでそれなりの満足を感じながら外へ出ると、隣にロゴが入ったTシャツなどを売っているショップを見つけました。 中に入ると、店は明かりも消されて営業時間は終わっているようですが、その奥には小さなステージがあります。そこでは、 観客が数人しかいない寂しい雰囲気の中、薄暗いスポットライトを浴びながらミュージシャンがひとり弾き語りでルー・リードの「ワイルドサイドを歩け」を歌っていました。
「Walk on the wild side」を連呼し、こちらに問いかけてくるような歌声を聴いていると、だんだん胸に熱いものが込み上げて来るのを感じました。
この「ワイルドサイドを歩け」というフレーズこそが、ニューヨークとそこに住む人々を象徴的に表している言葉であり、そんなニューヨークに憧れ、今その場所にいることに深く感動している自分に気付いたのです。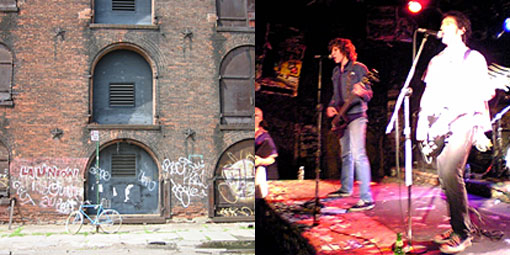 In New York, live music clubs are among the places you should not miss.
This author made it to "CBGB," one of the oldest clubs with live rock of all the New York clubs.
Back in the 1970s, in the heyday of NY punk, the Ramones, Television, Patti Smith, and other punk legends performed at CBGB, turning the club itself into a legend. I heard it was shutting down soon, so I decided to find some time to visit it, although I was on a business trip then.
I got my work done, and was free at long last, but it was already 11:00 pm in the evening. I was already behind schedule. No time to lose. I dashed out of my hotel into a subway train, and walked out of my destination station, with a handwritten map to the legendary club drawn on a memo sheet in my hand. Some walk from the station took me to CBGB's signboard, which was familiar to me.
A bit nervous, I entered the legendary spot. The sleazy bar counter, the walls with many layers of band fliers, and – everything suggested what kind of place this was.
On the stage, unexpectedly small, however, I saw a chubby, unattractive vocalist singing, to my slight disappointment. Well, I changed my mind and listened to the songs until the end, because "the rock'n' roll magic happens when a low-res turns into a superstar on the stage." Still, none of the songs moved me.
The clock was close to 1:00 am. Yet I did not want to leave the legendary place dissatisfied and go straight back to my hotel. I decided the next band would give me a great night in a great place.
The band, three-piece, featuring edgy guitar and powerful, hurtling rhythms, made a fair performance. Still, I did not find that "something special" I expected from a legendary NY club in this band, either.
Well, after all, just being able to visit this epic club gave me some satisfaction. I got out of it, and found a store next-door, which carried things like T-shirts with a musician's logo. I stepped inside, into darkness – the store was already closed for the day. Yet I found a tiny stage deep inside. With only several people in the audience, the place seemed deserted. Still, in the ghostly spotlight, a musician was singing and playing an instrument, alone. Lou Reed's "Walk on the Wild Side" was the song.
The singer repeated "Walk on the wild side", and his voice truly carried the message across to me. Something hot gradually emerged from within my heart.
This phrase, "Walk on the wild side," is very appropriate for the city of New York and its people. Then I found myself, who had dreamed of the city for so long, deeply satisfied with being right there in the middle of it.
LOCATION
ニューヨーク ライブハウス CBGB

CBGB OMFUG
315 Bowery, New York, NY, U.S.A.