BACK TO LIST
Santa Monica beach, LA
LA サンタモニカビーチ

ニューヨークから飛行機で移動すると約6時間でロサンゼルスに着きます。
飛行機で移動するとその距離感を実感することは難しいですが、約4,000キロ、東京からベトナムのホーチミンまでとほぼ同じ距離と考えると、その道のりの長さを少しだけ感覚として掴むことができます。
ジャック・ケルアックの小説「路上」では、主人公サル・パラダイスらがニューヨークからロサンゼルスまでヒッチハイクやバスで、さまざまな街で滞留しながら何日もかけて移動していく姿が描かれています。そんな風に地に足をつけて移動することが出来ればアメリカの広大さを実感できるのかもしれません。
アメリカは、その国の成り立ち自体が、移動する人々・移動してきた人々によって作られてきました。
ロサンゼルスは、その移動のひとつの終着地点でもあります。
ひたすら広大なショッピングモールや、お屋敷が連なるビバリーヒルズなどを見ると、ここが何もない砂漠地帯に出来た新しい街であることがわかります。
ビーチを走る女性が気さくに手を上げてハーイと挨拶を交わしていく。そんな明るさは旅行者にとっては非常に気持ちのよいものですが、それはさまざまな人種が一緒に暮らしていくなかで生まれた文化なのかもしれません。
そんな明るさがこの場所の魅力です。
ドライブの途中、ちょっと大きめのハンバーガーをかじりながら薄いアメリカンコーヒーをごくごく飲む。
車に乗り込んで、FMラジオをつけると、ジャニス・ジョプリンの「サマータイム」が流れる。
窓から見える、果てしなく続く青い空と乾いた大地。
余計な理屈なしにカリフォルニアの自由を感じることができるのが旅人の気軽さです。
後にブルースの女王となる若き日のジャニス・ジョプリンは「路上」のペーパーバックをジーパンのポケットに入れて、テキサスの田舎町からLAへ向かうハイウェイバスに乗り込んでいきました。
いつかどこかの国で自分の生まれた故郷を出て行く旅人が、トラベラーズノートに何かを書き留めることで自分の思いを表現し、それが何かを成し遂げるきっかけになってくれることになってくれれば、私たちにとってこれほどうれしいことはありません。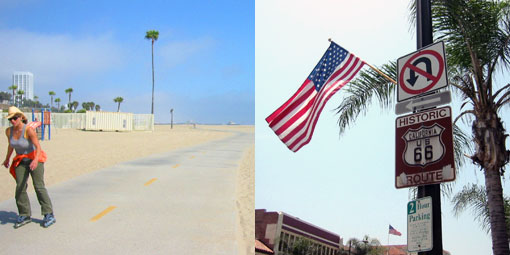 It takes six hours to get to Los Angeles from New York by plane. It's hard to feel the distance through a simple plane ride, but when you think that this 4,000km distance is equivalent to that of Tokyo to Ho Chi Minh City, Vietnam, its possible to grasp the distance to some extent.
Jack Kerouac's novel On the Road depicts Sal Paradise and his friends hitchhiking and riding a bus from New York to Los Angeles. The traveler's stay at various towns on the way, and if we could travel like that, I think it's possible for us to sense the vastness of United States.
United States itself is made up of people who have moved and are currently moving. For those people who have and are moving, Los Angeles is in a sense, an endpoint. When you take a look at the gigantic shopping malls and mansions that line along in Beverly Hills, you realize how this is a new city made on a desert that hardly had anything standing.
A woman running along the beach raises her hand to say "hi" in a friendly manner. This is something delighting to experience as a traveler, but when you come to think about it, its possible to say that this friendly culture was born from the fact that there are various races living in the same environment. But nevertheless, this friendliness and brightness is an intriguing aspect of this place.
While driving, I stop by at a diner to bite onto a large hamburger and drink a diluted American coffee. After my meal, I hop onto my car and turn on the FM radio. On the FM radio, Janis Joplin's "Summer Time" was on air. Outside the window, you see a blue sky and a dry land spreading endlessly. The nice thing about being a traveler is that you can feel this freeness of California without any unnecessary facts and logic.
Janis Joplin, who eventually becomes the queen of blues, in her young days stuck a paperback of On the Road in her jeans, and rode on a highway bus from a local town in Texas to Los Angeles.
In the future, if a traveler that's about to leave their hometown would express their feeling on TRAVELER'S notebook, and try grabbing their dream based on it, that would be one of our greatest pleasure.
LOCATION
LA サンタモニカビーチ

Santa Monica beach
Santa Monica Bl, Santa Monica, CA 90404