BACK TO LIST
TRAVELER'S notebook & company
トラベラーズノートと仲間たち

一人でいるのが好きだった。
みんなで遊ぶより、一人で本を読んだり、音楽を聴いたりするのが好きな少年だった。
人ときちんと向き合うのが苦手で、自分が間違った場所にいるような気がした。
ある日、一冊のノートに出会った。
そっけないほどのシンプルな形と素朴な素材感が自由を感じさせてくれた。
お気に入りのチャームやステッカーで自分らしくカスタマイズしてみると愛着が湧き、
どこに行く時も持ち歩くようになった。
いろいろなことをそこに書き留めた。
楽しかったことや感動したこと。
ふと思いついたイメージ。
未来の夢。
心の奥から取り出した物語。
久しぶりにじっくりと紙と向き合って絵を描いてみた。
ぎこちない線で描かれたいびつな形の絵だったけど、なんだか自分らしくていいなと思った。
このノートの温かな佇まいが、そんな不完全さを受け入れてくれるような気がした。
一番大切なのは自分らしくあること。
それをこのノートが教えてくれた。
そして、本気で自分と向き合ってみようと思った。
ほんとうに好きなことってなんだろう?
わくわくする瞬間ってどんな時?
今まで経験してことや感動したことにどんな意味があったのだろう?
今どこにいて、どこに向かっていくのだろうか?
好きなことをもっと好きになるように、
得意なことをもっと得意になるように、
強く望み、深く追求していくこと。
何かを成し遂げるために必要なことは、そんなシンプルで当たり前のことに気付いた。
すると、自分の行くべき場所が見えてきた。
そこへ向かう旅をしていくなかで、自分らしく本気で仕事をしている人たちに出会い、
そして感動をすることができた。
自分たちが作り出したものが、他の誰かに影響を与えているかもしれないと思うことができた。
同じ夢を共有できる仲間たちと出会えた。
そして、自分は一人じゃないってことに気付いた。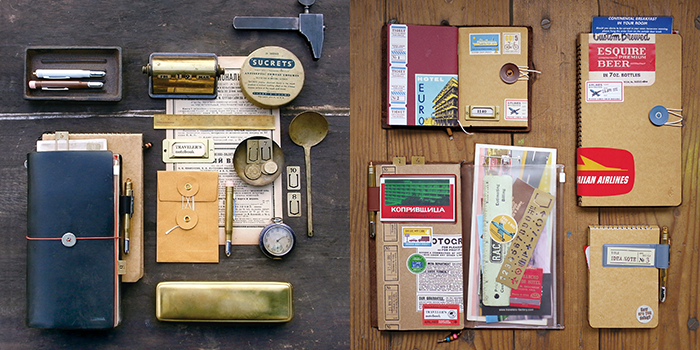 I used to enjoy being by myself. Instead of spending time with others, I enjoyed reading books and listening to music by myself. I had difficulty dealing with people, and I had this uneasy feeling, as I felt I was in a wrong place.
One day, I found a notebook. This notebook takes a simple form, but kind of gave me a sense of freedom. As I started customizing the notebook by adding charms and stickers, I started to love this notebook. Even more to the level where I brought it wherever I went. I wrote down anything that came up to my mind. Things that I enjoyed, things that moved me emotionally, images that came up to my mind, my future dreams, and stories that came from my soul. I even drew pictures in the notebook. The pictures ended up being somewhat distorted, but they kind of represented my personality, and I personally felt satisfied.
I felt that this notebook takes in my incompleteness as a person.
This notebook taught me that the most important thing in life is to be yourself, and to communicate with yourself sincerely.
What do I really like the most?
When do I feel excited?
What kind of significance can I give to past events that I experienced?
Where am I, and where am I heading?
Those questions ran through my mind, but in the end I realized that doing things that I love, being an expert on things I'm good at is the most important aspect. I felt like I received a guide to the path I should pursue.
In the journey that I decided to immerse myself in, I met people that are proud and passionate of their jobs, and this moved me emotionally. I felt like the product I'm making can move somebody's heart.
I was able to meet people that share the same dream, and in the end, I realized I was not alone.