BACK TO LIST
SPICE Cafe, Tokyo
東京 スパイス・カフェ

小さい頃の遊びに、「旅ごっこ」というものがありました。
家の前の道をただひたすらまっすぐ歩いて、帰ってくるだけの遊びで、方向音痴の私でも迷子にならずに未知の場所に行けて、小さな冒険心を満たすことができました。そこで見たことのない公園や空き地を見つけることで胸がときめいたものでした。
自転車を手に入れた後は、親も知らない秘密の場所を見つけるのが楽しく行動範囲が拡がっていきました。そうやって見つけた公園に友達を連れて行って、自分が発見したかのように教えては悦に入っていました。
そんな中で特にお気に入りの場所が、東京湾の近くのある公園でした。そこは、まだ未完成の公園で、裏の金網を抜けると土管や建築資材が転がる空き地になっていました。そのさらに奥へ行くと、東京湾に浮かぶタンカーの隙間からきれいな夕日を見ることができました。
なんとなく、この場所だけは、誰にも教えず、自分だけの場所として秘密にしておき、その後、中学・高校生になってからも、たまに訪ねていました。始めたばかりのタバコを吸いながら、お気に入りのロックを聴き、堤防に座って海を眺めている時間が好きでした。
いつしか、そこを訪ねることもなくなり、ある日突然思い立ち行ってみると、空き地はすべて整地され、ただの小奇麗な公園になっていました。さらに、その奥には大きなマンションが建ち、海への視界はふさがれていました。
旅に出る行為の大きな目的のひとつに、心地よく過ごせる大事な場所を見つけることがあるのは、小さいときの「旅ごっこ」と同じことを繰り返してるだけなのかもしれません。
この写真の撮影場所は、東京墨田区の下町で、古い木造アパートを改築して作られた趣のあるカフェ「スパイスカフェ」です。
裏通りの民家が並ぶなかにあり、看板がないと見落としてしまうくらい街に溶け込んでいますが、店の中に入るととてもなつかしく、かつ洗練された心地よい空間が広がっています。
ここのシェフは旅人として世界各国を歩き、料理の勉強をしたあとに生まれ故郷の場所で、仲間と協力し手作りでこの店を作り上げたそうです。そんなシェフの熱い思いがやさしく伝わってくる場所です。
その店名のとおりスパイスが効いているけれども、決して刺激が強すぎることのない深い味のカレーやソーセージは、このカフェの強い主張があるがさりげない、そして、洗練された店内のインテリアのイメージと見事に一致しています。
この店でコーヒーを飲む時間は、日常の生活のなかで忘れてしまった、旅にいる時間を思い出させてくれます。
ここは、筆者の自宅から自転車で10分の場所にありますが、旅心を感じさせてくれる心地よい場所が近くにあるのはうれしいことです。
ただし、最近は混んでいることが多くふらっと行くと入れないことが多いのはちょっと残念ですが…。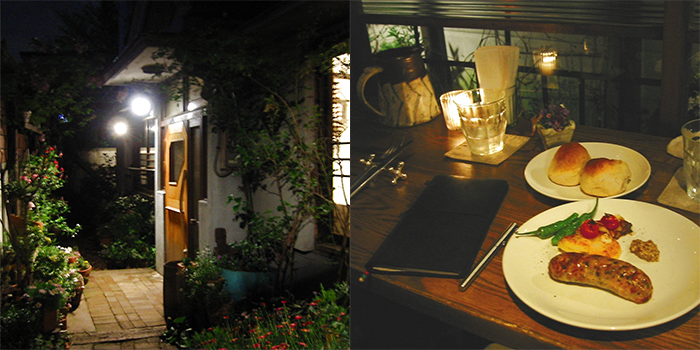 When I was a little kid, there was a "let's travel" game.
It was very simple – just going straight down the street right in front of my house, and then coming back. Still, it satisfied my childish curiosity, since I went to places I had not known before. Besides, I never got lost in this game, though I easily lost a sense of direction. Somewhere down the street, I found a park, a space, etc., I had never seen before, and these were all exciting experiences.
After I got my bicycle, I "traveled" more broadly, taking even greater pleasure in finding places my parents did not know. When I found a park that way, I took my friends there, bragging like I was the first one in the whole world to make that discovery.
One place that was my special favorite was a park beside Tokyo Bay. This park's construction was unfinished yet, back then. I could get over the chicken wire on the back of the park, and into an empty space with some clay pipes and building materials scattered in it. I walked farther, and found a lovely sunset among the tankers on Tokyo Bay.
For some reason I could not fully understand, I wished to keep this special park as a secret place of my own. After I grew up to be a secondary student, I visited the place once in a while. Then, I just took on the habit of smoking. Smoking a cigarette, and listening to my favorite rock tunes, I watched the bay, seated on the dyke. A time I cherished so much.
Time went by, and I visited the place no more. After some time, out of the blue, I had the idea to visit the park, one day. There, I found the once empty space neatly cleared, made into just another lovely park. Moreover, behind it stood a huge condominium, which concealed the bay from my sight.
One major purpose of traveling is to find a precious place where you can relax with comfort. Maybe, we travelers are just repeating what we used to do when we were kids, in "let's travel" games.
The photo shows the SPICE Cafe, a coffee shop with an atmosphere rebuilt from an old wooden apartment building, located in an old town in Sumida Ward, Tokyo. Nestled among private houses along a back street, this cafe can easily escape your notice unless you search for its signboard. It is perfectly part of the neighborhood. Once you step inside, you find yourself in a space of comfort, sophistication, and nostalgia.
This cafe's chef traveled all over the world to learn cooking. Then, he came back to his birthplace, where he and his friends worked together to build this cafe. Indeed, the space gently radiates the zest the chef had in creating it.
As its name suggests, the cafe serves some curries that are obviously spicy, yet never too harsh. Order a curry or a sausage, and you will appreciate its taste with depth. These foods carry the chef's powerful messages, but are never pushy. Also, they go quite well with the sophisticated ambiance of the interior.
Drinking coffee in this cafe, you can recall memories of your travels, long forgotten in your everyday hassles.
This cafe is within 10 minutes' bicycle ride from the author's home. It is very nice to have a place of comfort, where I can think of traveling, in my neighborhood.
I'm having a bit of bad luck recently, though. The cafe is very often packed, leaving no space for me to drop in.
LOCATION
スパイス・カフェ

SPICE cafe
http://www.spicecafe.info/
1-6-10 Bunka Sumida-ku Tokyo, Japan