BACK TO LIST
A market at Shaoxing, China
中国 紹興のとある市場

チャン・イーモウ監督の映画「活きる」を見ると、中国の近代史がダイナミックに激動して行くさまをかいま見ることが出来ます。
人々が辮髪(べんぱつ)をしていた清の末期から、辛亥革命、日中戦争、国民党から共産党への政権交代、文化大革命、そして現在の経済成長。その短期間での激しい政治の動きは、そこで暮らす庶民の生活を翻弄してきました。
ここ紹興は、その名の通り紹興酒の名産地として知られる街です。日本酒の名産地がそうであるように水の豊富な街です。
街の縦横に水路が走り、水路の脇には古くからの民家が立ち並んでいます。
そこでは、人々が洗濯をしたり、料理をしていたりする姿を見ることが出来ます。
まるで、映画のワンシーンのようなその光景を見ると、「活きる」で見たような清の時代の息吹を感じることが出来ます。
また、ここは中国近代史に大きな影響を与えた、日本にもゆかりのある文学者 魯迅の故郷でもあります。
彼もまた激動の時代を生き、その時代の人々の生活を書き記しています。
歴史を感じることも旅の大きな醍醐味です。
撮影したのは、紹興にはいくつかある市場のひとつです。
市場に入ると、臭豆腐の突き刺すようなにおいが迎えてくれます。
紹興の人々は、この強烈な臭いがする食べ物が好きなようで、中国のほかの地域よりも多くの屋台がこの食べ物を売っています。
もちろん食べ物に関しては、懐が深い国ですので、無難で美味しい食べ物もたくさんありますのでご安心を。
中国は、あの広大な大地に13億の人民が生活する巨大な国家ですので、簡単にその国を説明が出来ませんが、そこを訪れて感じるのは、ありとあらゆるものが渾然一体になった混沌としたパワーです。
そのパワーが最近の激しい経済成長の源になっているのは、さまざまな場所で感じることが出来ますが、その影で、失われつつある歴史の面影を見つけることもまた、中国の旅の魅力です。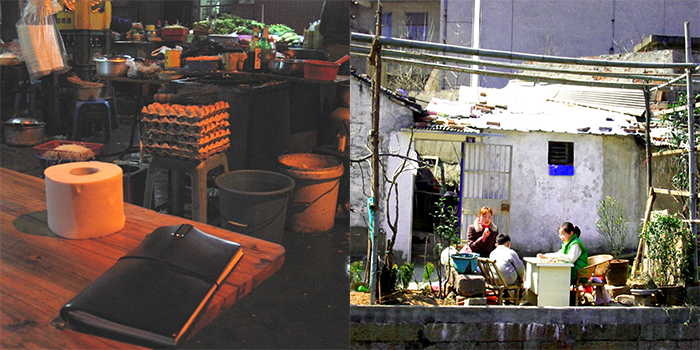 A film titled "To Live," directed by Zhang Yimou, shows us some of the dynamism of China's modern history.
From the last years of the Qing Dynasty, when many wore "pigtail" hair, to the Chinese Revolution to the Sino–Japanese War, the transition of power from the Nationalist Party to the Communists, the Cultural Revolution, and the current rapid economic expansion – these stormy changes in Chinese politics have influenced the lives of many common people in China.
This city of Shaoxing is renowned for Shaoxing liquor, as its name suggests. Many Japanese know that towns famous for sake production have excellent sources of quality water. And Shaoxing is blessed with an abundance of water.
Corridors of water form a grid pattern in the city, with old private houses standing alongside them.
There, you see people washing clothes, cooking, and so on.
Seeing scenery just like a scene from a film, you can sense how people's everyday lives were back in the Qing Dynasty years – the "daily life" that you see in "To Live."
The city is also the birthplace of Lu Xun, a famous figure of literature whose influence on the modern history of China was significant. He also studied in Japan.
Lu Xun also lived in the storm of change, while writing down how ordinary people lived amid such a storm.
Part of the joy of traveling is feeling the history of the places visited.
Photos show one of the several markets of Shaoxing.
Step in there, and the stimulating smell of choudoufu welcomes you.
Many residents of the city love this – well, very stinky – food. You will see more food stalls selling choudoufu than in any other city of China.
Well, if you are not enough brave enough to try it, don't worry – China has a great wealth of culinary arts, and there are many other foods you can savor, with ease!
China is truly a giant country, hosting some 1.3 billion people in its vast territory. There is no way, therefore, to describe the nation in short. Still, once you visit China, you will sense some chaotic energy produced by the fusion of many, many different elements.
This chaotic energy is the source of the nation's recent rapid economic growth, as you can sense at many different places. At the same time, behind this economic growth, you can find some silhouettes from the past. This is part of the pleasure of traveling in China.
LOCATION
中国 紹興のとある市場

Food stalls, Shaoxing, China