BACK TO LIST
Chungking Mansions, Hong Kong
香港 重慶大厦(チョンキンマンション)

香港、九龍半島の中心部、尖沙咀(チムシャツイ)を歩くと、「ニセモノアルヨ」と声をかけられることが多いですが、声の密度が最も多くなる場所に、重慶大厦(チョンキンマンション)があります。
その声をかき分け薄暗いビルの中に入ると、両替屋や、インド系の雑貨屋やCDショップが集まり、カレーとお香の混ざった香りと相まって、独特のあやしい雰囲気を醸しだしています。
このビルの上層階には、安宿がたくさんあるためバックパッカーには有名な場所です。
私も、17年前にトランジットで香港に寄ったときに泊まりました。香港のガイドブックを持っていなかったため、話に聞いていた重慶大厦の前まで来て、安宿の客引きに導かれて宿を決めました。
ベットでスペースが埋まってしまう部屋。窓を開けると、目の前にビルの薄汚れた壁と、上の階の窓から投げ捨てられたゴミクズしか見えず、しかたなくベットに横になって天井を見上げるとゴキブリがのそのそと這っている。そんな宿でした。
ウォン・カーウァイ監督の映画「恋する惑星」「天使の涙」の舞台になったことでも有名です。
美しく妖しい映像が魅力の映画ですが、映画を見た後にここを訪れると、「怪しい」魅力に「妖しい」魅力が加わります。
ビルの中心部に細い階段があります。そこをのぼり左側にまっすぐ行くと、写真を撮影したインド料理屋があります。
店をはみ出し通路に並べられたテーブルがインドの下町を思い出させます。
撮影後、後日訪問した際に、スタッフに写真をわたし、店内に飾ってもらいました。
その2週間後に友人が香港に行くというので、このことを伝えましたが、その時にはもうなくなっていたそうです。
まあ、帰ったその瞬間に外されてたのかもしれないですね。
道路をはさんだ反対側には、5つ星の高級ホテルのペニンシュラホテルがありますが、両方が違和感なく混在しているところが香港の魅力であり、また、その両方を楽しむことが出来るのが旅のいいところなのかもしれません。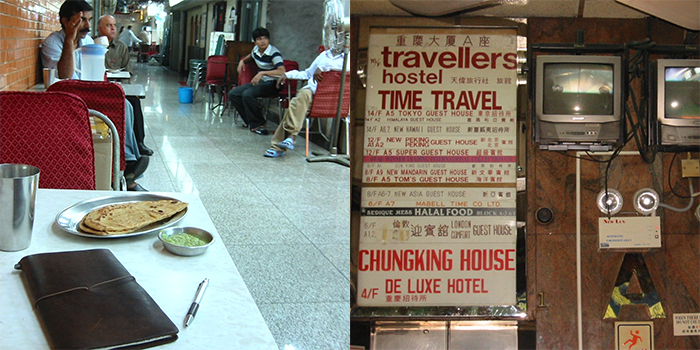 The higher stories of this building have many cheap hotels, well-known to backpackers. I too stayed at one of them 17 years ago, on a night before my transit flight. I had no guidebook to Hong Kong then. I just heard about those cheap hotels and came to Chungking Mansions, where a runner from one of them caught me successfully.
The room just barely accommodated a bed. I opened up the window, and found a filthy old wall of a building standing next to it, as well as garbage thrown out of windows of the upper rooms. That was all I found! Having given up on finding something worth watching, I had nothing to do but to lay myself down on the bed and look up at the ceiling. There, I found a roach crawling around. This describes how the hotel really was.
These "Mansions" are known to the world as the locations of movies directed by Wong Kar-wai, "Chungking Express", and "Fallen Angels."
If you have seen these movies, renowned for their glamorously mysterious images, just try visiting the "Mansions." I am sure you will find the place is not just mysterious and glamorous, but "fatale" as well, in the sense of "femme fatale."
The building has a narrow stairway in its middle. Climb up it and turn left, and go straight. You can come to the Indian restaurant where I took one of the photos above.
The table is in the corridor, outside the restaurant, reminding us of a busy street in India. After I took the photo, I came back to this restaurant several days later. I gave them a photo of my coworkers and asked them to post it somewhere in the restaurant.
Then, two weeks later, a friend of mine was visiting Hong Kong. So, I told this friend about the photo. When the friend visited this same restaurant, the photo was gone.
Well, maybe they took is off soon after I left the restaurant.
Across the street, opposite to this messy labyrinth, stands The Peninsula Hong Kong, a five-star luxury hotel. These two exist side by side. This is one of the things that is so attractive and interesting about Hong Kong. And enjoying these two extremes together is partly what makes travel so much fun.
LOCATION
香港 重慶大厦(チョンキンマンション)

Chungking Mansions
36-44 Nathan Road, Tsim Sha Tsui, Kowloon、Hong Kong