2019 DIARY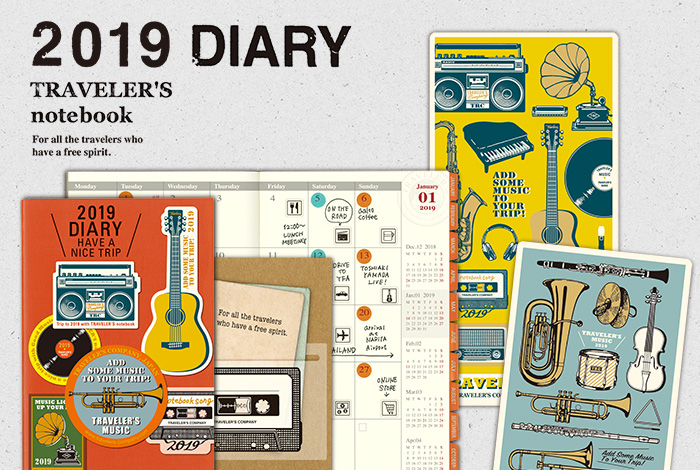 トラベラーズノート 2019ダイアリー
2018年9月13日発売
ふと流れる音楽が、いつもの日常を感動的な映画のワンシーンのように変えてしまうことがある。
美しい旋律が見慣れた風景に物語を与え、隠れていた魅力に光をあてる。
すると、今この瞬間がかけがえのない愛おしいものに思えてくる。まさに音楽の魔法だ。
ふと流れる音楽が、その場に居合わせた人たちの心をひとつにしてしまうことがある。
音楽が孤独な心に寄り添い、親友のように手を差し伸べてくれることだってある。
音楽は日々の暮らしを輝かせ、旅先の風景をとっておきの瞬間にしてくれる。
トラベラーズノートもまたそんな存在でありたい。
2019年への旅がはじまります。
音楽とトラベラーズノートとともによい旅を。
※限定商品につき、欠品、完売の場合はご容赦ください。
※お店によって販売時期が異なります。ご購入の際は、お店にご確認の上でお出かけください。
TRAVELER'S notebook 2019 DIARY
Available Autumn 2018 (Outside JAPAN)
Music can turn an ordinary day into a moving moment, just like a scene in a movie.
A beautiful melody can add a story to familiar scenery, and illuminate its hidden charms.
And then, that moment becomes something irreplaceable and precious. Such is the magic of music.
Music also unites the hearts of all who are there and hear it.
Such music caresses lonely hearts, extending a hand in kindness like a close friend.
Music lights up the day, and turns scenes of travel into treasured moments.
TRAVELER'S notebook wants to add the same color to your life.
Your journey into 2019 will start soon.
We wish you a happy and safe trip, together with music and your TRAVELER'S notebook.
* These are of limited availability. In case they are sold out or out of stock, we would appreciate your understanding.
---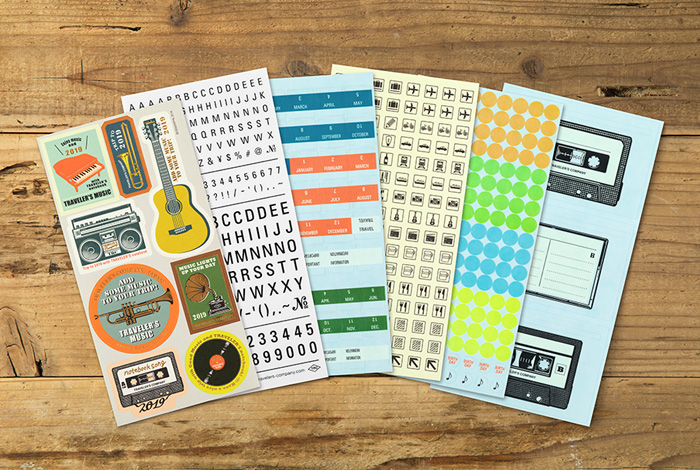 2019年限定デザインのダイアリーカスタマイズシール
インデックスやポケット、予定をあらわすアイコン、表紙を彩るシールなど、トラベラーズノートのダイアリーをもっと楽しくカスタマイズするためのシールセットです。2019年版は、トラベラーズミュージックをテーマにデザインしました。
カスタマイズシールはギターやトランペット、ピアノなどの楽器に、ラジカセやレコードなどの音楽にまつわるモチーフをデザイン。名刺やカード、切手などを収納できるポケットシールはカセットテープをイメージしてデザインしました。今回は新たにインレタシールもセット。表紙のカスタマイズとあわせて、ポケットシールにプリントされたカセットテープのタイトル欄に、好きなバンド名や自分の名前をインレタで記してみるのもおすすめです。
Customized Sticker Set for the 2019 edition.
This is a sticker set for customizing the TRAVELER'S notebook that makes it more fun, including index and pocket stickers, icon stickers to represent different plans, and stickers to decorate the cover. The 2019 version features a design with a theme of TRAVELER'S MUSIC.
The customizing stickers feature design motifs related to music, including musical instruments such as guitars, trumpets, and pianos, as well as cassettes players and records. The pocket stickers that can store items such as business cards, other cards, and stamps feature a cassette tape-like design. This time, there is also a set of new dry transfer stickers. In addition to customizing the cover, it is suggested to use these stickers to try writing out your favorite band names and your own name on the cassette tape pocket stickers and title areas.
---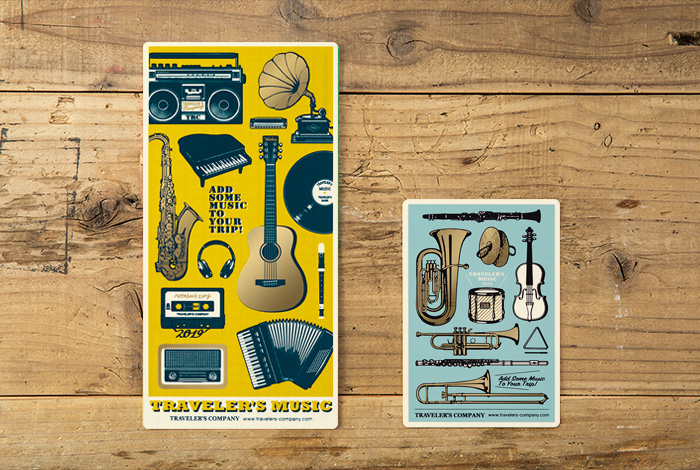 2019年限定の下敷は、トラベラーズミュージックをテーマにデザイン!
立ったまま書いたり、しおりにして瞬時にそのページを開いたり、直線を引いたり、旅先でのさまざまなシーンで便利な下敷。2019年版は、ミュージックをテーマにデザインしました。レギュラーサイズには、ギターやトランペットなどの楽器に、ラジカセやレコードなど音楽まつわるモチーフを、パスポートサイズには、金管楽器を中心にしたトラベラーズオーケストラの楽器をレイアウトしました。どちらもゴールドの箔押しで表現しています。
The design for Plastic Sheet limited edition 2019 is the TRAVELER'S MUSIC!
This is a mat that is useful to achieve goals in various scenarios, including writing while standing, as a bookmark to instantly open to a certain page, and to draw straight lines. The 2019 version was designed with a music theme. The regular size has music-related motifs including musical instruments such as guitars and trumpets as well as cassette players and records. The passport size has a layout with TRAVELER'S ORCHESTRA instruments focused on brass instruments. They both feature gold leaf covers.
---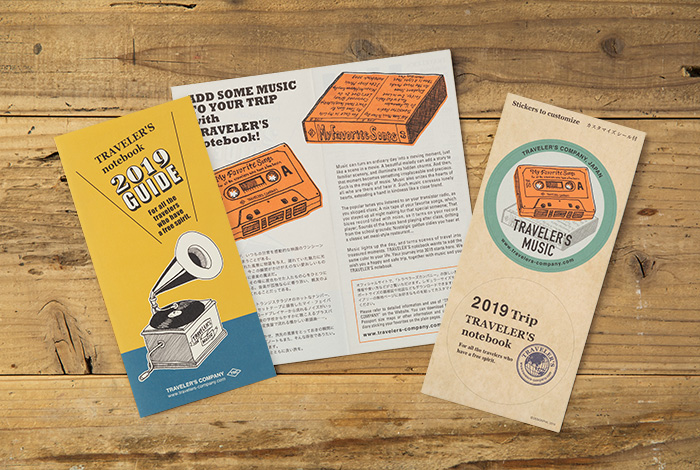 2019ガイド
2019年ダイアリーには、ガイドとカスタマイズ用ステッカーが付属しています。
Guide 2019
In the 2019 Diary, there is a Guide and a customizing sticker included.
---
2018年9月13日発売
Available Autumn 2018 (Outside JAPAN)
CUSTOMIZED STICKER FOR DIARY / カスタマイズシール ダイアリー用
インデックスやスケジュール、透明丸シールに加え、トラベラーズミュージックをイメージしたカスタマイズシールとポケットシール、また新たに加わるインレタをセットした、2019年ダイアリー用のカスタマイズシールです。
In addition to index and schedule stickers, transparent round stickers, and pocket stickers, the "Customized Stickers" for Diary 2019 set contains stickers based on the TRAVELER'S MUSIC motif, including dry transfer from this year.
PLASTIC SHEET / 下敷
立ったままでも書きやすくなり、しおりや定規としても使える、何かと便利な下敷です。表はトラベラーズミュージックをイメージしたデザイン、裏は罫線下敷きとしても使える便利な方眼罫になっています。2019年限定デザインです。
This convenient Plastic Sheet will let you write standing up, or you can use it as a bookmark. The front features a design based on the TRAVELER'S MUSIC motif, while the back is a grid ruled for use when drawing straight lines. This design is limited to 2019.
STARTER KITS DIARY PACK / スターターキット ダイアリー
DIARY REFILLS / ダイアリー リフィル
---
※「TRAVELER'S COMPANY」および「トラベラーズノート」は株式会社デザインフィルの登録商標です。
*"TRAVELER'S COMPANY", "TRAVELER'S notebook" and "TRAVELER'S FACTORY" are trademarks of Designphil Inc.