2019 DIARY
BACK TO LIST
TRAVELER'S notebook 2019 Weekly + Memo Black / Brown / Camel / Blue (Regular Size)
トラベラーズノート 2019 週間+メモ 黒 / 茶 / キャメル / ブルー(レギュラーサイズ)
2018年9月13日発売
2019年ダイアリー週間+メモがセットされたスターターセットです。
週間フリー+メモは、左ページに1週間、右ページにはセクション罫のメモがレイアウトされています。メモスペースにはやることリストを書いたり、お気に入りのラベルを貼ってスクラップしたり、自由に使うことができます。1冊で週間ページは6ヵ月分。前半後半の2冊分がセットされています。筆記性を追求したオリジナルの筆記用紙(MD用紙)を使用しているので、万年筆でもにじみや裏抜けがしにくくなっています。
一般的なA5サイズの幅を少しスリムにしたサイズは、手に持ちやすくたっぷりと書き込むことができます。さらに、マップやチケット、A4コピー用紙の三つ折りをカバーの間にざくざくと挟み込むことができます。
シンプルな構造のため、自由にカスタマイズできるのも大きな特徴です。様々な紙を使ったノートやジッパーケース、ポケットなど豊富に揃えている専用リフィルからお好みのものを選んでセットすることができます。さらに、しおりやゴムにお気に入りのチャームを付けたり、ノートリフィルの表紙にステッカーを貼ったりして、自分らしくカスタマイズするのもおすすめ。使うほどに深くなる革の風合いや傷とともに、使う人によってその味付けがされ、この世でたった一冊のノートへと変化していきます。
旅にはもちろん、日々の生活でいつも持ち歩くことで、旅するように毎日を過ごしてほしいノートです。
ガイドとカスタマイズ用ステッカーが付属しています。
Available Autumn 2018 (Outside JAPAN)
This is a starter kit for the regular sized TRAVELER'S notebook with 2019 Diary Weekly+Memo.
Diary Weekly+Memo has a weekly Diary with a page worth of memo space. On the left side, you have the section where you can write your plans, and on the right side, you have the memo section where the grids are being printed to make writing and drawing easy. A single notebook covers worth six months. This set include 2 pcs. for the first half and the second half for 2019. The MD paper is used for this notebook so the feeling when writing is simply great.
The notebook is similar to the A5 size, except it is slimmer in terms of its width. This makes it easy to carry, and it even suits in writing a lot. You can even insert maps, tickets, and three-folded A4 sized papers inside.The structure of the notebook is simple, and this makes it easy to customize. Please choose your favorite refills that include notebooks made of various papers, zipper cases, and pockets. You can even paste stickers on the cover of the notebook and add charms on the bookmark or the rubber band and make the notebook yours.
There is a Guide and a customizing sticker included.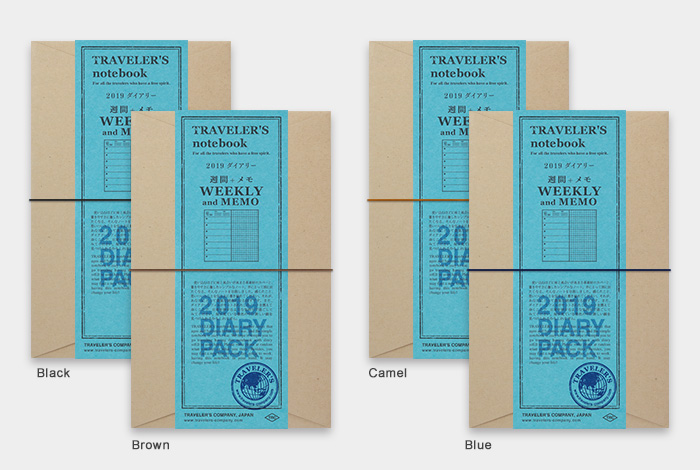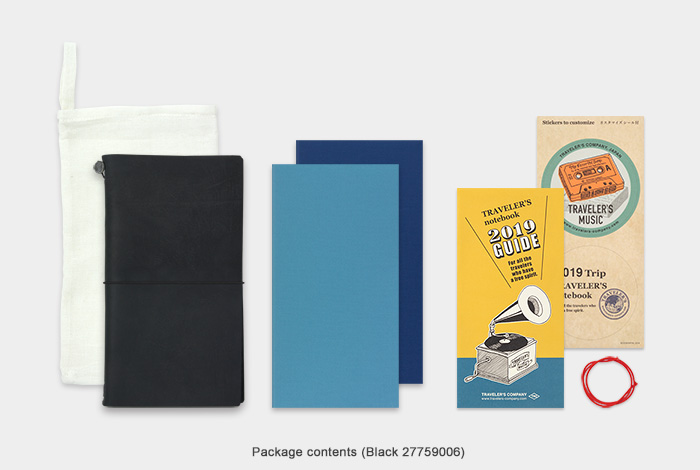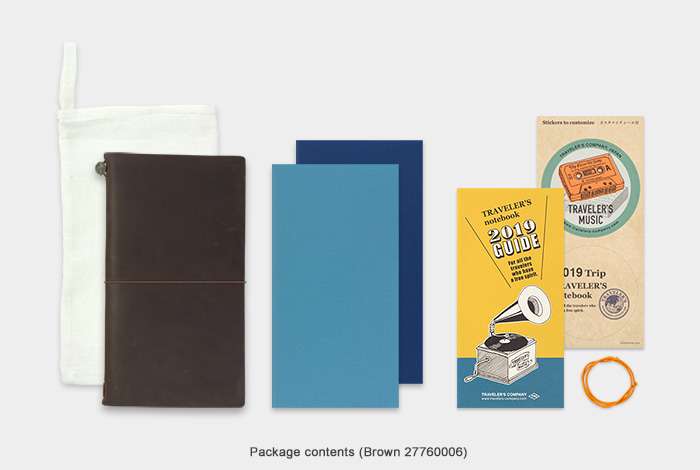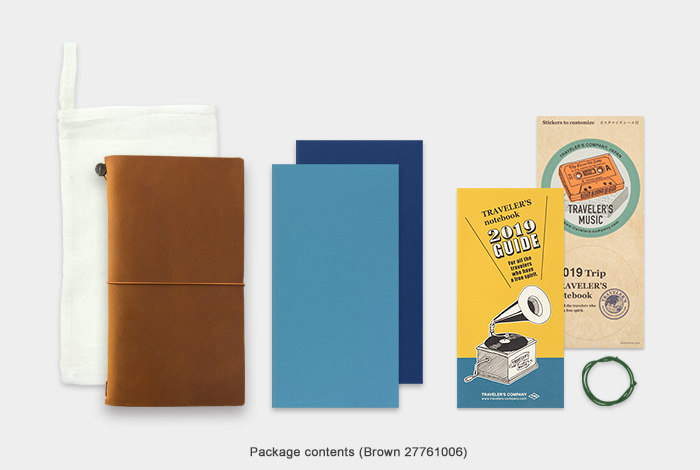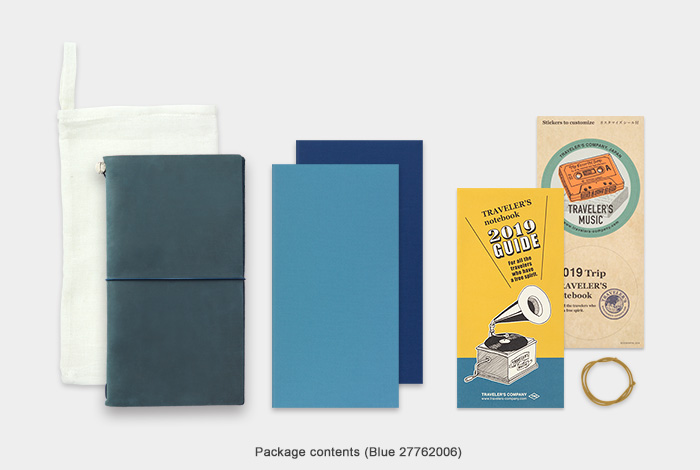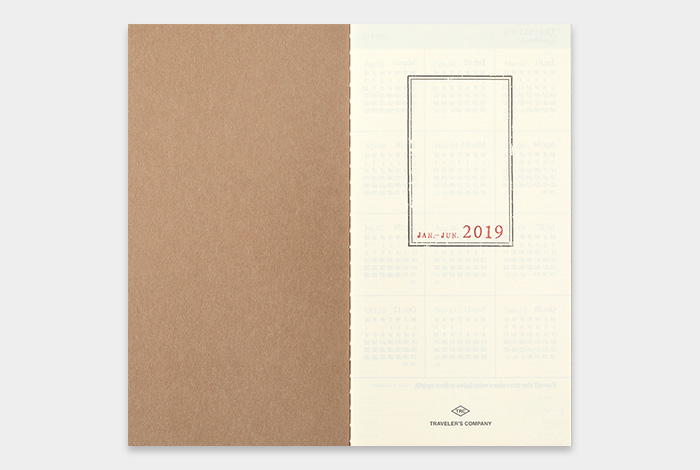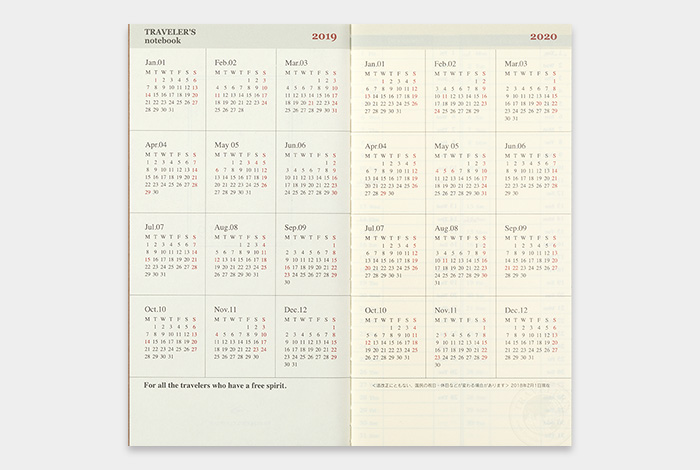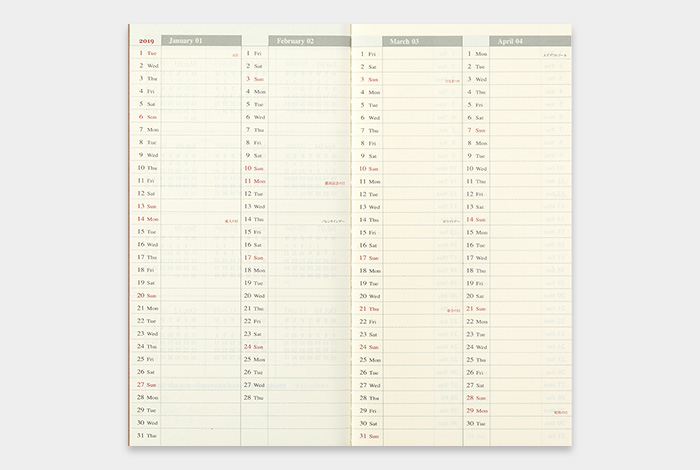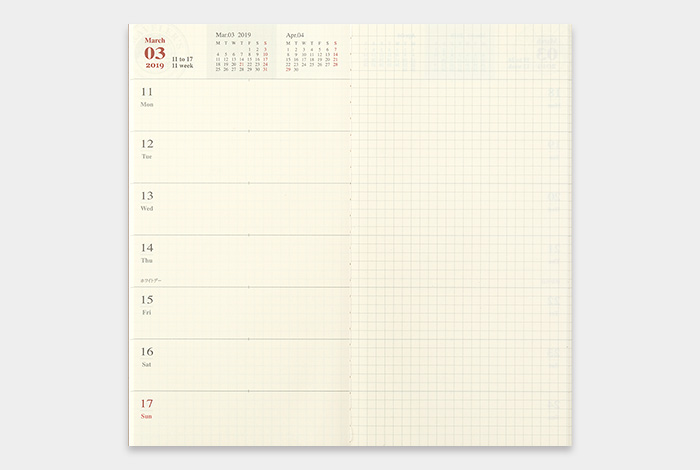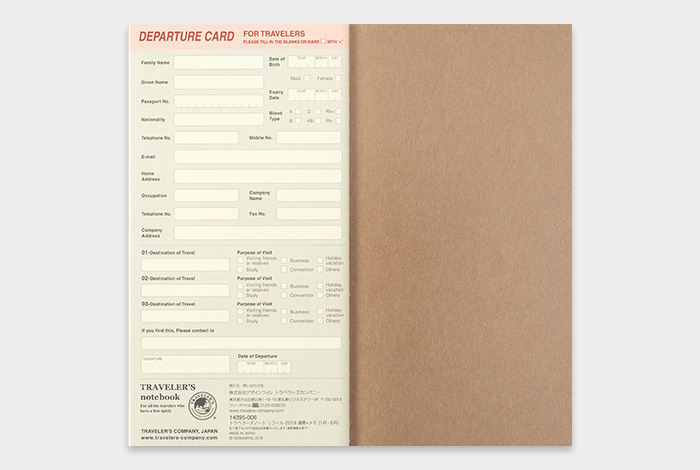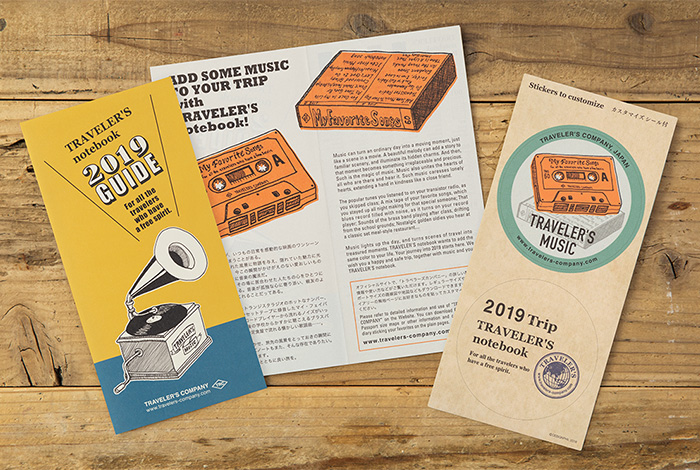 ダイアリーガイドとカスタマイズ用ステッカーが付属しています。
In the 2019 Diary, there is a Diary Guide and a customizing sticker included.
コットンケース/H240×W140mm タイ製
カバー本体(27759006 黒、27760006 茶、27761006 キャメル、27762006 ブルー)/H218×W120×D10mm タイ製
リフィル/2019週間+メモ (2019年1月〜6月、7月〜12月、68ページ)/H210×W110×D8mm 日本製
スペアゴムバンド/赤(27759006 黒) オレンジ(27760006 茶) 緑(27761006 キャメル マスタード(27762006 ブルー) タイ製
ダイアリーガイド、シール付 日本製
5,500円 + 税
Cotton Bag / H240 x W140mm MADE IN THAILAND
Leather Cover (27759006 Black, 27760006 Brown, 27761006 Camel, 27762006 Blue) / H220 x W120 x D10mm MADE IN THAILAND
Refill / 2019 Weekly and memo (January 2019- June 2019, July 2019- December 2019, 68 pages) / H210 x W110 x D8mm MADE IN JAPAN
Spare Rubber Band / Red (27759006 Black), Orange (27760006 Brown), Green (27761006 Camel), Mustard(27762006 Blue) MADE IN THAILAND
Bonus item / Diary Guide and Sticker MADE IN JAPAN

 Unfortunately, we don't export to individual customers out of Japan.