Refills / Passport Size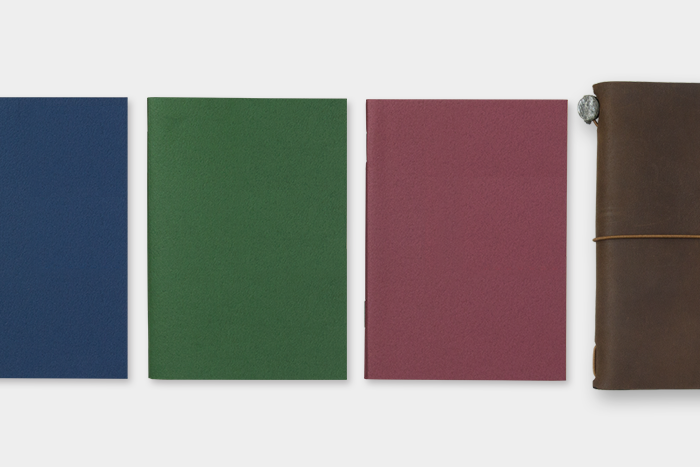 トラベラーズノート リフィル(パスポートサイズ)
トラベラーズノートのパスポートサイズにセットするリフィルです。
パスポートと同じサイズなので、より軽快に持ち歩くことができます。いつも身につけて思い付いたアイデアや出会った言葉など、気軽になんでも書き留めてください。ジッパーケースやクラフトファイルをセットすることで、財布やカードケースとして使ったり、パスポート用のカバーとして使うこともできます。たくさんのリフィルの中からお好みのものを選んでセットし、自分らしい使い方を見つけてください。
連結バンドを使った複数のリフィルのセット方法>>
TRAVELER'S notebook Refills (Passport Size)
These are refills where you set it into your passport size TRAVELER'S notebook. The size is the same as the passport you carry when traveling, so it makes it easier to carry it around. Try writing down things you see, or ideas that come up to your mind. By inserting a zipper case or a file, you can even use this passport size as a wallet, card case, or even as a passport cover. Please choose your favorite refills, and discover your way of using it.
How to set several refills to TRAVELER'S notebook.>>
---
About the specification change of "TRAVELER'S notebook Refills" / リフィルの仕様変更について
2016年3月25日より、一部のリフィルの仕様が変更となります。
001横罫、002セクション、003無罫は、より書くことを楽しんでいただけるよう、万年筆でもにじみや裏抜けがしにくい、オリジナルの筆記用紙、MD用紙に変更します。あわせてページ数は64ページとなり、ミシン目はなくなります。005は、ミシン目付きの軽量紙として新しく発売します。また、リフィルのパッケージも使い方や内容をより分かりやすく随時変更をしていきます。
※店頭では新旧の仕様が混在する場合があります。ご了承ください。
Starting from March 25, 2016, specifications for some of the refills will change.
For the 001 Lined, 002 Grid, and 003 Blank, the paper used inside will change to our original MD Paper. MD Paper pursues the best feeling of writing, and makes the ink hard to stain and sink through the other side, making it a best match with fountain pens. The number of pages will be changed to 64 pages, and there will be no perforation lines on each page. The 005 Refill will be changed to Lightweight Paper with perforation lines on each page. Finally, we will be changing the packaging of all the refills. This will be done by adding more explanation of its usage and contents, making it easy to understand.
*Please note that the refills with the old specification may be mixed with the new ones at some retail stores.

PRODUCTS LINE UP / リフィル ラインアップ