2018 DIARY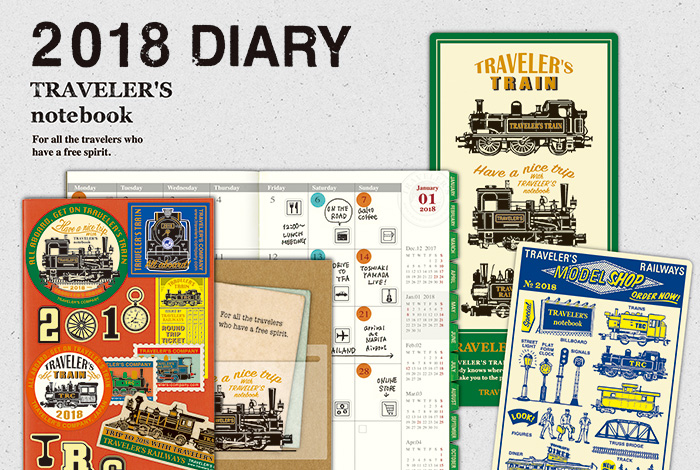 トラベラーズノート 2018ダイアリー
2017年9月14日発売
列車が次の駅に到着するように、また、新しい1年がやってきます。
車窓からの風景は、毎日見慣れた場所を巡っているようにも見えるし、はじめて見る景色のようにも見えます。時には、想像すらしていなかった場所を走るかもしれません。
トラベラーズステーションから不定期に出発する寝台夜行列車、トラベラーズトレインに乗車するように、2018年を旅してみてはいかがでしょうか。
行き先は、まだ誰も訪れたことがない未来です。
皆様、ご乗車ください。まもなくトラベラーズトレインが発車します。
※限定商品につき、欠品、完売の場合はご容赦ください。
※お店によって販売時期が異なります。ご購入の際は、お店にご確認の上でお出かけください。
TRAVELER'S notebook 2018 DIARY
Available Autumn 2017 (Outside JAPAN)
Another year arrives, much like a train arriving at the next station.
The scenery you watch from the train window can evoke both a sense of traveling around familiar places, or of new unexplored territories. You may even go somewhere you never would have imagined.
Why not embark on a journey to 2018, just as you would go to the TRAVELER'S STATION and board the irregular overnight sleeping car on the TRAVELER'S TRAIN.
Your destination is a future where nobody has gone before.
All aboard everyone! The TRAVELER'S train is about to depart.
* These are of limited availability. In case they are sold out or out of stock, we would appreciate your understanding.
---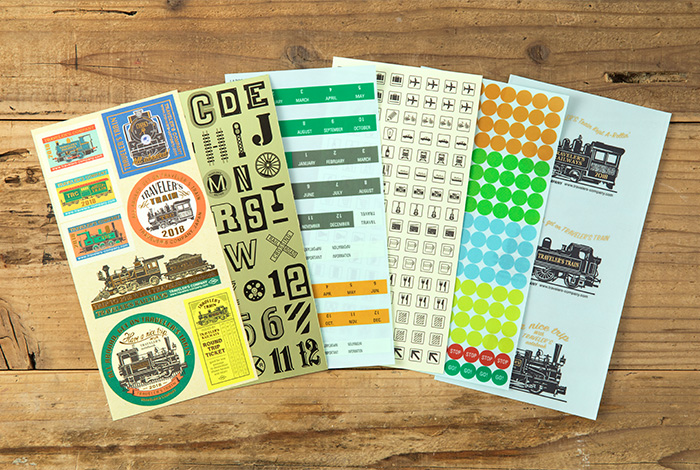 2018年限定デザインのダイアリーカスタマイズシール
インデックスやポケット、予定をあらわすアイコン、表紙を彩るシールなど、トラベラーズノートのダイアリーをもっと楽しくカスタマイズするためのシールセットは、トラベラーズトレインをテーマにデザイン。
カスタマイズシールやポケットシールは、トラベラーズトレインから不定期に出発する寝台夜行列車、トラベラーズトレインの汽車をレイアウトしました。ゴールドの箔押しが印象的です。さらにアルファベットや数字のシールには、トレインモチーフがちりばめられています。
トラベラーズトレイン仕様にカスタマイズしたダイアリーとともに、2018年を旅するように過ごしてください。
Customized Sticker Set for the 2018 edition.
This sticker set is designed after the theme of the TRAVELER'S TRAIN, and provides stickers to add more fun to your "TRAVELER'S notebook Diary", including stickers with icons representing indices, pockets, and schedules, and stickers to decorate the cover.
The customization stickers and pocket stickers use a layout mimicking an irregular service overnight sleeping called TRAVELER'S TRAIN. The gold leaf particularly stands out. The letter and number stickers are also interspersed with the TRAVELER'S TRAIN motif.
Enjoy your journey through 2018 with a diary personalized to the TRAVELER'S TRAIN specifications.
---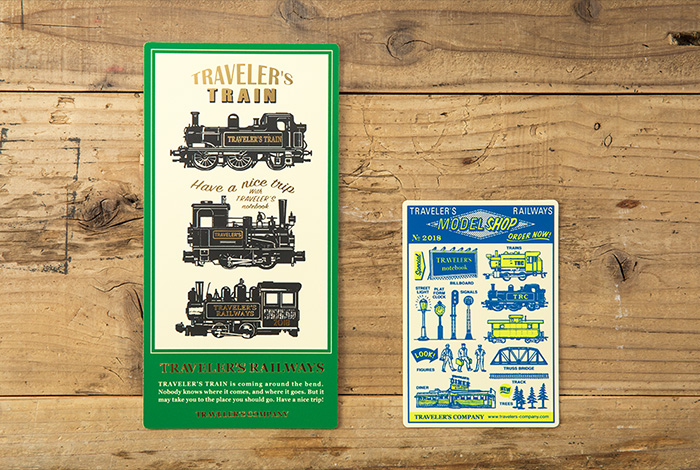 2018年限定デザインの下敷は、トラベラーズトレイン!
立ったままで書いたり、しおりにして瞬時にそのページを開いたり、直線を引いたり、旅先でのさまざまなシーンで便利な下敷。2018年版は、トラベラーズトレインをモチーフにデザインしました。レギュラーサイズには、ゴールドの箔押しとともに、トラベラーズトレインの汽車をプリント。パスポートサイズは、トラベラーズトレインの模型の広告をイメージしています。
The design for Plastic Sheet limited edition 2018 is the TRAVELER'S TRAIN!
This "Plastic Sheet"is convenient in many ways during your journey, whether used for writing while standing up, as a bookmark for quickly jumping to the right page, or for drawing straight edges. The 2018 model is designed after the motif of the TRAVELER'S TRAIN. The regular size is printed with a TRAVELER'S train steam engine and is stamped in gold leaf. The passport size is designed after an advertisement for a model TRAVELER'S TRAIN.
---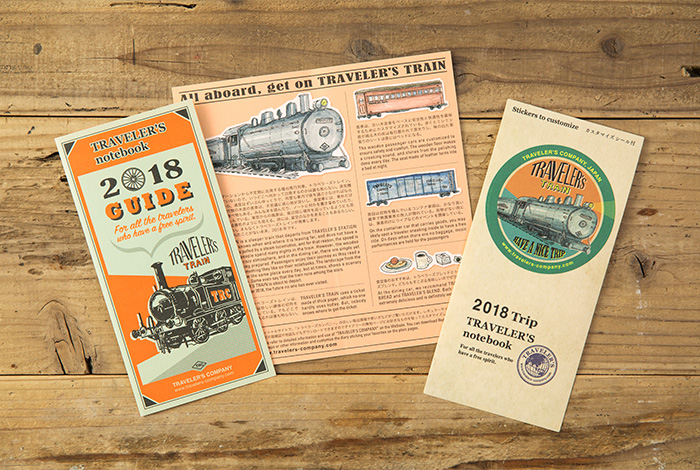 2018ガイド
2018年ダイアリーには、ガイドとカスタマイズ用ステッカーが付属しています。
Guide 2018
In the 2018 Diary, there is a Guide and a customizing sticker included.
---
2017年9月14日発売
Available Autumn 2017 (Outside JAPAN)
CUSTOMIZED STICKER FOR DIARY / カスタマイズシール ダイアリー用
インデックスやスケジュール、透明丸シール、ポケットシールなどに加え、トラベラーズトレインをイメージしたシールに、トレインモチーフをちりばめたアルファベットシールをセットした、2018年ダイアリー用のカスタマイズシールです。
In addition to index and schedule stickers, transparent round stickers, and pocket stickers, the "Customized Stickers" for Diary 2018 set contains stickers based on the TRAVELER'S TRAIN motif, including letter stickers.
PLASTIC SHEET / 下敷
立ったままでも書きやすくなり、しおりや定規としても使える、何かと便利な下敷です。表はトラベラーズトレインをイメージしたデザイン、裏は罫線下敷きとしても使える便利な方眼罫になっています。2018年限定デザインです。
A This convenient Plastic Sheet will let you write standing up, or you can use it as a bookmark. The front features a design based on the TRAVELER'S TRAIN motif, while the back is a grid ruled for use when drawing straight lines. This design is limited to 2018.
STARTER KITS DIARY PACK / スターターキット ダイアリー
DIARY REFILLS / ダイアリー リフィル
---
※「TRAVELER'S COMPANY」および「トラベラーズノート」は株式会社デザインフィルの登録商標です。
*"TRAVELER'S COMPANY", "TRAVELER'S notebook" and "TRAVELER'S FACTORY" are trademarks of Designphil Inc.