CUSTOMIZE YOUR NOTEBOOK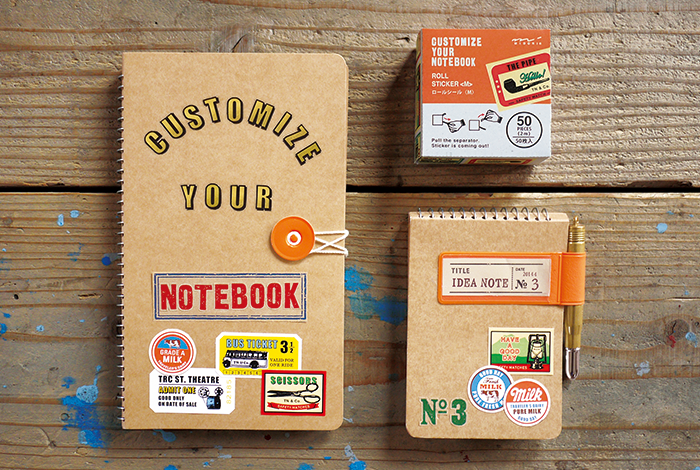 カスタマイズ
便利なポケット付のペンホルダー、表紙をとじるためのなつかしい留め紐、名前やタイトルを記せるアルファベットとナンバーのシール、表紙や中紙を彩るロールシール、貼るだけで簡単に取り付けられるノートのためのカスタマイズグッズです。
CUSTOMIZE YOUR NOTEBOOK
Customize your notebook or datebook for maximum usability!
Items to help you customize your notebooks. Just paste them onto your notebooks!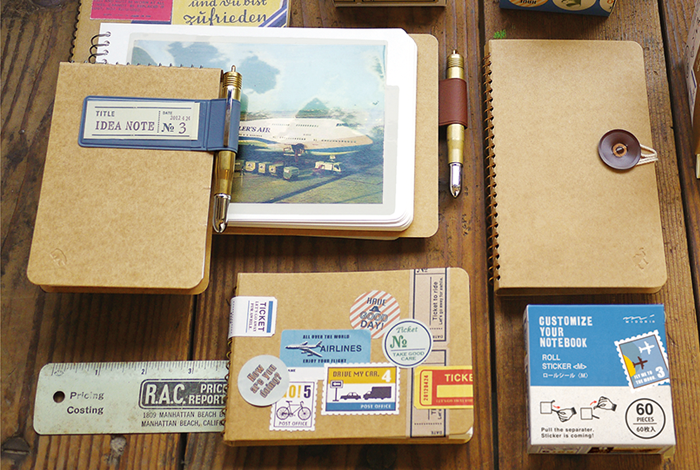 ALPHABET AND NUMBER STICKERS / アルファベット・ナンバーシール
異国の店舗ウィンドウや看板などのフォントをイメージしてデザインしたアルファベットとナンバーのシールです。自分だけのサインボードを作るようにノートをカスタマイズしてください。
Alphabet and Number Stickers are designed imaging the window and signs at the store. Enjoy customizing your notebook just as making your own signboard.
PEN HOLDER STICKER with pocket for title / ペンホルダーシール タイトルポケット付
貼るだけでノートや手帳に貼付けられるポケット付ペンホルダーシールです。お好きな紙にタイトルや日付を記入し、ポケットに入れてカスタマイズしてください。
Just stick this PEN HOLDER STICKER to your notebook or pocket diary. Customize it putting paper with a title or date into the pocket.
EYELETS & STRING STICKER / 留め紐シール
なつかしい留め紐のシールです。貼るだけでノートの表紙を閉じたり、ファイルや封筒を留めておくのに便利な留め紐が取り付けられます。
EYELETS & STRING STICKER with good old feeling. Sticking this sticker, you will have a useful string for closing notebook covers or holding envelopes and files.
ROLL STICKER / ロールシール
たっぷりシールが入っていますので、ノートやカードなどに思いのまま貼ってカスタマイズしてください。
Every single box contains a lot of stickers. Stick them on any notebooks, cards, etc., as you want to, to customize them.