BRASS PRODUCTS / ブラスプロダクト
BACK TO LIST
TRC BRASS PENCIL Factory Green / TRC ブラス ペンシル ファクトリーグリーン
2020年3月26日(木)発売 / Japan
Available on April, 2020 / Countries outside of Japan
限定カラー「ファクトリーグリーン」のブラスペンシルです。
ブラスペンシルは、日本国内のプレス工場で作られた真鍮のホルダーと一体になった鉛筆です。使わない時は鉛筆を本体の内側にセットするため、コンパクトに持ち歩くことができます。消しゴムがつけられているパーツを取り外すことで、クリップなしで使用することもできます。革カバーにクリップをざっくり挟んで留めたり、クリップをはずしてポケットに放り込んだり、いつも持ち歩き人生の旅の相棒として使ってください。
鉛筆と消しゴムがセットになったリフィルもご用意していますので永くお使いいただき、経年変化をお楽しみください。また、一般的な太さの鉛筆であれば、短くなったものをセットすることもできます。
ボールペンとペンシルのリフィルの交換方法 >>
This is TRC BRASS Pencil in the limited-edition Factory Green color.
BRASS PENCIL made in a old press factory located in Japan. This product consists of two parts, the brass made holder and the actual pencil with a iron cup. When this is not used, the pencil fits inside the holder, transforming into a compact "carry around" size.
The part of easer can also be removed for a clip-free pen if you prefer. You can put it on TRAVELER'S notebook Pen Holder. or just put in your pocket. This portability makes the item serve as a great partner for a traveler.
The pencil and eraser refills are now available as a set, so you can use our pencil for a long time and enjoy how the texture of painted color and brass ages with use. We also offer a shorter pencil set for those who prefer a generic thickness when writing.
How To Change The Refill of Ballpoint Pen and Pencil >>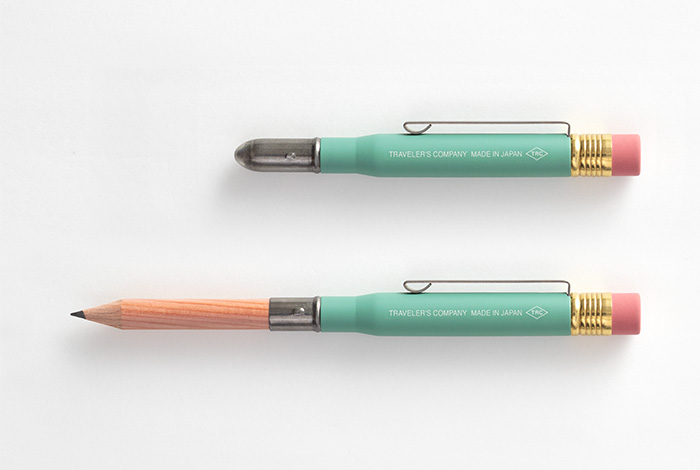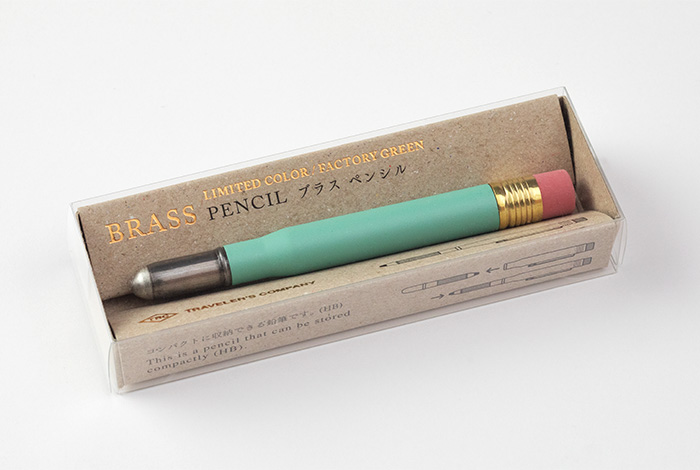 「ファクトリーグリーン」について
グリーンは目に優しく安心や安全を喚起させる色として、多くの工場で床や扉、棚などがその色で塗られています。歴史ある工場では、これらのグリーンの色があせたり、ところどころ塗装がはげていたり、油にまみれ黒ずんだりしていますが、そんな姿は長い年月に渡って実直にものづくりを続けてきた歴史と誇りを感じさせ、なんとも言えない美しい佇まいを見せてくれます。手にすることでモノが生まれる現場を想像するのと同時に、人生の旅の安全を願う道具としていつも持ち歩いてほしい。ファクトリーグリーンのブラスペンには、そんな想いをこめました。そして、永く使い続けることで塗装がはげたり、色が変化したりすることで、歴史ある工場のような美しさを見出していただけたら嬉しいです。
About Factory Green
Green is used for the floors, doors and shelves in many factories because it's easy on the eye and evokes a sense of safety that provides peace of mind. At a long‐standing practice, you can see that those areas of green paint have faded and even peeled in places, but this, too, is a point of pride—those flaws are the result of decades of use and represent a long history of producing products, working diligently day after day. And oil has darkened those green machines during their years of use, but they have a beauty that is difficult to put into words. Pick up one of our Factory Green Brass Pens and you'll find yourself thinking of the factory floors where the things we use every day are made, and feel the same sense of safety that those green surfaces inspire in the workers. Let your Factory Green Pen be a talisman for the journey of your life. Through years of use, the paint will fade and the hue will change, creating that same beauty borne through hard work that can be seen in so many long-running factories.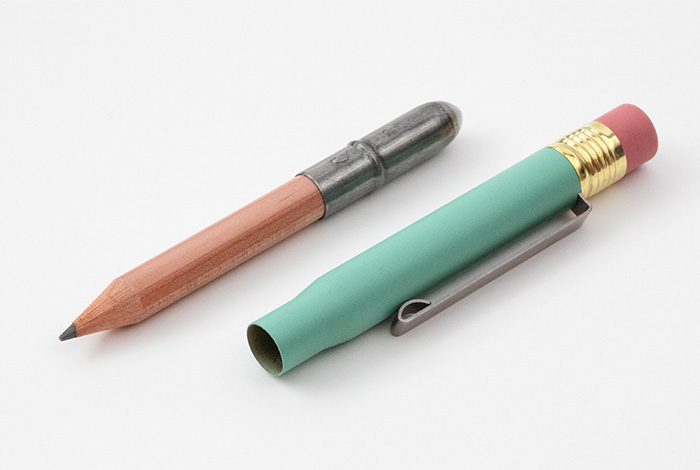 真鍮のボディーにオリジナルカラーで塗装しています。永く使い続け、塗装が剥げていくことで真鍮が顔を出し、独特の味わいを醸し出します。また、ボディーが経年変化した風合いに合わせて、キャップとクリップは鉄の風合いが感じられる加工にしています。シミやムラのように見える場合がありますが、使うほどになじんできます。
Its body is made of brass and painted in the original color. As you use this pen, the paint gradually fades and that will make the brass more visible giving it a vintage taste. And this pen has a clip and cap with the distinctive texture of iron, to match with aged brass color. It may look like stain or uneven surface. By a long time use the change in color lessen the concern.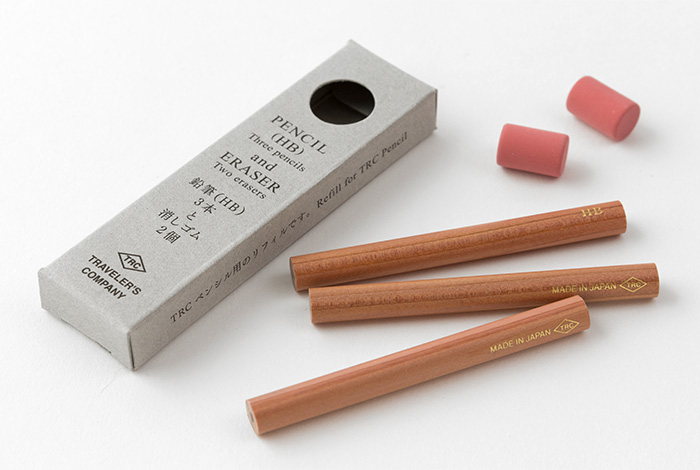 2,420円(税込)
Package / PET case, H38 x W112 x D19mm
BRASS Pencil / 11mm in diameter x H98mm (pencil: 75mm / HB)
MADE IN JAPAN
No.38077006
---
※「TRAVELER'S COMPANY」は株式会社デザインフィルの登録商標です。
*"TRAVELER'S COMPANY", "TRAVELER'S notebook" and "TRAVELER'S FACTORY" is a trademark of Designphil Inc.

 Unfortunately, we don't export to individual customers out of Japan.