Starter kit / Blue Edition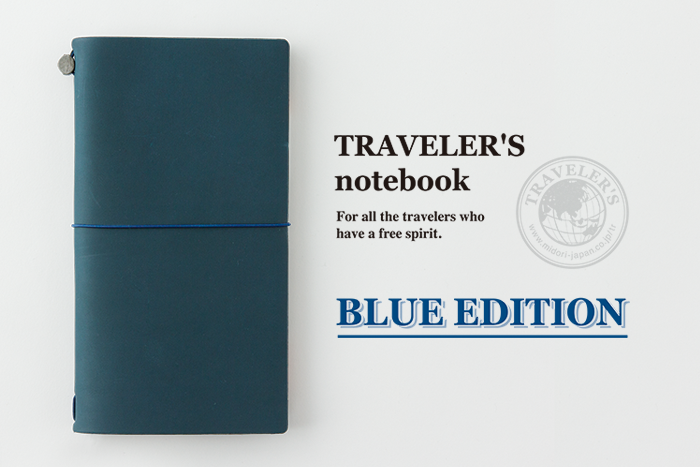 トラベラーズノート ブルーエディション
トラベラーズノートに、2015年の限定カラーとしてブルーエディションが登場します。
イメージしたのは、夜が明ける直前のうっすらと光が差し込もうとしている紺碧の空の青。
明るい鮮やかな青ではなく、インクで言うとブルーブラック、インディゴや藍染めのような深く濃い青を目指しました。
青の時代に描かれたピカソの自画像に漂う憂いと強い決意。
宇宙から撮影された地球や、深海に潜るダイバーが撮影した海の青の壮大な美しさと優しさ。
フランスの芸術家、イヴ・クラインは、最も理想的な色として「インターナショナル・クライン・ブルー」という深い青色を自ら発明し、以降その色しか使わなかったそうです。彼によると、青は無限の宇宙へと誘ってくれる深い精神性が満ちた色とのこと。
青は、爽やかな若さとそれゆえの未熟さ、憂いや孤独、静寂、洗練、永遠性など、その明るさや色合いによってさまざまなイメージを呼び起こしてくれます。
トラベラーズノート ブルーエディションの革の深い青もまた、これからはじまる新しい旅を想像させてくれるはずです。
ブルーエディションとあわせて、かつてのアメリカのナショナル・フラッグ・キャリア、Pan Am/パンナムとトラベラーズノートとのコラボレーションアイテムを発売します。パンナムのコーポレートカラーもブルー。ブルーエディションのカスタマイズにおすすめです。
※限定商品につき、欠品、完売の場合はご容赦ください。
※ブルーエディションはレギュラーサイズのみの発売となります。
※お店によって販売時期が異なります。ご購入の際は、お店にご確認の上でお出かけください。

TRAVELER'S notebook Blue Edition
TRAVELER'S notebook will offer a Blue Edition, a limited color available only in 2015.
Our inspiration came from the indigo sky right before dawn, welcoming the first beam of sunlight.
We chose a deep, dark blue, similar to that of blue-black ink, or indigo dye, not a bright and brilliant blue.
Blue — Picasso's self-portrait from his "blue years", carried a feeling of heavy anxiety and a firm determination.
Blue — the earth photographed from outer space, and a shot of deep marine blue taken by a deep sea diver — has grandeur, beauty and calmness.
Yves Klein, a French artist, invented his ideal color, a deep blue named "International Klein Blue." Following that, he used no other color. He described blue as a deeply spiritual color that invites us into the infinity of the universe.
Variations of blue evoke a diversity of images – youthful freshness, immaturity that accompanies it, melancholy and solitude, serenity, refinedness, eternity, and much more – depending on their degree of brightness and hue.
TRAVELER'S notebook Blue Edition comes clad in leather of a deep blue, which makes us think of new travels.
In addition to this Blue Edition, we will release new items created by collaboration between TRAVELER'S notebook and Pan Am, which once was the national flag carrier of the USA. The airliner used to have blue as its corporate color. These items will be nice when you customize your Blue Edition.
* These are of limited availability. In case they are sold out or out of stock, we would appreciate your understanding.
TRAVELER'S notebook Blue Edition / トラベラーズノート ブルーエディション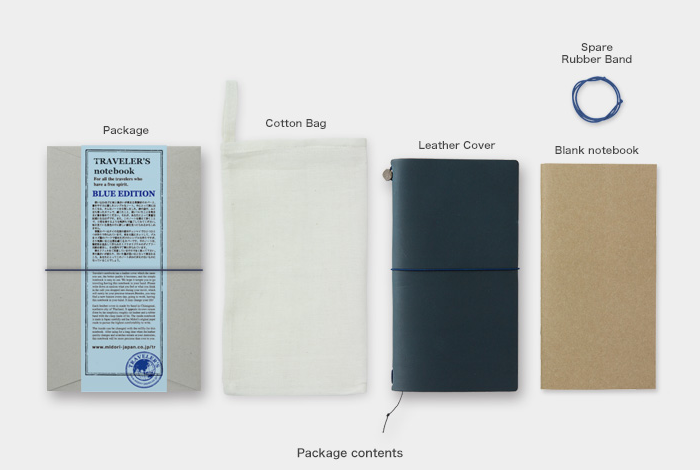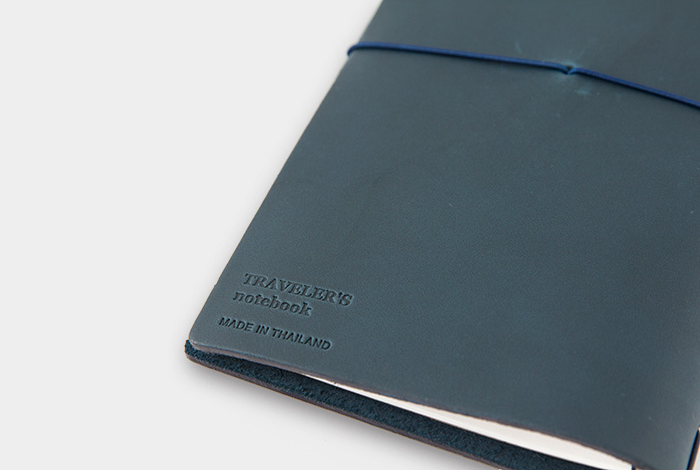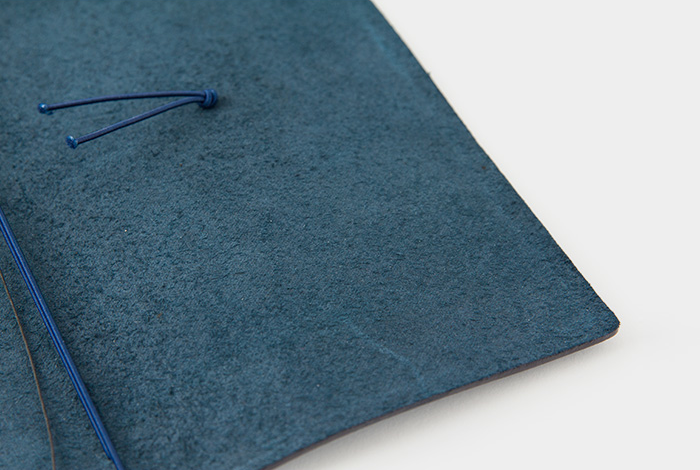 4,000円 + 税
<パッケージ内容>
カバー本体/H218×W130×D10mm、牛革製 MADE IN THAILAND
ノートリフィル/H210×W110×D4mm、無罫、64ページ、MD用紙(ステッチャー綴じ) MADE IN JAPAN
コットンケース/H240×W150mm、布製
スペアゴムバンド/青
No.15171006 
<Package contents>
Leather Cover / H218 x W130 x D10mm MADE IN THAILAND
Notebook / H210 x W110 x D4mm, Blank, 64 pages, MD Paper (stitch bound) MADE IN JAPAN
Cotton Bag / H240 x W150mm
Spare Rubber Band / Blue
No.15171006
---
※「TRAVELER'S COMPANY」および「トラベラーズノート」は株式会社デザインフィルの登録商標です。
*"TRAVELER'S COMPANY", "TRAVELER'S notebook" and "TRAVELER'S FACTORY" are trademarks of Designphil Inc.