2021 DIARY
BACK TO LIST
Plastic Sheet 2021 (Passport size) / 下敷 2021(パスポートザイズ)
2020年9月10日発売
立ったまま書いたり、しおりにして瞬時にそのページを開いたり、直線を引いたり、旅先でのさまざまなシーンで便利な下敷。2021年版は、梶井基次郎『檸檬』、アルチュール・ランボー『酔いどれ船』、宮沢賢治『注文の多い料理店』など、世界の旅を感じる文学作品をモチーフにデザインしました。世界の名作が2021年の旅を彩ります。
Available Autumn 2020 (Outside JAPAN)
Available October 2nd, 2020 (USA and Canada)
This is a mat that is useful to achieve goals in various scenarios, including writing while standing, as a bookmark to instantly open to a certain page, and to draw straight lines.
We designed motifs related to masterpieces of literature like Lemon by Motojiro Kajii, Le Bateau ivre by Arthur Rimbaud, and The Restaurant That Has Many Orders by Kenji Miyazawa. Keep this plastic sheet in your TRAVELER'S notebook and you will be sure to enjoy the trip with your imagination.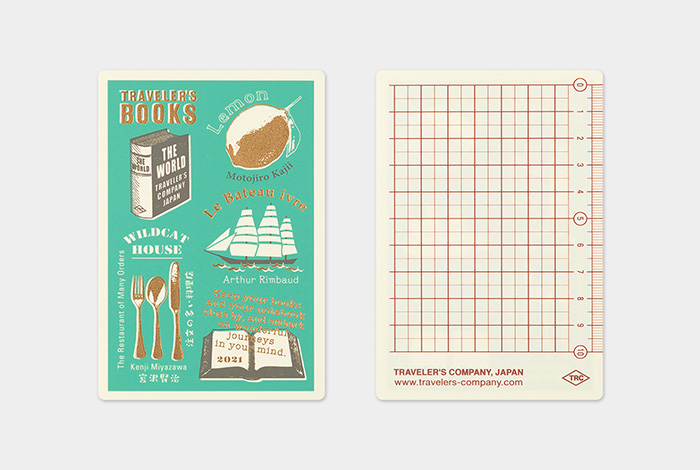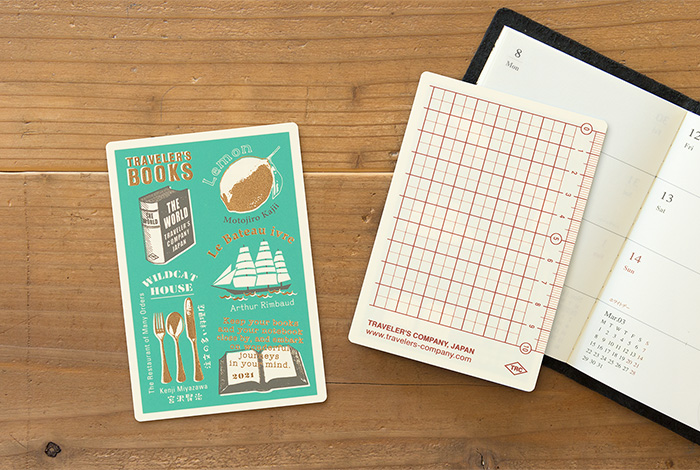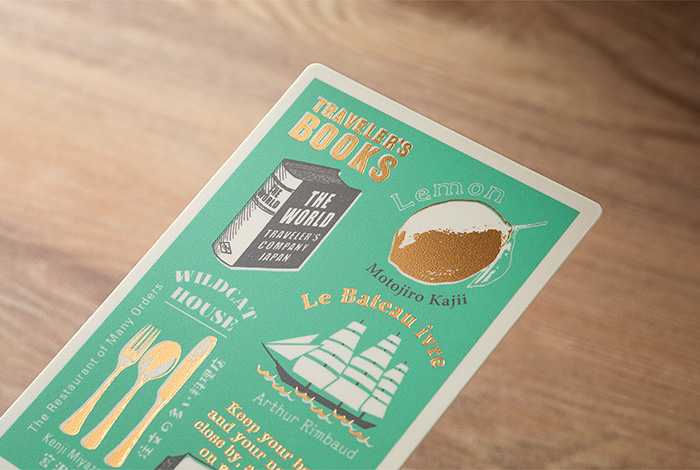 352円 (税込)
裏面/5mm方眼、10cmスケール、PP製
Back: Grid of 5mm sections, serves as a 10cm-long scale, made of polypropylene
H124 x W85 x D1mm
MADE IN JAPAN
No.40228006

 Unfortunately, we don't export to individual customers out of Japan.