Refills / Regular Size
BACK TO LIST
019 Free Diary <Weekly + Memo> / 週間フリー+メモ
トラベラーズノートの週間フリー+メモのダイアリーリフィルです。
左ページに1週間、右ページにはセクション罫のメモがレイアウトされています。メモスペースにはやることリストを書いたり、お気に入りのラベルを貼ってスクラップしたり、自由に使うことができます。日付が入っていないフリータイプなので、いつからでも使い始められます。1冊で週間ページは6ヵ月分。自分流に自由にカスタマイズしてご使用ください。筆記性を追求したオリジナルの筆記用紙(MD用紙)を使用しているので、万年筆でもにじみや裏抜けがしにくくなっています。
A weekly planner with a page worth of memo space. On the left side, you have the section where you can write your plans, and on the right side, you have the memo section where the grids are being printed to make writing and drawing easy. A single notebook covers worth six months, and please customize this the way you want. The MD paper is used for this notebook so the feeling when writing is simply great.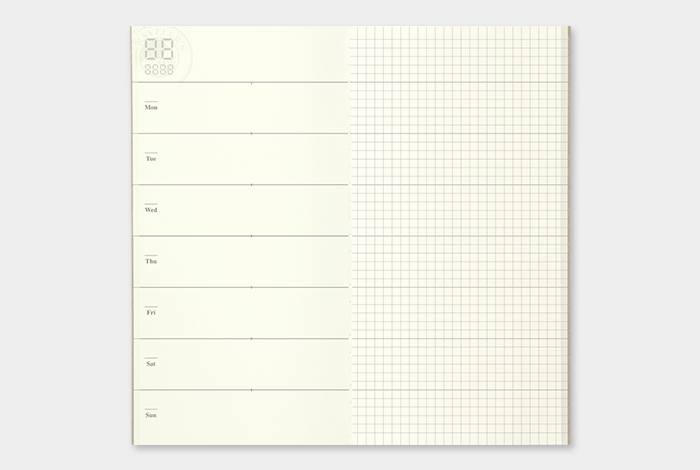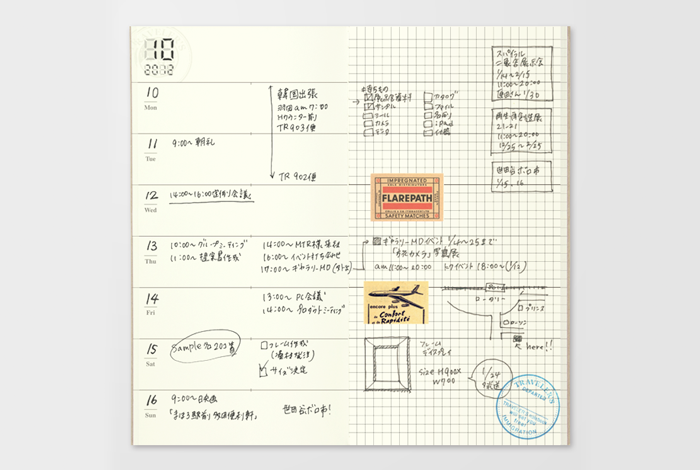 770円(税込)
中紙/週間ページ(28週/半年分※)、月間ページ 計64ページ、MD用紙クリーム(中ミシン綴じ)
※半年分のため年間通してご使用の際は2冊必要となります
Weekly pages (for 28 weeks, half a year), monthly pages: 64 pages in total, MD Paper (Sewn Bound)
* Since a bundle contains pages for half a year, you need two to cover a whole year.
H210 x W110 x D4mm
MADE IN JAPAN
No.14331006

 Unfortunately, we don't export to individual customers out of Japan.