Refills / Regular Size
BACK TO LIST
005 Free Diary <Daily> / 日記
トラベラーズノートの日記リフィルです。
1日1ページの日記が2ヶ月分記入できるフリーダイアリーです。旅日記を記すように、毎日の出会いや発見を書き留めてください。セクション罫なので文字はもちろん、絵を描いたり、チケットや写真を貼っても似合います。また、日記以外にも1~31までのリストとして、読んだ本やショップのリストのように使用することもできます。筆記性を追求したオリジナルの筆記用紙(MD用紙)を使用しているので、万年筆でもにじみや裏抜けがしにくくなっています。
This is a diary version where a single page is worth a single day. When you complete this refill, you will have 2 months worth of your memories inscribed. Please use this to record the new things you encounter and discover in your daily life. The page is grid ruled, so it makes it easy to write, draw, and paste things that you collect. You can even use this as a list where you can write about the books you read or the shops you visited. The MD paper is used for this notebook so the feeling when writing is simply great.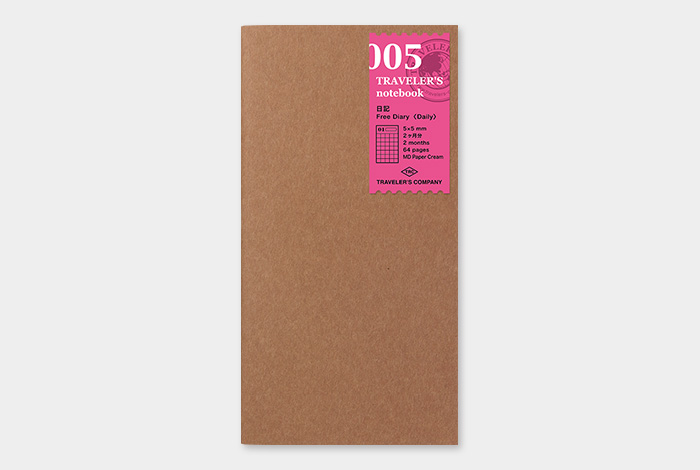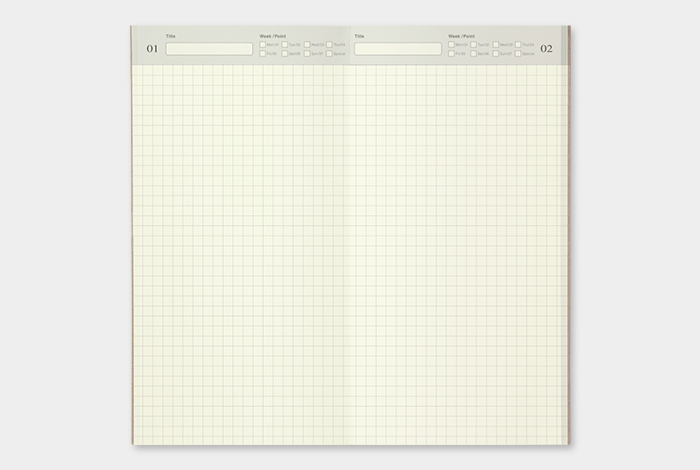 440円(税込)
中紙/64ページ、月間リスト+日記(1日1ページ)、2ヶ月分、MD用紙クリーム(ステッチャー綴じ)
64 pages, MD Paper (Saddle Stitched) , Two month portion of monthly list pages and page-a-day diary
H210 x W110 x D4mm
MADE IN JAPAN
No.14255006

 Unfortunately, we don't export to individual customers out of Japan.