2021 DIARY
BACK TO LIST
Customized Sticker Set for 2021 DIARY / カスタマイズシール 2021ダイアリー用
2020年9月10日発売
インデックスやポケット、予定をあらわすアイコンにインレタ、表紙を彩るシールなど、トラベラーズノートのダイアリーをもっと楽しくカスタマイズするためのシールセット。今年は本をテーマにデザイン。
表紙に貼るカスタマイズシールは、マーク・トゥエインの『ハックルベリー・フィンの冒険』、サン=テグジュペリの『夜間飛行』、サマセット・モームの『月と六ペンス』、梶井基次郎の『檸檬』など世界の旅を感じる文学作品をモチーフにデザインしました。世界の名作が2021年の旅を彩ります。
Available Autumn 2020 (Outside JAPAN)
Available October 2nd, 2020 (USA and Canada)
This is a sticker set for customizing TRAVELER'S notebook that makes it more fun, including index and pocket stickers, icon stickers to represent different plans, dry transfer, and stickers to decorate the cover. The 2021 version features a design with a theme of "Books".
You can customize the cover of 2021 dairy with stickers feature design motifs related to masterpieces of literature like Adventures of Huckleberry Finn by Mark Twain, Night Flight by Antoine de Saint-Exupéry, The Moon and Sixpence by Somerset Maugham, or Lemon by Motojiro Kajii. Try carrying customized diary with travel stories in your daily life as if this is your actual trip.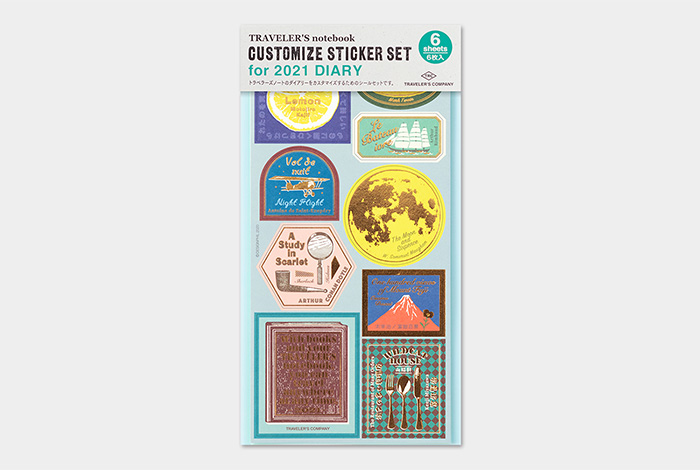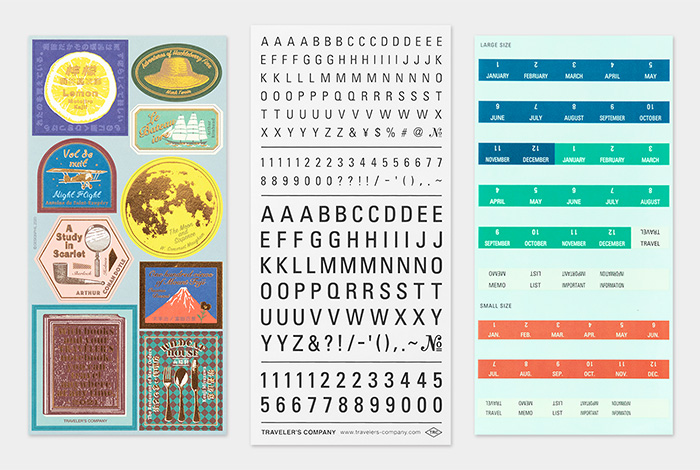 カスタマイズステッカー、インレタシール、インデックスシール
Customize sticker, Dry transfer, Index sticker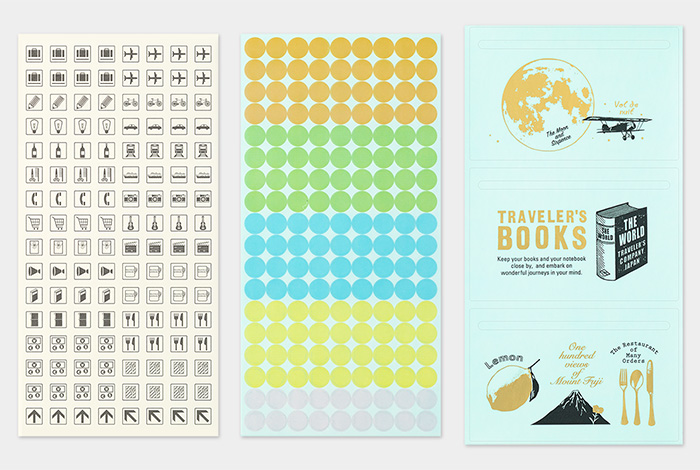 スケジュールシール、透明丸シール、フィルムポケットシール
Schedule sticker, Clear round sticker, Film pocket sticker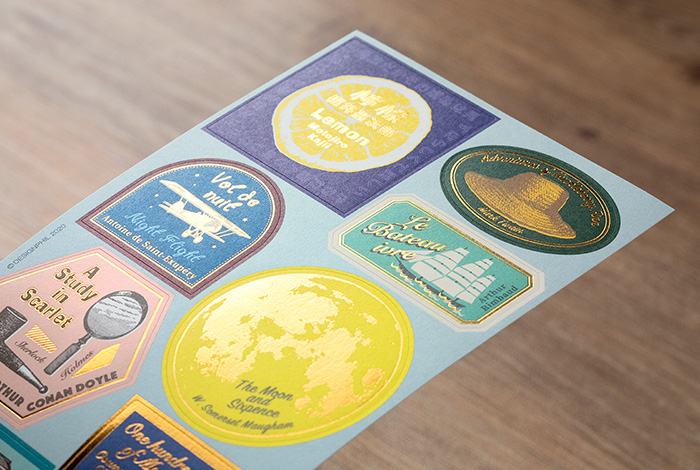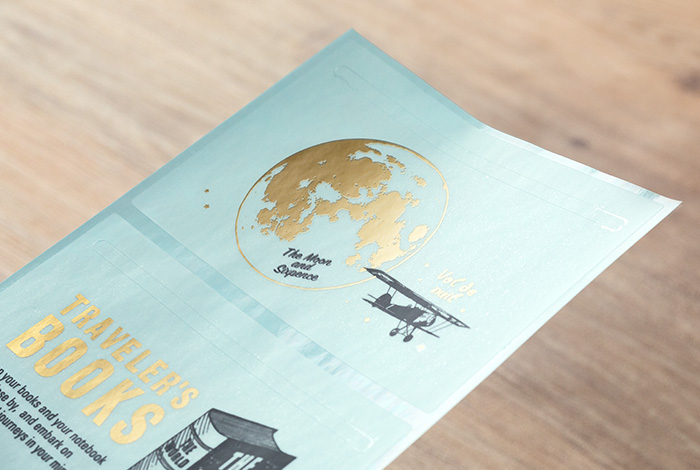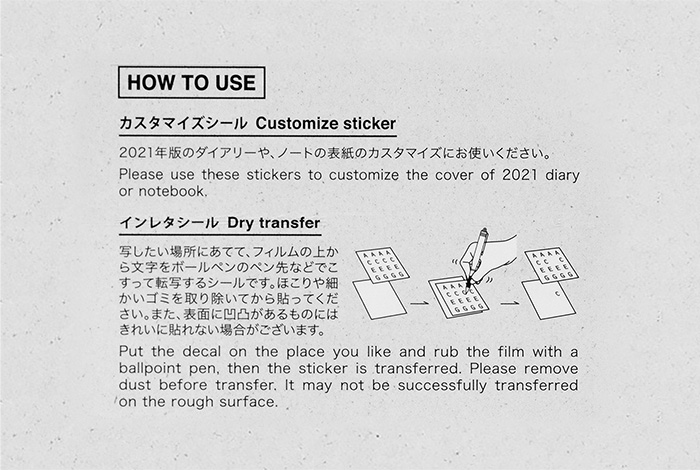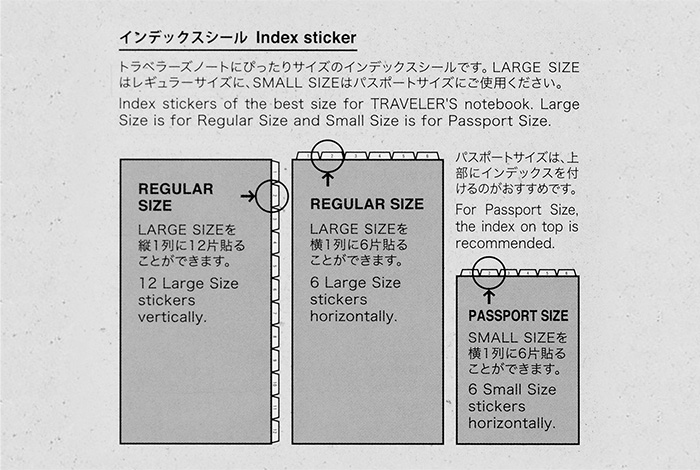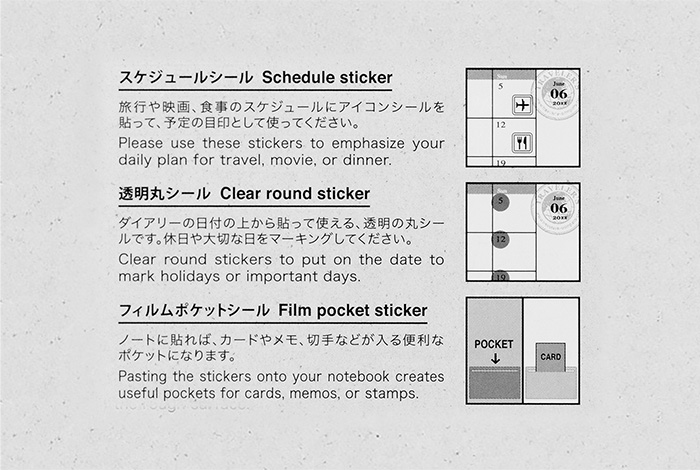 880円 (税込)
6枚入、PET、紙製
6 stickers, made of PET and paper
H210 x W110 x D1 mm (Package)
MADE IN JAPAN
No.84099006

 Unfortunately, we don't export to individual customers out of Japan.