2021 DIARY
BACK TO LIST
Refill 2021 Monthly (Passport Size) / リフィル 2021 月間(パスポートサイズ)
2020年9月10日発売
トラベラーズノートパスポートサイズの2021年月間ダイアリーリフィルです。
月間ブロックは1ヶ月を俯瞰できる最もベーシックなダイアリーです。身近に持ち歩けるパスポートサイズなので、サブダイアリーとしてもおすすめ。記念日や誕生日を記しておいたり、毎日の体温や体重の記録にも便利です。筆記性を追求したオリジナルの筆記用紙(MD用紙)を使用しているので、万年筆でもにじみや裏抜けがしにくくなっています。
Available Autumn 2020 (Outside JAPAN)
Available October 2nd, 2020 (USA and Canada)
This is 2021 Diary Monthly for TRAVELER'S notebook Passport Size.
The size of this refill is exactly the same as the passport we carry, so it's suitable for using this as a sub-planner. Also, the size makes it nice to record anniversaries and birthdays of the people you like. This planner uses the MD paper so the feeling you get from writing is simply awesome.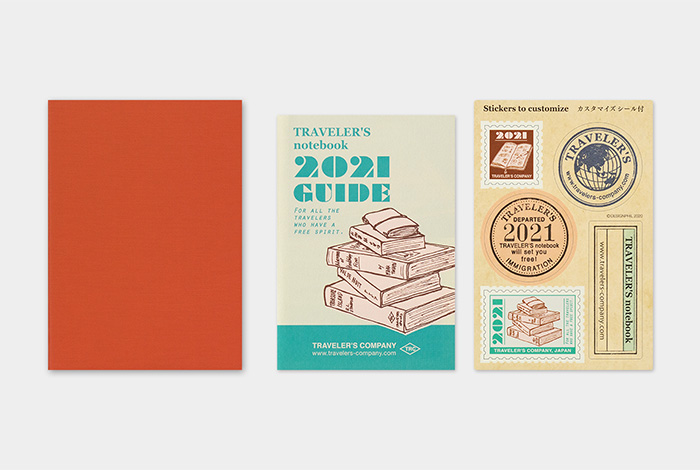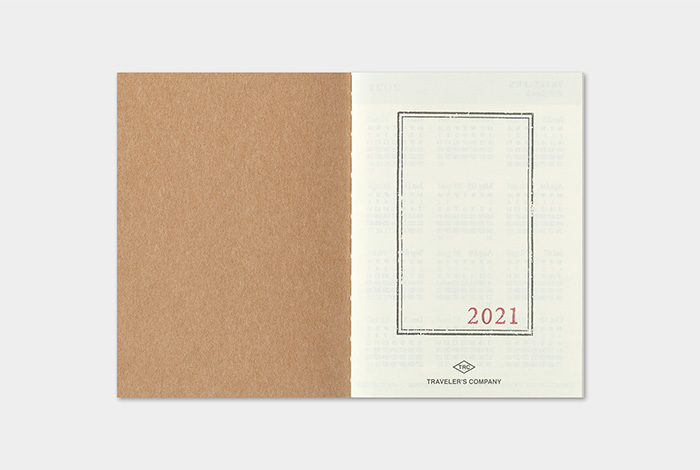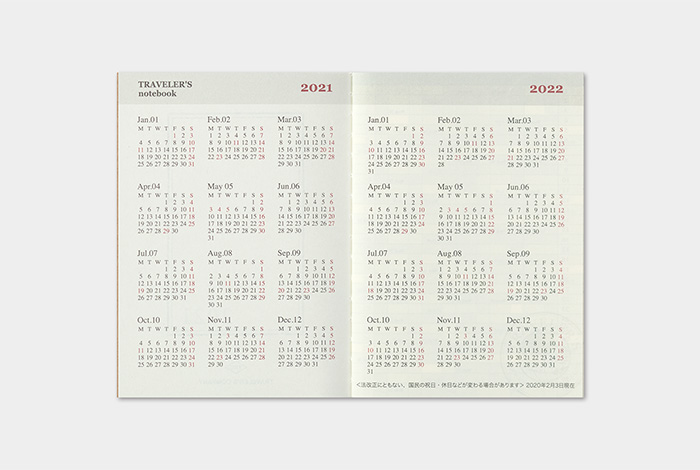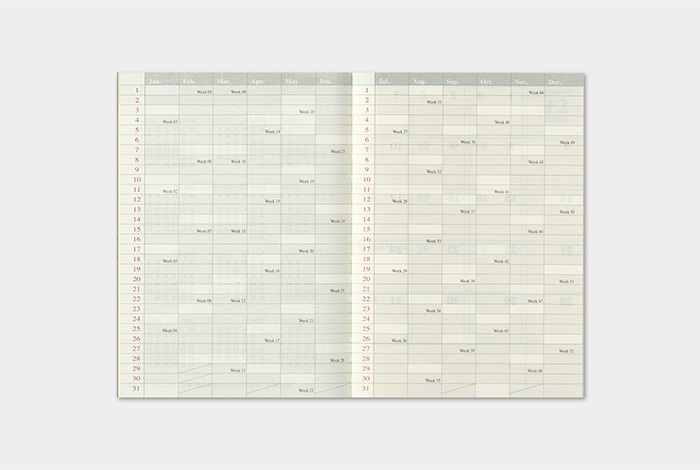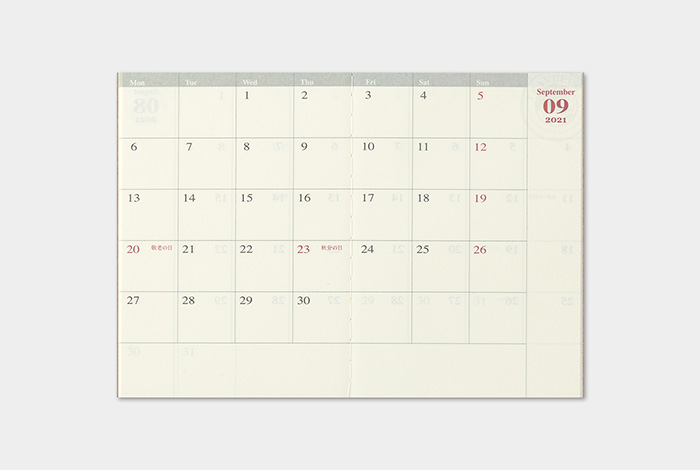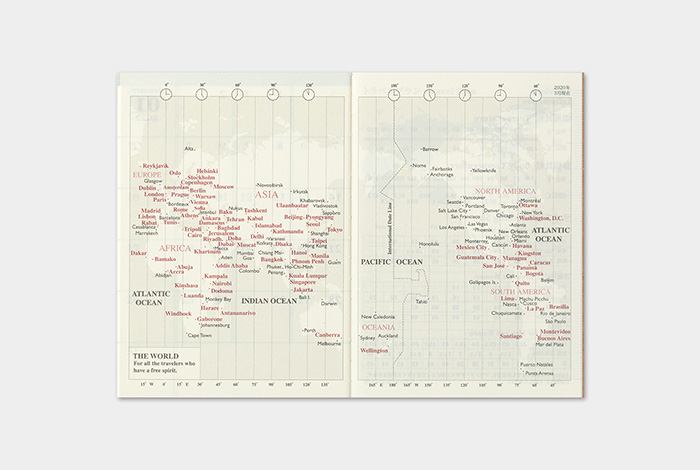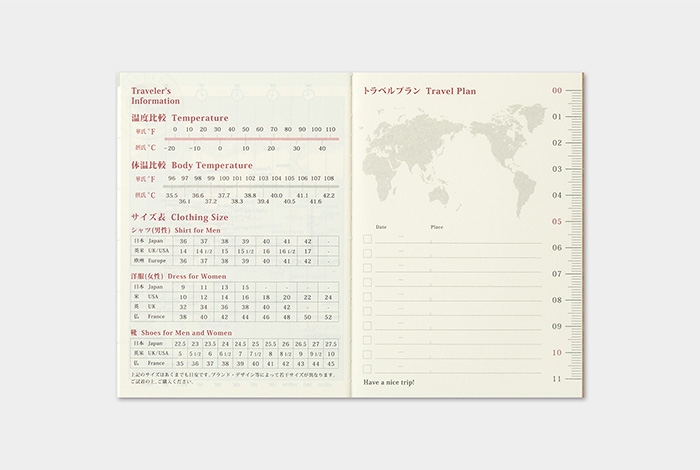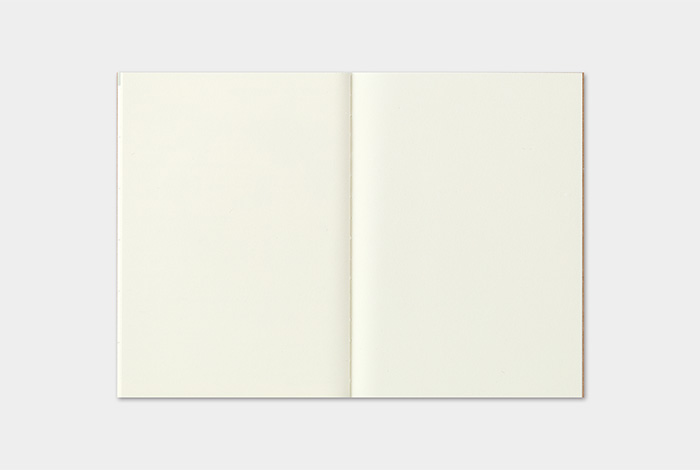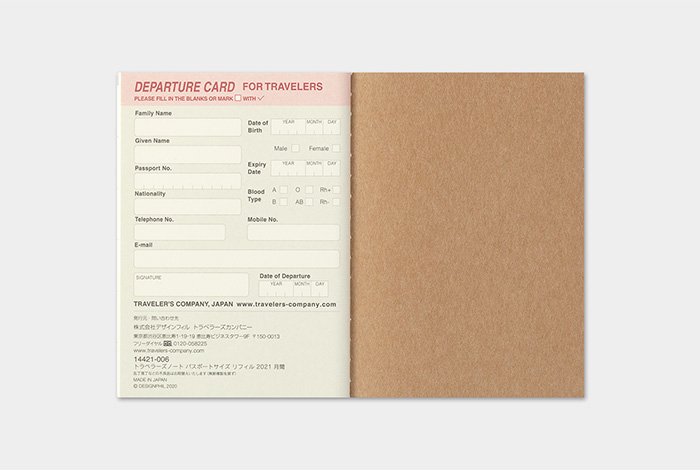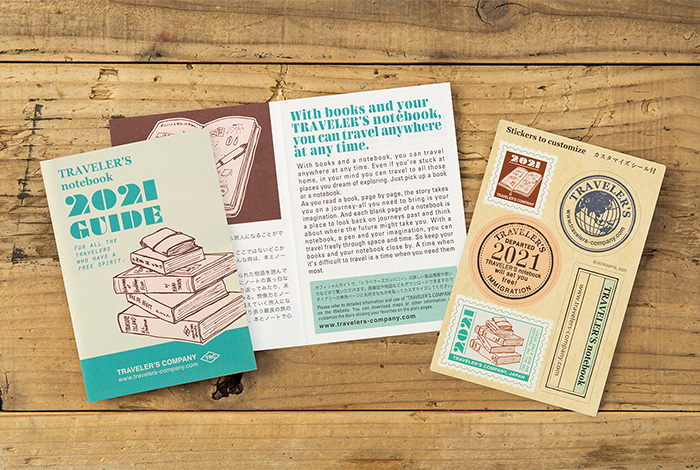 ダイアリーガイドとカスタマイズ用ステッカーが付属しています。
In the 2021 Diary, there is a Diary Guide and a customizing sticker included.
704円 (税込)
本文/年間カレンダー、年間スケジュール、月間スケジュール(2020年12月〜2022年1月)、無罫メモ、旅情報、
48ページ、MD用紙(中ミシン綴じ)、ダイアリーガイド(シール付)
Monthly schedule (December 2020- January 2022), Calendar, Year schedule, Blank, Travel guide
48pages, MD Paper (Sewn Bound), Bonus item:Diary Guide with Sticker
H124 x W89 x D3mm
MADE IN JAPAN
No.14421006

 Unfortunately, we don't export to individual customers out of Japan.