2017 DIARY
BACK TO LIST
TRAVELER'S notebook 2017 MONTHLY Black / Brown / Camel (Passport Size)
トラベラーズノート 2017 月間 黒 / 茶 / キャメル(パスポートサイズ)
2016年9月15日発売
2017年ダイアリー月間がセットされたパスポートサイズのスターターセットです。
ポケットに入るサイズなので、気軽に軽快に持ち歩くことができます。ジッパーケースをセットすることで、パスポートケースや財布や名刺ケースとして使うこともできます。いつでも身につけて持ち歩くことで、ふと思いついたアイデアや出会った言葉など、なんでも書き留めてください。
シンプルな構造のため、自由にカスタマイズできるのも大きな特徴です。様々な紙を使ったノートやジッパーケース、ポケットなど豊富に揃えている専用リフィルからお好みのものを選んでセットすることができます。さらに、しおりやゴムにお気に入りのチャームを付けたり、ノートリフィルの表紙にステッカーを貼ったりして、自分らしくカスタマイズのもおすすめ。使うほどに深くなる革の風合いや傷とともに、使う人によってその味付けがされ、この世でたった一冊のノートへと変化していきます。
旅にはもちろん、日々の生活でいつも持ち歩くことで、旅するように毎日を過ごしてほしいノートです。
Available Autumn 2016
This is a starter kit for the passport sized TRAVELER'S notebook with the 2017 Diary Monthly.
This size fits inside your pocket, so it makes it really easy to carry it around with you at all times. By inserting a zipper case inside, you can use this as an actual passport case, a wallet, or even as a business card keeper. Please write down anything that comes up to your mind while carrying this.
The structure of the notebook is simple, and this makes it easy to customize. Please choose your favorite refills that include notebooks made of various papers, zipper cases, and pockets. You can even paste stickers on the cover of the notebook and add charms on the bookmark or the rubber band and make the notebook yours.
The more you use the notebook, the more the texture and the taste of the leather cover changes, and this change simply seems to reflect the user. It turns into a one and only notebook in the world.
You can carry this during your trip, but by carrying this in your daily life, you can start to have the sense that your daily life itself is a journey.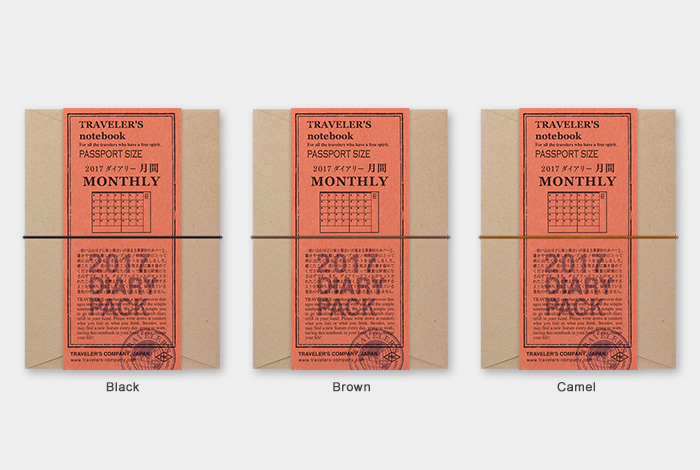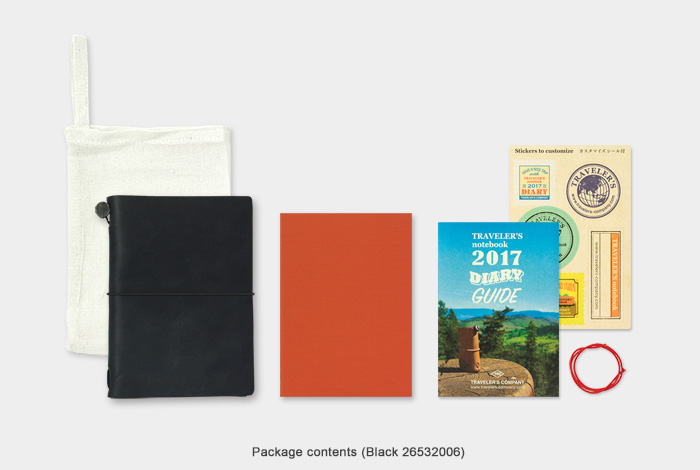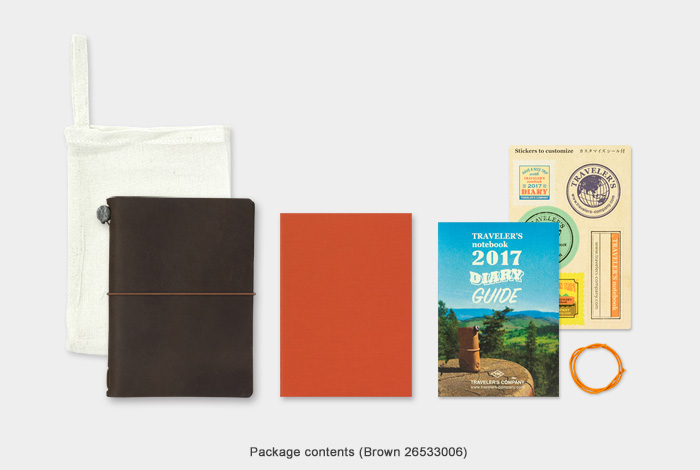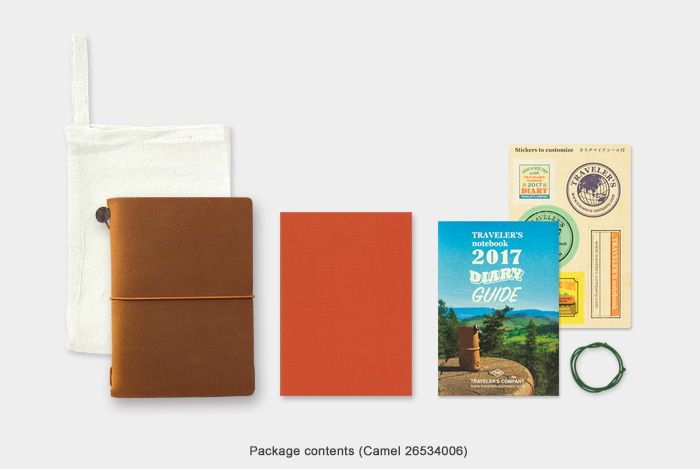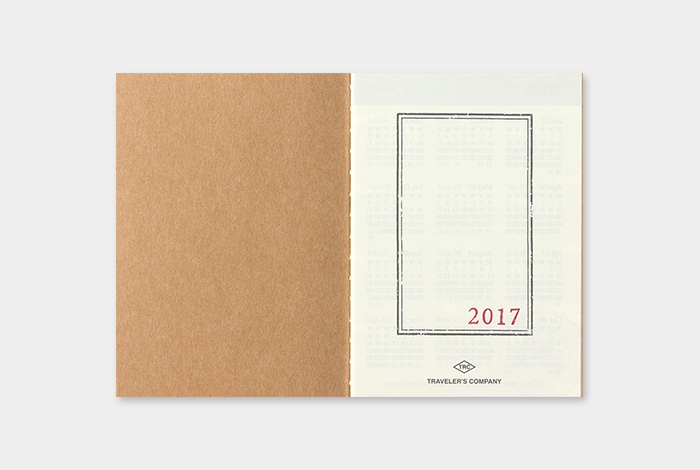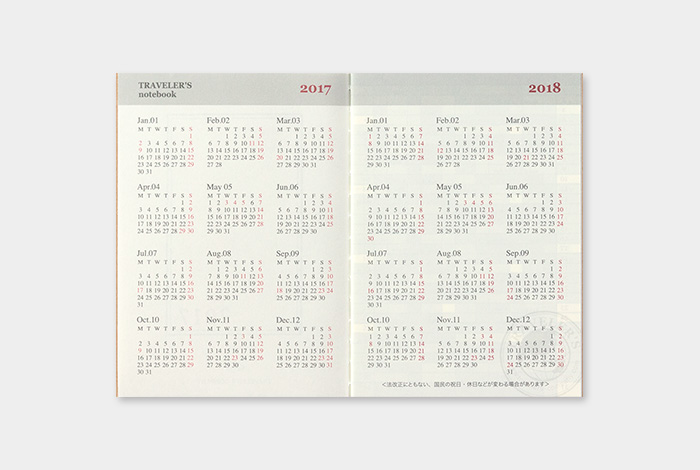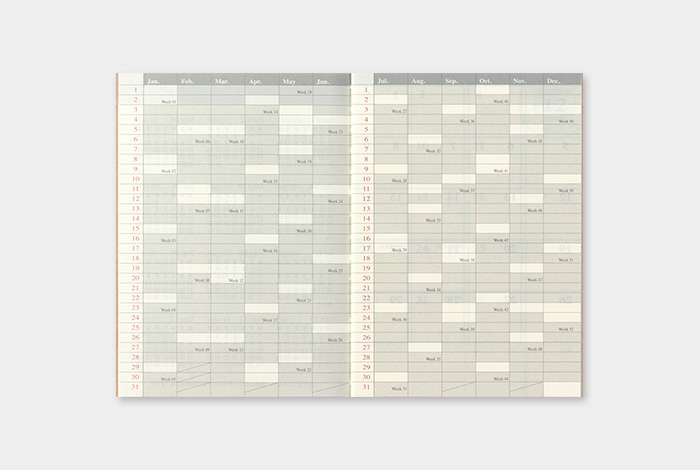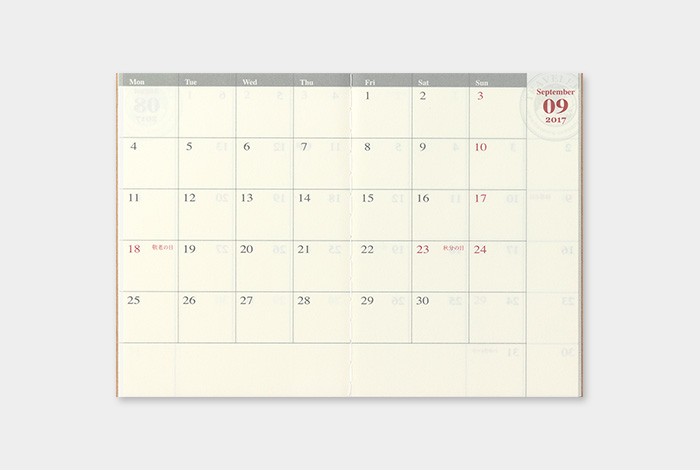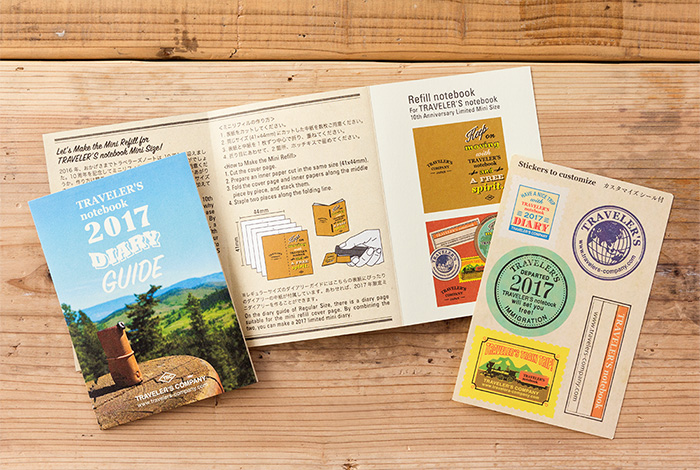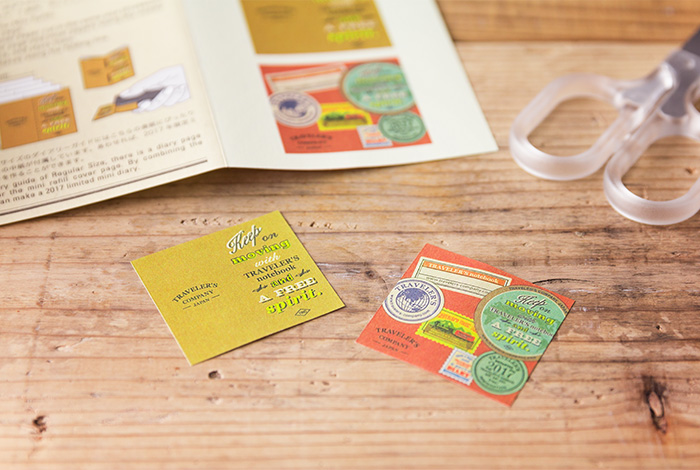 ダイアリーガイドとカスタマイズ用ステッカーが付属しています。ダイアリーガイドには、10周年缶のトラベラーズノートミニにぴったりのオリジナル表紙が付いています。レギュラーサイズのガイドに付いているリフィルとあわせてどうぞ。
In the 2017 Diary, there is a Diary Guide and a customizing sticker included. On Diary Guide, there is a customized cover page for the 2017 diary Refill included in the Diary Guide for the Regular Size. It goes perfect with TRAVELER'S notebook mini.The TRAVELER'S notebook mini is available in the 10th Anniversary Can Set.
コットンケース/H165×W120mm タイ製
カバー本体(26532006 黒、26533006 茶、26534006 キャメル)/H134×W98×D10mm タイ製
リフィル/2017月間 (2016年12月〜2018年1月、48ページ)/H124×W89×D3mm 日本製
スペアゴムバンド/赤(26532006 黒) オレンジ(26533006 茶) 緑(26534006 キャメル) タイ製
ダイアリーガイド、シール付 日本製
3,600円 + 税
Cotton Bag / H150 x W120mm MADE IN THAILAND
Leather Cover (26532006 Black, 26533006 Brown, 26534006 Camel) / H134 x W98 x D10mm MADE IN THAILAND
Refill / 2017 Monthly (December 2016- January 2018, 48 pages) / H124 x W89 x D3mm MADE IN JAPAN
Spare Rubber Band / Red (26532006 Black), Orange (26533006 Brown), Green (26534006 Camel) MADE IN THAILAND
Bonus item / Diary Guide and Sticker MADE IN JAPAN

 Unfortunately, we don't export to individual customers out of Japan.