2013 DIARY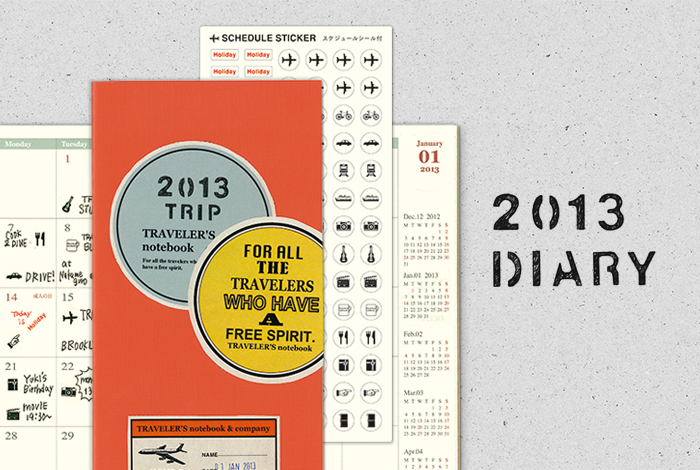 2013ダイアリー
ようこそ、2013年。
2012年もいろいろあったけど、また新しい旅がはじまります。
今、こうやって2013年の地図を手に入れてあなたは何を想像するのでしょうか。
あたらしい旅が始まる前のことを思い出してみてください。
朝が来るのが待ち遠しくて眠れない夜。
小さな不安と抱えきれない期待で足がすくむなか、ドアを開けて家をでる。
行き先を告げる空港のアナウンスが聞こえてくると、心拍数がどっと上がり、高まる興奮で胸がうずいてくる。
そして、世界が変わってしまうような体験を想像しながら、空に飛び立つ。
そうやって旅ははじまります。旅に出れば、面倒なことや辛いこともけっこうあります。だけど、これから始まる限りない自由と未知との出会いへの期待がそんなことを軽く受け流してしまうのです。
トラベラーズノート ダイアリーは、2013年を旅するための地図です。自由にじぶんらしくカスタマイズをして、あなたらしい旅を楽しんでください。
それではよい旅を。
※販売は終了しています。
2013 DIARY
Welcome, the year 2013.
The year 2012 with a lot of memories is going, and a new travel is about to begin.
Getting a map of the year 2013, what do you imagine?
Remember how a new travel begins.
Long night hard to sleep, impatient for the morning.
You open the door and leave home, rigid with a little bit of anxiety and full of expectation.
As you hear the announcement of destination at the airport, your pulse quickens and the heart begins to beat with excitement.
Imagining your experiences to possibly change the world, you will fly.
Travel begins like this. You will see a lot of bother or hardships during your travel.
Nevertheless, unlimited freedom ahead and expectation to encounter unknown future will wash them away.
TRAVELER'S notebook Diary is a map to travel the year 2013.
Enjoy your travel, customizing it in your own way freely.
Have a nice trip!
* This product has been discontinued.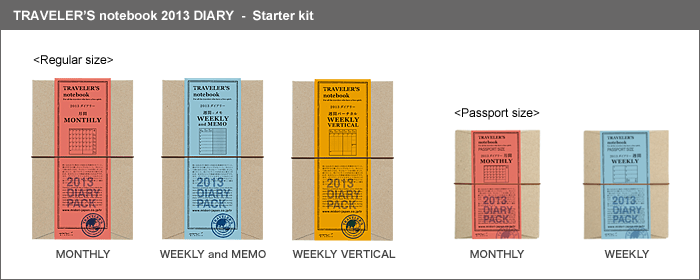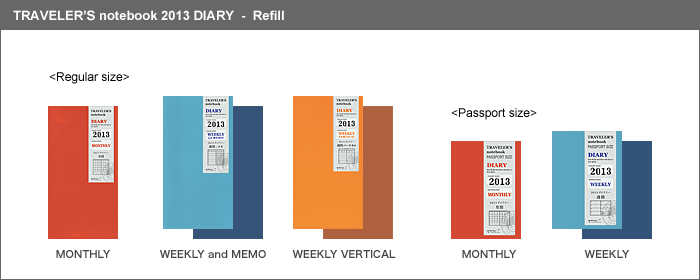 2013 – ONLY ITEMS / 2013 限定品
2013 DIARY GUIDE and Stickers / 2013 ダイアリーガイド、シール
2013年度版ダイアリーのスターターキットとリフィルに付属するダイアリガイドとシールです。。
Bonus items for 2013 TRAVELER'S notebook Starter kits and 2013 Refills.