BRASS PRODUCTS / ブラスプロダクト
BACK TO LIST
TRC BRASS PENCIL Solid Brass / TRC ブラス ペンシル 無垢
日本国内のプレス工場で作られた真鍮のホルダーと一体になった鉛筆です。
使わない時は鉛筆を本体の内側にセットするため、コンパクトに持ち歩くことができます。消しゴムがつけられているパーツを取り外すことで、クリップなしで使用することもできます。革カバーにクリップをざっくり挟んで留めたり、クリップをはずしてポケットに放り込んだり、いつも持ち歩き人生の旅の相棒として使ってください。
無垢の真鍮は、使い始めは金色に輝いていますが、使い続けるうちに表面が酸化し、深く味わいのある色調に変化していきます。
鉛筆と消しゴムがセットになったリフィルもご用意していますので永くお使いいただき、真鍮の経年変化をお楽しみください。また、一般的な太さの鉛筆であれば、短くなったものをセットすることもできます。
This is a pencil made in a old press factory located in Japan. This product consists of two parts, the brass made holder and the actual pencil with a iron cup. When this is not used, the pencil fits inside the holder, transforming into a compact "carry around" size. At first, the brass releases a golden color, but through its use, the surface starts to oxidize and the color becomes pro-found.
The part of easer can also be removed for a clip-free pen if you prefer. You can put it on TRAVELER'S notebook Pen Holder. or just put in your pocket. This portability makes the item serve as a great partner for a traveler.
The pencil and eraser refills are now available as a set, so you can use our pencil for a long time and enjoy how the texture of brass ages with use. We also offer a shorter pencil set for those who prefer a generic thickness when writing.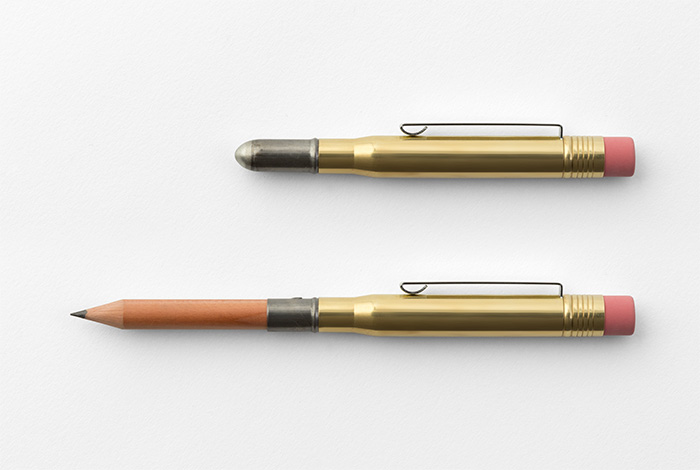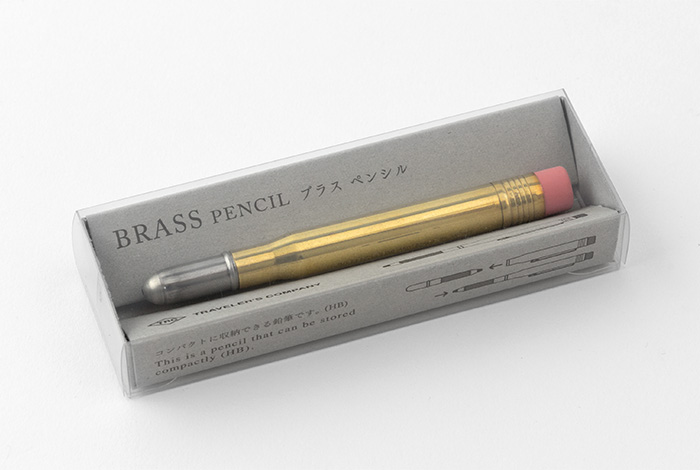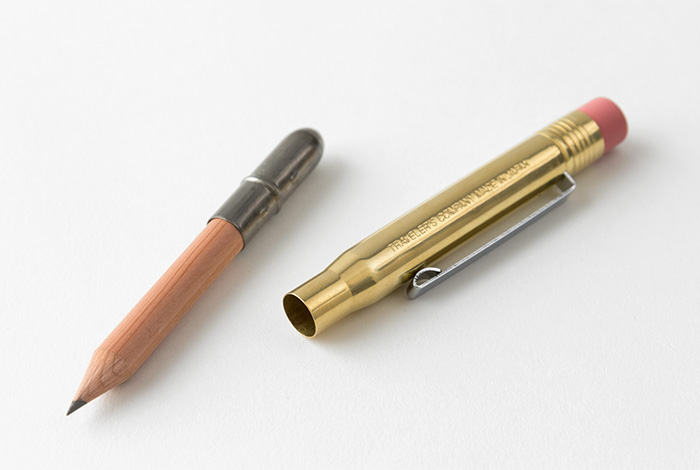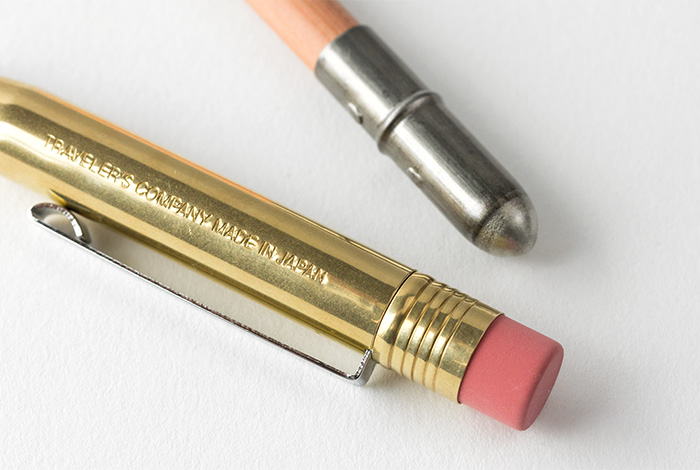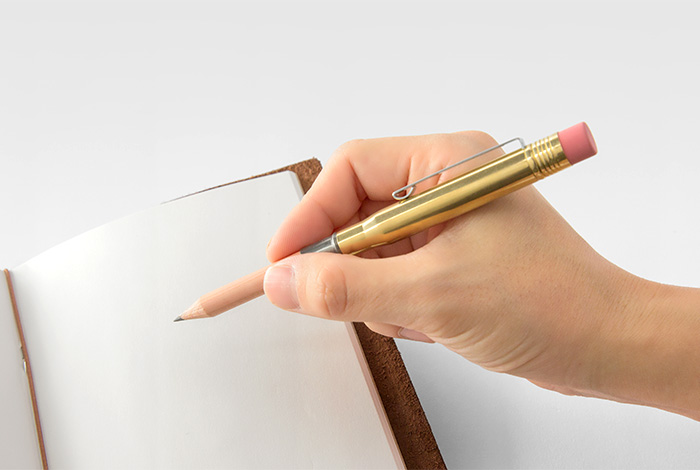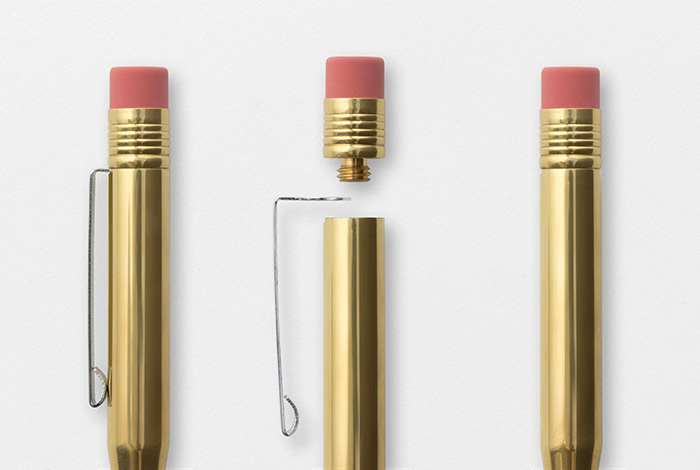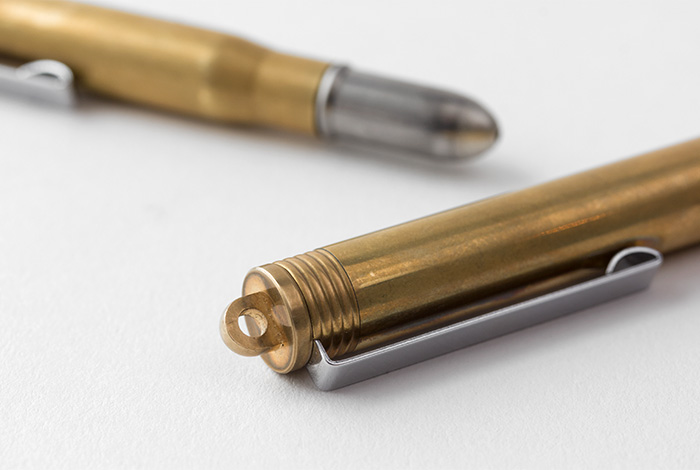 使い続けるうちに表面が酸化することで、深く味わいのある柔らかな色調に変化し、独特の雰囲気を醸し出します。
Through its use, the surface starts to oxidize, and this deepens the color and adds taste to the material itself.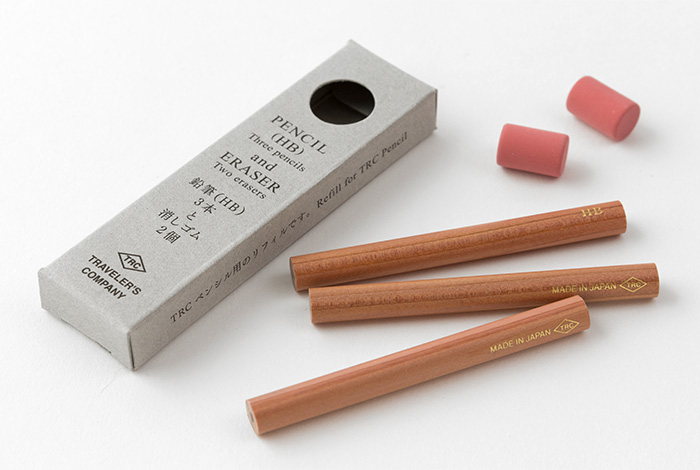 1,800円 + 税
Package / PET case, H38 x W112 x D19mm
BRASS Pencil / 11mm in diameter x H98mm (pencil: 75mm / HB)
MADE IN JAPAN
No.38069006
---
※「TRAVELER'S COMPANY」は株式会社デザインフィルの登録商標です。
*"TRAVELER'S COMPANY", "TRAVELER'S notebook" and "TRAVELER'S FACTORY" is a trademark of Designphil Inc.

 Unfortunately, we don't export to individual customers out of Japan.