Refills / Passpprt Size
BACK TO LIST
002 Grid Notebook / セクション(Old specification / 旧仕様)
パスポートサイズのセクション罫ノートリフィルです。
5mmのセクション罫は、文字も図形もきれいに書くことができます。でも、枠を思いっきりはみ出しても気にならないのがセクション罫のいいところだったりもします。軽快に持ち歩けるよう薄くて軽いオリジナルの筆記用紙(DP用紙)を使用。すべてのページにミシン目が入っています。
※こちらの製品は旧仕様のため、在庫がなくなり次第終了となります。
※2016年3月より、パスポートサイズ リフィル セクション(002)の仕様が変更となりました。紙がMD用紙になり、あわせてページ数が64ページ、ミシン目がなくなっています。

新仕様の製品詳細>>
This is a graph notebook ruled into 5mm squares. This makes it easy to write and draw on it. But it's worth mentioning that it doesn't look that bad when you write and draw beyond the grid. Our original paper (DP paper) is used for this refill, and there are perforation lines on all the pages, making it easy to tear off.
*This product has an old specification so please be noted that the sale will end when all the stock has been sold.
*Starting from March 2016, the Passport Size Grid Notebook will change its specification. The paper will be changed to MD Paper, and the number of pages will be changed to 64 pages without any perforation line.
Details of the new specification>>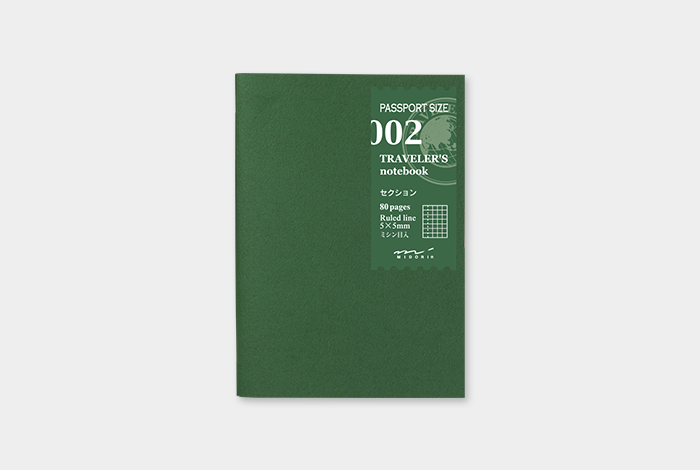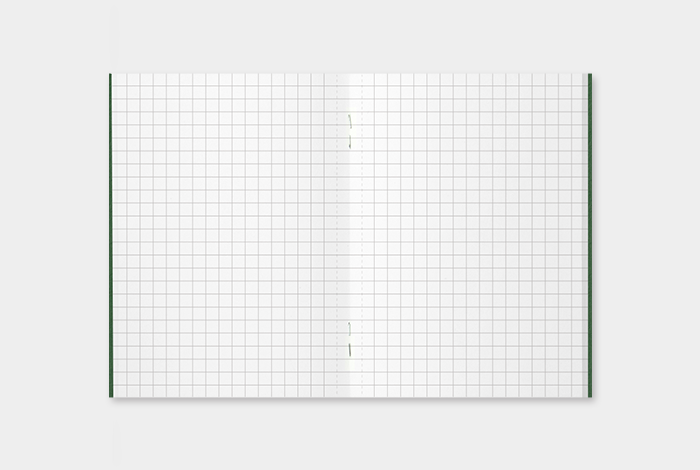 中紙/セクション罫5×5mm、80ページ、ミシン目入り、DP用紙(ステッチャー綴じ) 240円 + 税
Grid 5 x 5mm, 80 pages, perforated, DP Paper (Saddle Stitched)
H124 x W89 x D4mm
MADE IN JAPAN
No.14314006

 Unfortunately, we don't export to individual customers out of Japan.