Hoshino Resorts × TRAVELER'S COMPANY
TRAVELER'S notebook for Hoshino Resorts Guest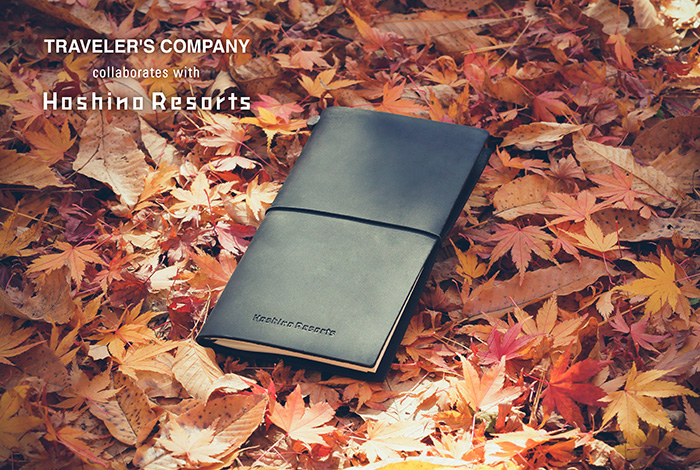 2019年12月30日(月)発売
Available on December 30th, 2019

「星のや」、「界」、「リゾナーレ」、「OMO」、「BED」の5つのブランドを中心に国内外で40の宿泊施設などを運営する星野リゾート各施設にて、コラボレーションバージョンのトラベラーズノートやブラスボールペンなどのラインアップ「TRAVELER'S notebook for Hoshino Resorts Guest」を2019年12月30日(月)に展開します。
1914年に軽井沢にて「星野温泉旅館」からはじまった星野リゾートは、現在では日本発のラグジュアリーホテルを標榜する「星のや」から、豊富なアクティビティをそなえる西洋型リゾート「リゾナーレ」、心地よい和にこだわった上質な温泉旅館「界」、街を楽しみ尽くす観光客のためのホテル「OMO」、仲間とルーズに過ごすホテル「BEB」などの幅広いブランドを展開しています。
ブランドによって異なる特色を持ちながらも、どの宿泊施設にも共通する、地域に根付く文化や伝統、季節ごとの自然など、その土地ならではの魅力を、圧倒的な感動体験とともに与えてくれることが星野リゾートの魅力になっています。
そんなサービスや空間作りの根源には、旅を通して自分の国を深く知り、さらに他国の文化や豊かさを感じることで、世界中の人たちを友人として結んでいきたいとの想いがあります。「旅は魔法」という言葉で表現された星野リゾートのその考えに感動し、共感することから、今回のコラボレーションのプロジェクトがはじまりました。
星野リゾートでの体験をノートに記録することで旅をより深いものにし、それぞれの想いが記録されたトラベラーズノートを通じて、新しい出会いやコミュニケーションのきっかけを作りたい。
そんな想いで企画したトラベラーズノートは、革カバーに星野リゾートのロゴを刻印したキャメルと黒をラインアップ。
リフィルは、星野リゾートの各宿泊施設で出会える風景や土地ならではのアクティビティをアイコンで表現し、活版で印刷したデザインとブルーの紙に箔押したデザインの2種類。さらにノートやスーツケースをカスタマイズするためのステッカーとロゴをレーザー刻印したブラスボールペンをご用意しました。
これらのコラボレーションアイテムは、2019年12月30日(月)より星野リゾートにて発売します。
販売場所:星野リゾート各宿泊施設 
備考:宿泊者のみ購入できます。ただし、次の施設では外来の方も購入可能です。
トマム ザ・タワー:タワーショップ
リゾナーレトマム:リゾナーレショップ
リゾナーレ八ヶ岳:BOOKS&CAFE
OMO7 旭川:ショップ
OMO5 東京大塚:ショップ
アルツ磐梯:ショップ
軽井沢星野エリア:星野温泉 トンボの湯、カフェ ハングリースポット、ピッキオ ビジターセンター
On December 30th, 2019, TRAVELER'S COMPANY will launch TRAVELER'S notebook for Hoshino Resorts Guests, a range of collaborative products. The lineup includes a special version of the TRAVELER'S notebook and BRASS BALLPOINT PEN and is created together with the Hoshino Resort chain, which operates 40 accommodation facilities inside and outside Japan, primarily under the HOSHINOYA, KAI, RISONARE, OMO and BEB brands.
Hoshino Resorts began with one inn, Hoshino Hot Spring Inn in Karuizawa, in 1914. Today, the chain includes five brands: HOSHINOYA, which sets the standard for Japanese luxury hotels; RISONARE, a Western-style resort chain offering a wealth of activities; KAI, an upscale hot spring inn chain that provides traditional Japanese comfort; OMO, a hotel chain for people who like to explore the neighborhood; and BEB, a chain of hotels where you can kick back and relax with your friends. This diverse range of brands is tied together by an ethos of creating exciting experiences by capturing the unique wonders of each area, such as local culture and traditions and the natural beauty of each season. At the heart of Hoshino Resorts' service and design is the hope that each guest will learn more about their own country, see the culture and richness of other countries, and make friends from all over the world in the process. Hoshino Resorts' belief that travel is magic resonated with us, inspiring our latest collaborative project.
We know that writing about your experiences makes traveling all the more significant and that TRAVELER'S notebook users can meet new people and gain a new way to communicate by sharing the thoughts they have jotted down. We wanted the guests of Hoshino Resorts to enjoy that experience, and so TRAVELER'S notebook for Hoshino Resorts Guests was born. The range comes in camel or black and features a leather cover with the Hoshino Resorts logo. The refills have two types of icons—printed icons and icons stamped on blue paper—representing the views you can see at each Hoshino Resorts facility and the unique activities you can enjoy in each area. The series also includes stickers to customize your notebook and suitcase and a special version of our BRASS BALLPOINT PEN laser printed with the Hoshino Resorts logo.
Our collaborative items will be sold at all Hoshino Resorts facilities from December 30th, 2019.
Sales location: Hoshino Resorts facilities
Available for Only Hotel Guests.
However you can purchase at the following locations;
Tomamu The Tower:Tower Shop
RISONARE Tomamu:Resinare Shop
RISONARE Yatsugatake:BOOK&CAFE
OMO7 Asahikawa:Shop
OMO5 Tokyo Otsuka:Shop
Alts Bandai Snow Park & Resort:Shop
KARUIZAWA HOSHINO AREA:Hoshino Onsen Tombo-no-yu, Cafe Hungry Spot, Picchio Visiter Center
---
PRODUCTS LINEUP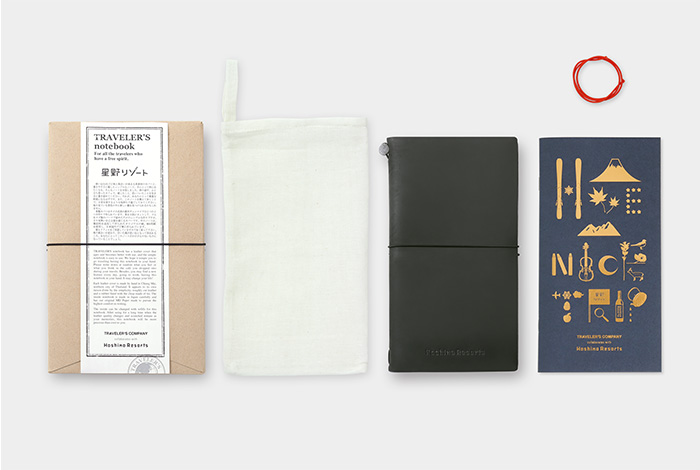 トラベラーズノート 星野リゾート 黒
TRAVELER'S notebook Hoshino Resorts Black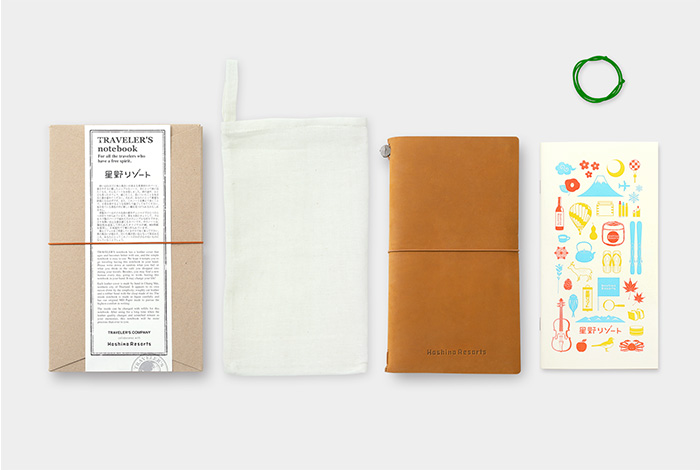 トラベラーズノート 星野リゾート キャメル
TRAVELER'S notebook Hoshino Resorts Camel
---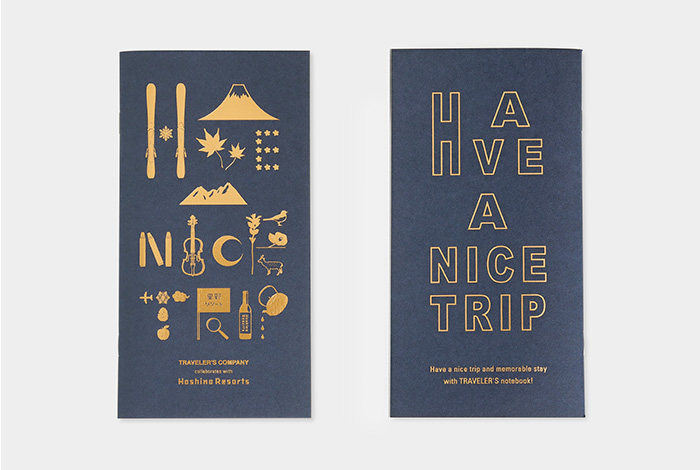 トラベラーズノート リフィル 星野リゾート 箔押 ブルー
TRAVELER'S notebook Refill Hoshino Resorts Gold Foil Blue
トラベラーズノート リフィル 星野リゾート 活版 クリーム
TRAVELER'S notebook Refill Hoshino Resorts Letterpress Cream
---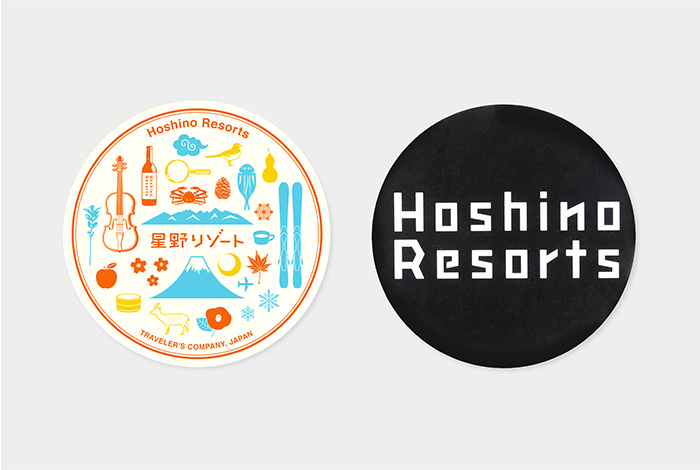 ステッカー 星野リゾート クリーム 丸、ロゴ 丸
Sticker Hoshino Resorts Cream Circle, Logo Circle
---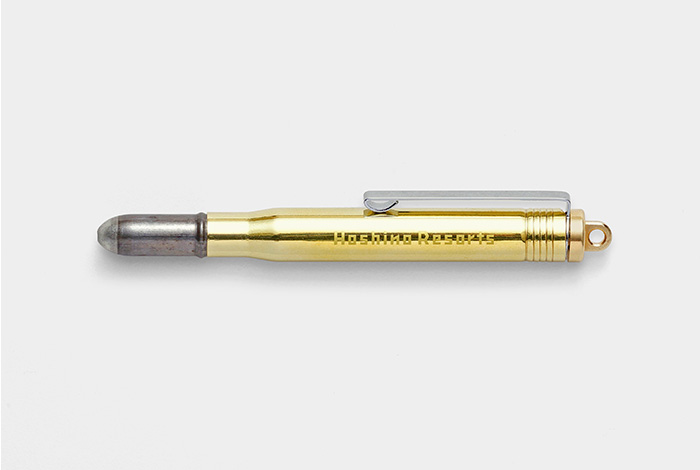 ブラスボールペン 無垢 星野リゾート
BRASS BALLPOINT PEN Solid Brass Hoshino Resorts
---
※「TRAVELER'S COMPANY」および「トラベラーズノート」は株式会社デザインフィルの登録商標です。
*"TRAVELER'S COMPANY", "TRAVELER'S notebook" and "TRAVELER'S FACTORY" are trademarks of Designphil Inc.