TRAVELER'S COMPANY CARAVAN in Hong Kong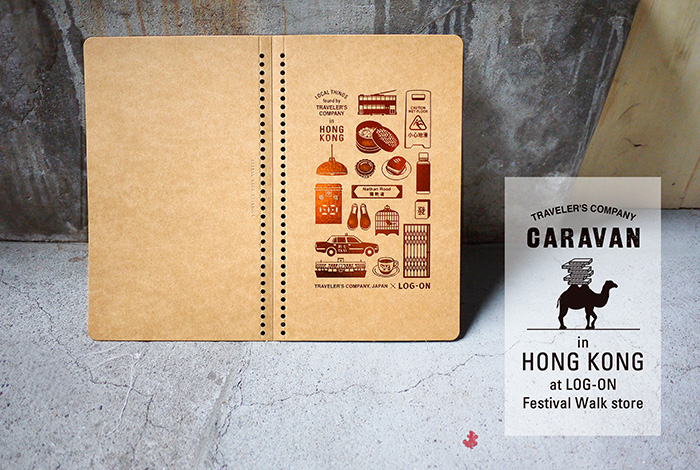 ネイホウ、香港!
トラベラーズノートをはじめ、旅するように毎日を過ごすための道具を作るトラベラーズカンパニーが、キャラバン隊となって旅するイベント、トラベラーズカンパニーキャラバン。次の旅先は、香港です。
7月1日(金)より、香港のライフスタイル提案型ショップ「city'super」が展開する「LOG-ON Festival Walk」にて、トラベラーズノート10周年記念展を開催。スターフェリーや香港トラムなど、かつてのコラボアイテムのサンプルや、トラベラーズカンパニーオフィシャルサイトのプロフェッショナルユーザーコーナーで紹介しているトラベラーズノートなどを展示します。
さらに、7月16日(土)、17日(日)には、トラベラーズファクトリーでの人気イベント、スパイラルリングノートバイキングを香港初開催! 香港イベント限定のオリジナルデザインの表紙もご用意します。あわせて、16日(土)より、トラベラーズファクトリーのポップアップコーナーも登場。人気のトラベラーズファクトリーオリジナルのチャームやマスキングテープなどが香港初登場します。
香港は、スターフェリーや香港トラムとのコラボレーションをはじめ、発売時よりユーザーとしてトラベラースノートを世界に紹介してくれているパトリック氏のサポートもあり、トラベラーズノートとにとっては縁の深い場所です。香港の方はもちろん、日本や海外の方もぜひこの機会に香港を旅して、参加いただけたら嬉しいです。
イベントの模様は、公式twitterやfacebookでも発信する予定です。こちらも楽しみにしてください。
<開催場所>
香港 LOG-ON Festival Walk
https://www.citysuper.com.hk/en/
Festival Walk
http://www.festivalwalk.com.hk/en/shopping/shop-detail.php?id=133
<イベント内容・日時>
TRAVELER'S COMPANY CARAVAN in Hong Kong
トラベラーズノート10周年記念展
2016年7月1日(金)〜8月7日(日)
トラベラーズノートの10年の歴史を伝える過去のプロダクトやコラボアイテムなどを展示。あわせて、プロフェッショナルユーザーが実際に使っているトラベラーズノートを展示します。
スパイラルリングノートバイキング
2016年7月16日(土)、17日(日) 12:00〜19:00
世界に1冊だけの自分だけのオリジナルノートを作ることができるスパイラルリングノートバイキング。香港限定のオリジナル表紙をご用意しています。
トラベラーズファクトリーポップアップコーナー
2016年7月16日(土)~8月7日(日)
チャームやマスキングテープなど、トラベラーズファクトリーのオリジナルアイテムが香港初お目見え。さらに、香港イベント記念アイテムとして、ポストカードとステッカーも登場します
(数に限りがあります。品切れの際はご了承ください)
※香港イベント記念アイテムは、日本国内では、トラベラーズファクトリー中目黒、トラベラーズファクトリーエアポート、トラベラーズファクトリーオンラインショップ各店にて7月27日(水)より販売します。
---
Neihou, Hong Kong!
TRAVELER'S COMPANY – a group making products including TRAVELER'S notebook that makes people travel through their daily lives – will travel again as a caravan. The next destination will be Hong Kong.
Starting from Friday July 1, there will be an exhibition showing 10 years of history of TRAVELER'S notebook at "LOG-ON Festival Walk," which is a lifestyle shop operated by "city'super." There will be exhibitions of samples of Star Ferry, Hong Kong Tramways, and other collaboration items as well as actual TRAVELER'S notebook used by professional users introduced on our TRAVELER'S COMPANY official website.
On Saturday July 16 and Sunday July 17, the Spiral Ring Notebook Event will be held in Hong Kong for the first time. Notebook covers with designs made for the Hong Kong event will be prepared, and starting from Saturday 16th, a pop-up store of TRAVELER'S FACTORY will appear. The original items such as charms and masking tapes sold only in TRAVELER'S FACTORY will appear in Hong Kong for the first time.
The collaboration with Star Ferry and Hong Kong Tramways, and the support by Patrick, who introduced TRAVELER'S notebook to the world as a user since its first launch shows how Hong Kong as a place has a special tie with TRAVELER'S notebook. Not only people from Hong Kong, but we also wish people from Japan and overseas can use this opportunity to travel Hong Kong and join the event.
The live report of the event will be uploaded on facebook and twitter, so please stay tuned in this as well.
<Venue>
Hong Kong LOG-ON Festival Walk
https://www.citysuper.com.hk/en/
Festival Walk
http://www.festivalwalk.com.hk/en/shopping/shop-detail.php?id=133
<Event Details and Date>
TRAVELER'S COMPANY CARAVAN in Hong Kong
TRAVELER'S notebook 10th Anniversary Exhibition
Friday July 1 – Sunday August 7, 2016
An exhibition of past products and collaboration items that show the ten years of history of TRAVELER'S notebook. Along with the products, the actual TRAVELER'S notebook used by the professional users will be introduced.
Spiral Ring Notebook Event
Saturday July 16 – Sunday July 17, 2016
This is an event where people can make their one and only notebook. You can choose the original cover for Hong Kong event.
TRAVELER'S FACTORY Pop-Up Store
Saturday July 16 – Sunday August 7, 2016
Original items of TRAVELER'S FACTORY including charms and masking tapes will be sold. This will be its first appearance in Hong Kong. And Post Card and Sticker also will be sold as the limited items for this event.
*In Japan, the limited items for the Hong Kong event will be sold in TRAVELER'S FACTORY Nakameguro, TRAVELER'S FACTORY AIRPORT, and TRAVELER'S FACTORY ONLINE SHOP (The release date and details will be available on the TRAVELER'S FACTORY official website later).
HONG KONG LIMITED Products / 香港イベント記念アイテム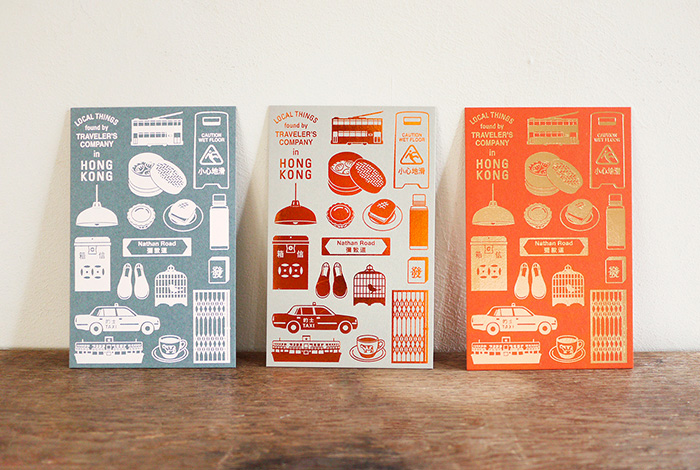 トラベラーズカンパニーが香港で見つけたモノや乗り物などをモチーフにデザインし、箔押で表現したポストカードです。
This is a post card with designs of things and vehicles found in Hong Kong by TRAVELER'S COMPANY being applied. This is expressed using foil pressing.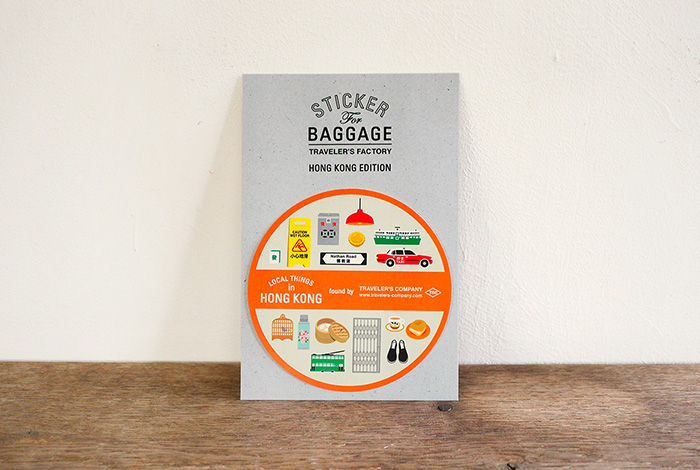 スーツケースやノートの表紙に貼るのぴったりのバゲッジステッカーに香港イベントのオリジナルデザインが登場します。
A baggage sticker that goes perfectly well on suit case and the cover of notebook will appear in the Hong Kong event with an original design.
BADGE CUSTOMIZE
7月15日・16日にイベント会場で、200香港ドル以上お買い上げの方には、香港で見つけたものをモチーフにしたオリジナルデザインの缶バッジをプレゼント! 先着順となりますのでお早めに。
Customers who purchased more than 200HKD will receive a limited original badge. This will be given on a first-come-first-served basis at the venue of the event on July 15-16.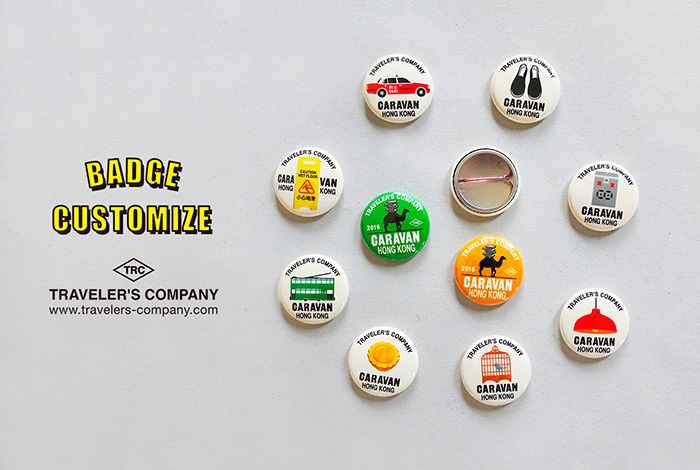 LIMITED STAMP
イベント会場では、イベント限定のオリジナルスタンプも登場します。ぜひ、ノートに押してカスタマイズを!
At the venue, an original stamp will appear just for the event. Please customize your notebook by stamping it!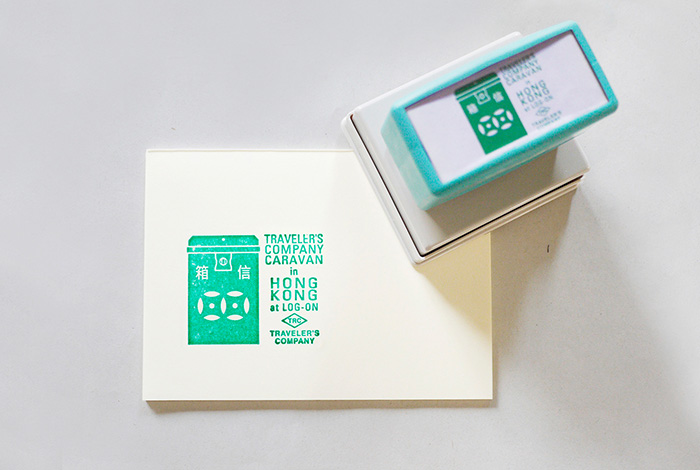 About SPIRAL RING NOTEBOOK Event
世界にたった1冊だけのオリジナルのノートを作ることができるイベントです。
イベントオリジナルのロゴが箔押しされた表紙を手にとって、定番の筆記用紙やポケットの中紙をはじめ、質感のある紙や味のある紙、カラフルな紙など、ずらりと並んださまざまな種類の紙の中からバイキング気分でお好きな紙を選びます。そして、選んだ紙を自分の好きなページ順に重ねます。1枚ずつ色を変えたり、最初と最後にポケットを付けたり、好きなようにアレンジできます。そして、最後にリング製本職人が、その場でリングで綴じてオリジナルノートが完成します。
Have you ever wanted a notebook that's different from what everybody else have?
This event will allow you to make your one and only notebook!
First, choose your favorite cover with the logo of the event being pressed. Then move on to the section where there are papers stacked beautifully on a plate. We prepared various papers including our MD papers, papers with pockets, and other unique and colorful papers. Once you stand in front of the papers that are lined along the table, you'll start to feel like as if you're in a morning buffet served at a hotel. Pick your favorite papers, group them in the order you want it to be, and in the end, the ring binding craftsman will bind the notebook right in front of you! This is one of the views you never want to miss out. Once that's all done, your one and only notebook is ready to be used! Please use this chance to make your own notebook.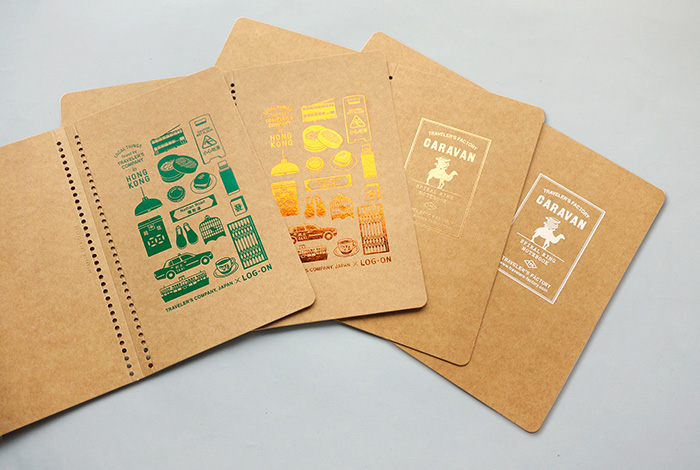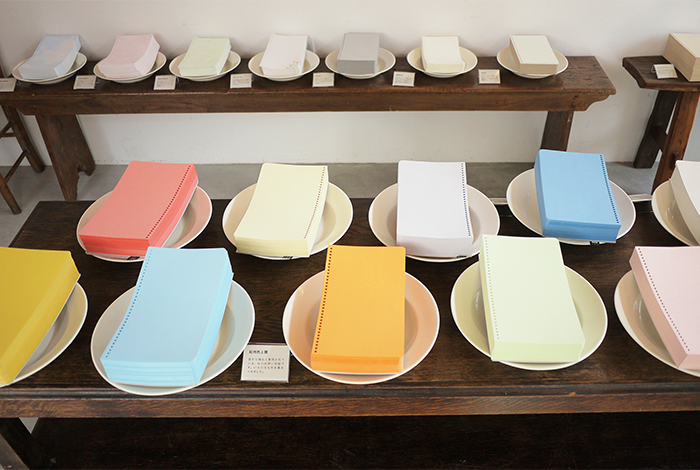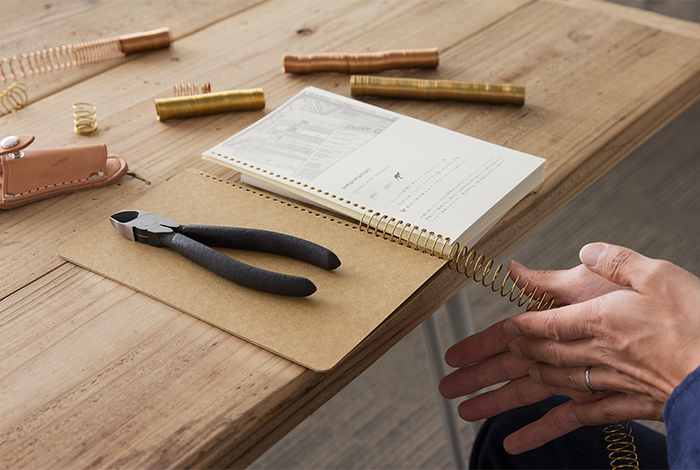 ---
※「TRAVELER'S COMPANY」および「トラベラーズノート」は株式会社デザインフィルの登録商標です。
*"TRAVELER'S COMPANY", "TRAVELER'S notebook" and "TRAVELER'S FACTORY" are trademarks of Designphil Inc.