TRAVELER'S notebook in SEOUL and HONG KONG!
トラベラーズノートと仲間たち in SEOUL and HONG KONG!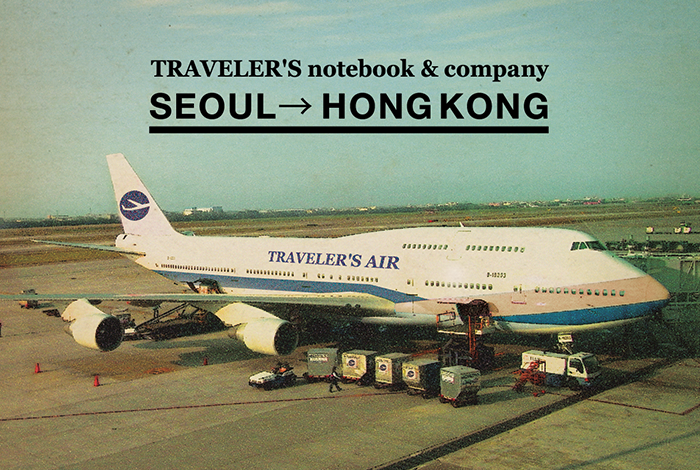 発売5周年を記念し、初めての海外イベントをソウルと香港で開催します。トラベラーズノート関連製品をはじめ、海外イベント初上陸記念のブラスペンやスパイラルリングノートの販売、さらにイベントでは恒例のオリジナルステッカーやスタンプを用意したカスタマイズコーナーも設置。世界中の旅人たちとトラベラーズノートの新たな出会いがそこに生まれます。
ソウルでは、スペインのシューズブランド「CAMPER」のショップイベントスペースで開催します。また、韓国の人気デザイン雑貨ショップ「10X10」、同社の運営するセレクトショップ「ithinkso」や旅をテーマにした「CAFE1010」とスタンプラリーを実施します。
香港では、食と雑貨の大型専門店「city'super」が展開するライフスタイルショップ「LOG-ON Festival Walk」にて開催。LOG-ON主催の旅をテーマにしたイベント「Travel Photo Cafe」期間中、2日間を「トラベラーズノートと仲間たち」がジャックします。
※このイベントは終了しました。
イベントレポート>>
In commemoration of the 5th anniversary the first event outside Japan is held in Seoul and in Hong Kong. We sell the TRAVELER'S notebooks and the related goods as well as the anniversary commodities for first event abroad such as BRASS ball point pen and SPIRAL RING NOTEBOOK. Besides, there is a customizing corner with the original stickers and stamps. Travelers from all over the world will meet new TRAVELER'S notebooks there.
In Seoul it is held at the event space of "CAMPER", a Spanish brand shoes shop. There is a "stamp rally" with "10×10" a famous Korean design goods shop, its select shop "ithinkso" and "Cafe 1010" of which theme is TRAVEL.
In Hong Kong you will see it at the life-style shop "LOG-ON Festival Walk", developed by a big food and general store "city'super". During the "Travel Photo Cafe" period promoted by LOG-ON to aim at TRAVEL, "TRAVELER'S NOTEBOOK & company" will jack 2 days.
This event has been closed.
EVENT REPORT >>
---
SEOUL
Camper shop 3rd. Floor event space
address: 3F, Camper, 530-3 Sinsa-dong, Kangnam-Gu, Seoul, KOREA
period: from June 3 to June 8
Time: 11:00 – 20:00 (Customizing event from June 3 to June 5)
http://www.camper.com/

HONG KONG
LOG-ON Festival Walk
address: Festival Walk UG Level, Kowloon Tong, Hong Kong
period: from June 24 to June 25
Time: 11:00 – 22:30
http://www.citysuper.com.hk/

LIMITED ITEMS