TRAVELER'S notebook Mini 10th Anniversary Can Set / トラベラーズノート ミニ 10周年缶セット
BACK TO LIST
TRAVELER'S notebook Mini 10th Anniversary Can Set Brown / トラベラーズノート ミニ 10周年缶セット 茶
トラベラーズノートの10周年を記念して作った、旅する時にはもちろん、毎日の暮らしのなかでもいつも一緒にいてほしい、手のひらサイズのトラベラーズノートです。
ノートリフィルは、自分で好きな紙を選んでホッチキスで作ることができるキットになっています。さらに、ミニチャームやシールなどのカスタマイズアイテムや、10年の歴史を伝えるガイドとともに、ノートリフィルの保存ボックスとしても使える缶にセットしました。
さらに、缶の中には10周年の歴史を伝える10周年ガイドや、10周年記念の限定アイテムが当たるプレゼントキャンペーンの応募用紙も入っています。
カスタマイズした小さなトラベラーズノートに、大切な言葉を書いたり、住所や名前を記入したりして、IDタグやバゲッジタグのようにいつも身に付け、旅するように毎日を過ごしてください。
※限定商品につき、欠品、完売の場合はご容赦ください。
※お店によって販売時期が異なります。ご購入の際は、お店にご確認の上でお出かけください。

This is a mini size TRAVELER'S notebook that people can carry it around in their everyday lives. This was made to celebrate the 10th anniversary of TRAVELER'S notebook. The notebook refill takes a form of a kit, where people can choose their favorite paper and bind it using a stapler. A charm and sticker is included for customizing purpose, and a guide that explains the ten years of history of TRAVELER'S notebook is included. These are all stored in a box shaped can has a size that can store a notebook refill, so it can even be used as a storage box. We also included an application form where people have a chance of winning a 10th anniversary limited item.
On the mini sized TRAVELER'S notebook that you customized, please write down things such as your favorite words, name, and address. Then please carry this around as an ID tag or baggage tag, and travel through your daily life.
* Since these items are all limited, please be noted that it may be sold out in some retail shops.
*The date of release will vary depending on the retail shop. Prior to purchasing, please contact the nearest retail shop.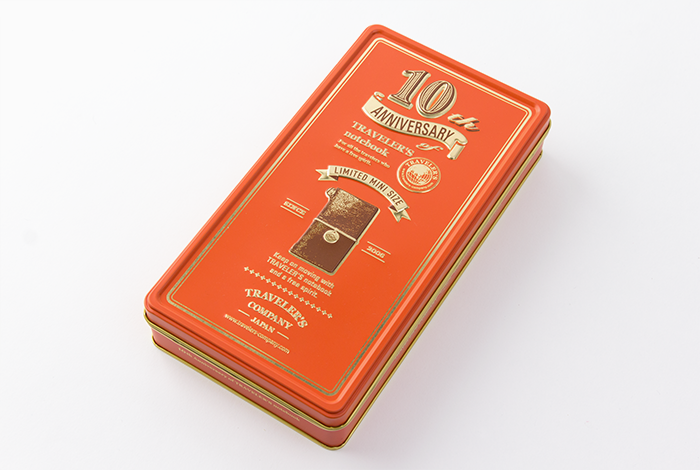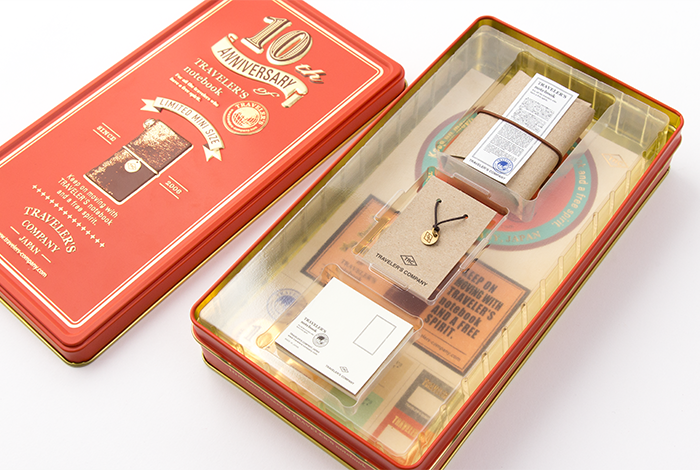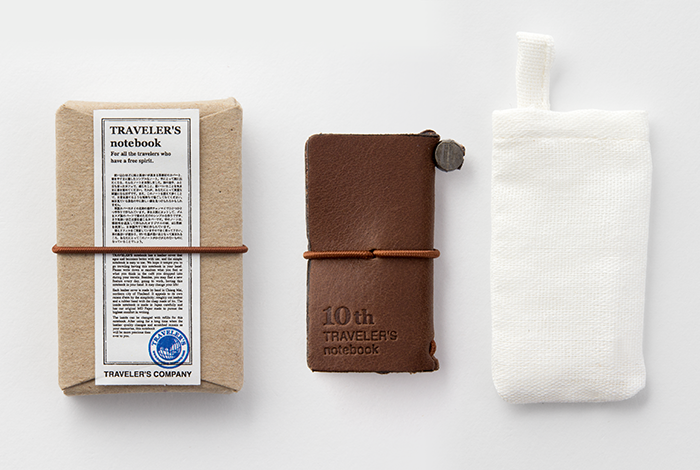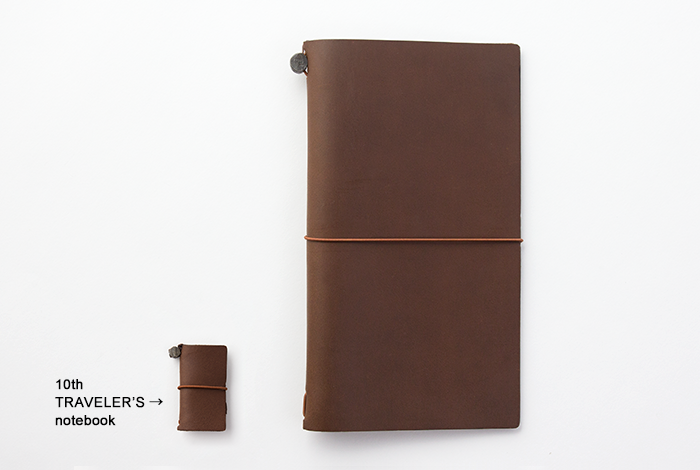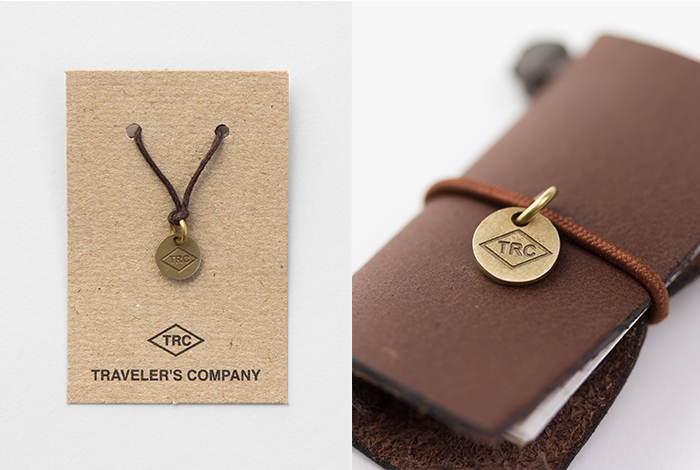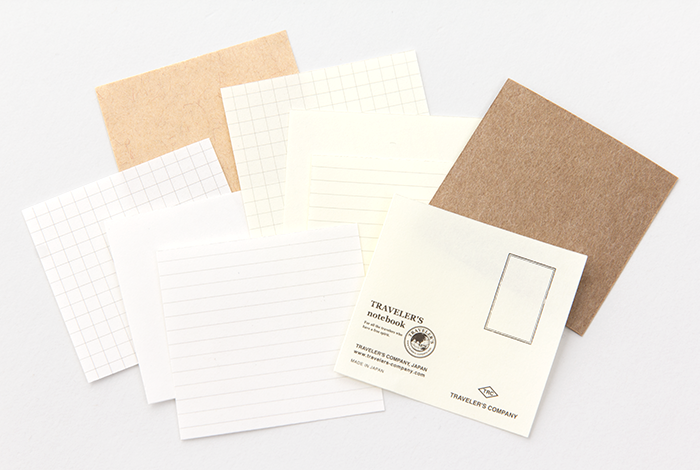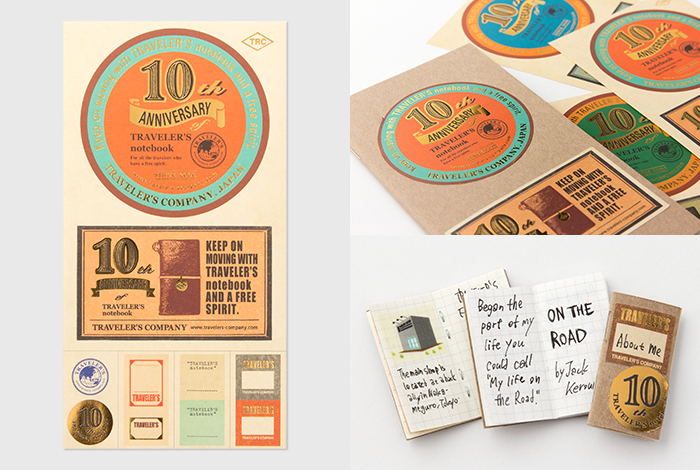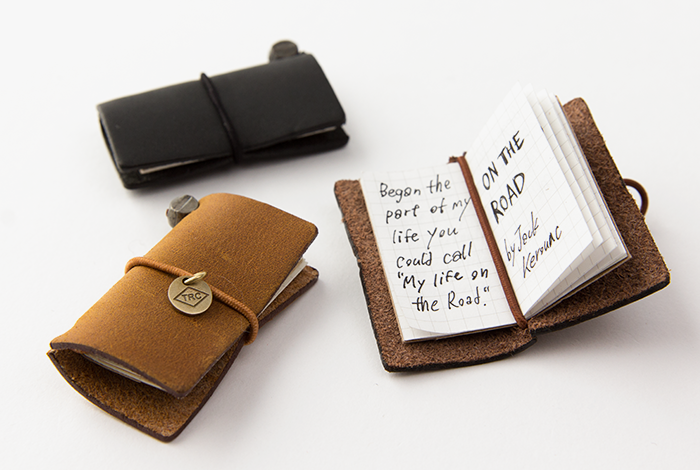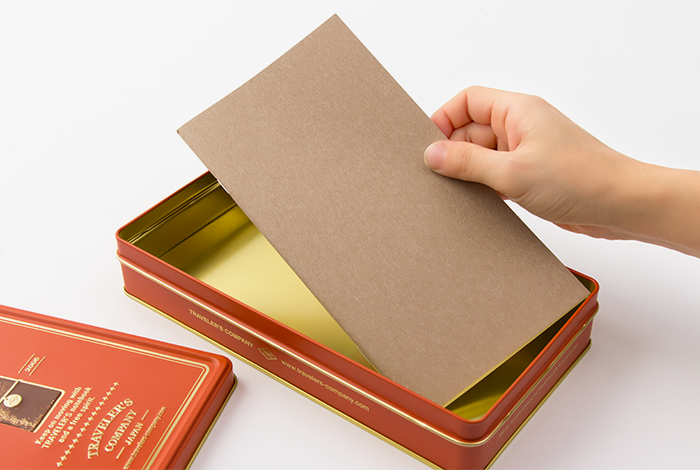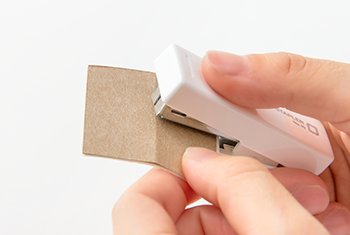 ---

2,800円 + 税
<パッケージ内容>
10周年缶/H233 × W124 × D43mm、ブリキ製
カバー本体/H47 × W32 × D6mm、牛革製 MADE IN THAILAND
コットンケース/H88 × W42 × D2mm、布製
ノートリフィル ミニキット(リフィル用紙)/H41 × W44mm、表紙10枚、扉10枚、中紙35枚
中紙:MD用紙ホワイト(横罫、セクション、無罫)、MD用紙クリーム(横罫、セクション、無罫)、クラフト紙 各5枚
チャーム ミニ/直径7 × D3mm、真鍮製
シール/H210 × W110mm、紙製
ミニノートリフィル作り方説明書
10周年ガイド
10周年キャンペーン応募ハガキ
No.15196006 
<Package contents>
Tin can box / H233 x W124 x D43mm
Leather Cover / H47 x W32 x D6mm MADE IN THAILAND
Cotton Bag / H88 x W42 x D2mm
Mini Notebook Kit (Refill notebook) / H41 x W44mm,
Cover page x 10 sheets, Title page x 10 sheets,
Lined MD Paper White x 5 sheets, Grid MD Paper White x 5 sheets, Blank MD Paper White x 5 sheets,
Lined MD Paper Cream x 5 sheets, Grid MD Paper Cream x 5 sheets, Blank MD Paper Cream x 5 sheets,
Mini Charm / Diamater7 x D3mm, Brass
Sticker / H210 x W110mm, Paper
Assembly Guide (How to make mini notebooks refill)
10th Anniversary Guide
Postcard for 10th Campaign
No.15196006

 Unfortunately, we don't export to individual customers out of Japan.