Let's Start TRAVELER'S notebook Campaign!
「Let's Start トラベラーズノート キャンペーン」実施!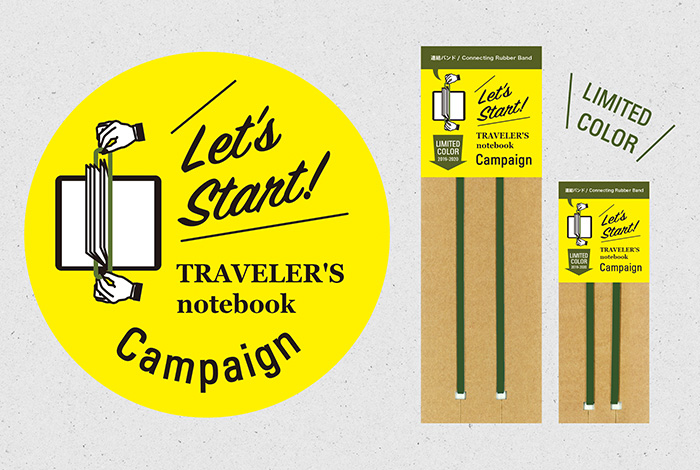 2020年ダイアリーの発売とあわせて、「Let's Start トラベラーズノート キャンペーン」実施します。期間中、キャンペーンについて告知を明記している店頭にて、「トラベラーズノート」本体をお買い上げの方に、先着で限定カラーの「連結バンド」をプレゼントいたします。
トラベラーズノートは、カスタマイズすることで使い方が広がります。
「連結バンド」を使うことで、トラベラーズノートの本体にセットされているノートリフィルに加えて、新たにノートリフィルをセットすることができます。例えば、お好みのノートリフィルと2020ダイアリーをセットすれば、スケジュール管理と日々の記録をトラベラーズノートにすべてまとめることができます。さらにカードファイルや水彩紙などを連結すれば、使い方はもっと広がります。
たくさんの種類をご用意しているリフィルを使って自分だけの使い方を探してください。
キャンペーン開始日:2019年9月12日
※お店によってキャンペーン開始日やキャンペーンの有無が異なります。ご購入の際は、お店にご確認の上でお出かけください。
※数がなくなり次第、終了になります。終了の時期はお店によって異なります。
We are launching the Let's Start TRAVELER'S notebook Campaign to coincide with the release of our 2020 diaries. Customers who purchase a TRAVELER'S notebook at stores with signage about the promotion will receive a free Connecting Rubber Band in a limited-edition color while supplies last.
Customize your TRAVELER'S notebook to unlock a world of endless possibilities.
With the Connecting Rubber Band, combine the refill that comes included with the TRAVELER'S notebook™ with a new one of your choice. Simply link together the refill you like best and your 2020 diary to have your schedule management and day-to-day writing all in one place. Try attaching card files or watercolor paper for an even wider range of uses.
Choose from our wide range of refills to make your TRAVELER'S notebook unique to you.
Promotion begins Autumn, 2019. Same as the date to release 2020 diaries.
* Selected stores only; dates may vary by store. See in-store for details.
* Promotion only valid while supplies last. End date may vary by store.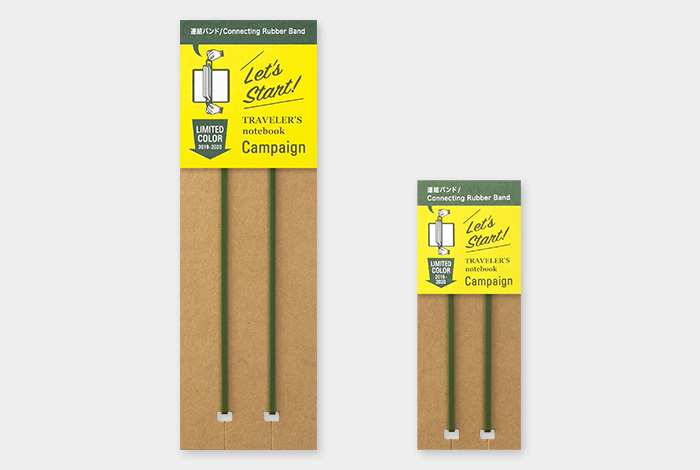 「トラベラーズノート」本体をお買い上げの方にプレゼントする限定カラーの「連結バンド」は、オリーブカラーの連結バンドを2本パッケージしています。
レギュラーサイズのトラベラーズノートをご購入の方には、レギュラーサイズの連結バンド、パスポートサイズのトラベラーズノートをご購入の方には、パスポートサイズの連結バンドをプレゼントします。
そろそろ2020年に向けて新しいダイアリーを探すこの季節。トラベラーズノートはダイアリーとしても便利にお使いいただけます。ぜひ、トラベラーズノートのその候補に加えてみてください。
連結バンドの使い方>>>
---
※「TRAVELER'S COMPANY」および「トラベラーズノート」は株式会社デザインフィルの登録商標です。
*"TRAVELER'S COMPANY", "TRAVELER'S notebook" and "TRAVELER'S FACTORY" are trademarks of Designphil Inc.