BRASS PRODUCTS / ブラスプロダクト
BACK TO LIST
TRC BRASS FOUNTAIN PEN Solid Brass / TRC ブラス 万年筆 無垢
持ち歩くときにはコンパクトに、書くときには使いやすいサイズになる真鍮の万年筆です。使うほどに味わい深く変化する真鍮の質感とともに、日本の職人によって生み出された上質な道具としての佇まいも魅力です。トップには、フックや紐を取り付けられるリングが付いています。またリングパーツを取り外すことで、クリップなしで使用することもできます。
トラベラーズノートのペンホルダーにざっくりと差し込んだり、ポケットにそのまま放り込んだりして、いつでもどこでも気軽に持ち歩き、人生の旅の相棒として永く使ってください。真鍮の色合いの変化とともにちょっとした傷もまた味となり、より愛着が湧いてくるはずです。
ヨーロッパタイプの専用カートリッジは、ブラックとブルーブラックをご用意しています。
万年筆のインクカートリッジの交換方法 >>
万年筆のお手入れ方法 >>
Easily converted into a compact "carry around" size and elongated for easy writing, BRASS FOUNTAIN PEN also boasts a depth in texture that solid brass acquires over time and use, complemented with a high-quality finish created by skilled Japanese craftsmen. The top of the pen has a ring for attaching a hook or string, so you can clip it to your bag as a key holder or customize it using beads and other items – let your imagination run free! The ring can also be removed for a clip-free pen if you prefer. You can put it on TRAVELER'S notebook Pen Holder. or just put in your pocket.
The pen uses international standard cartridges, available in black and blue-black.
HOW TO REPLACE THE INK CARTRIDGE >>
HOW TO KEEP THE FOUNTAIN PEN IN GOOD CONDITION >>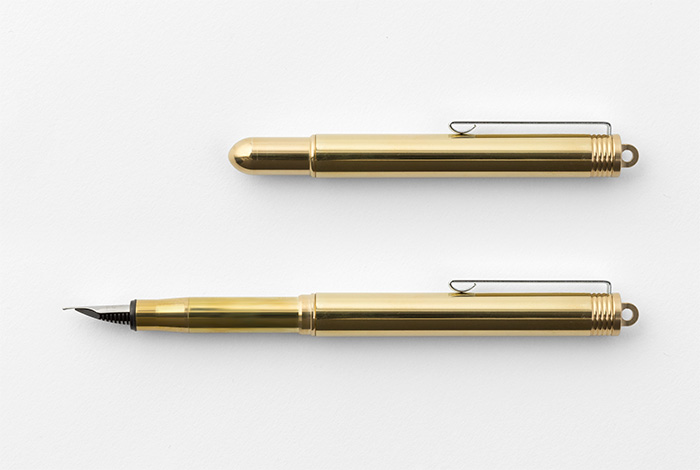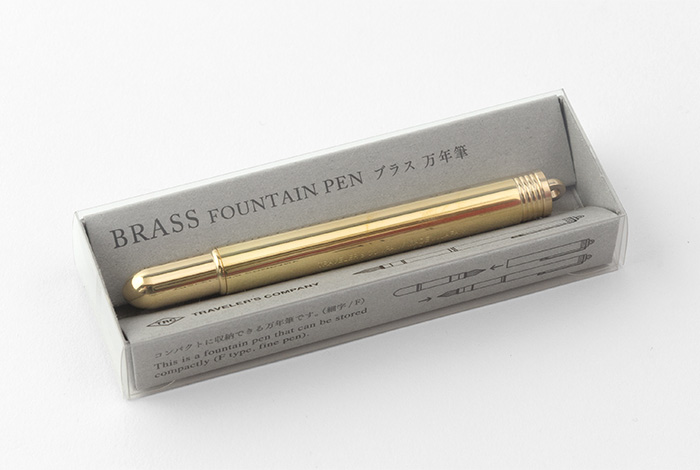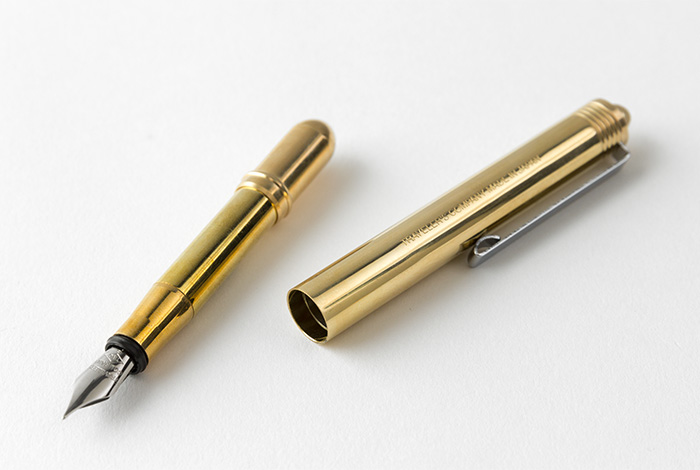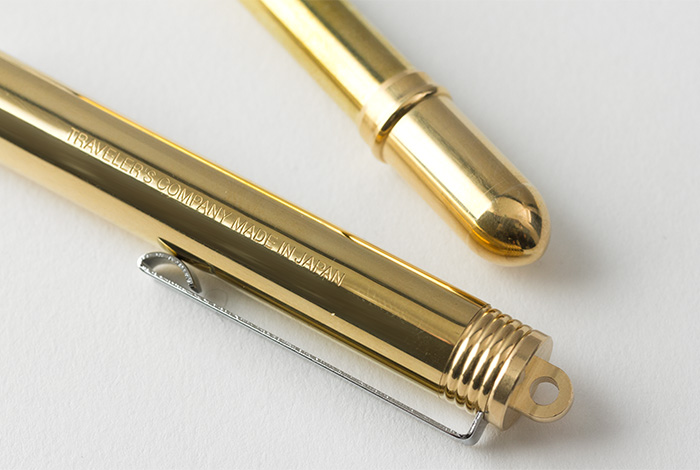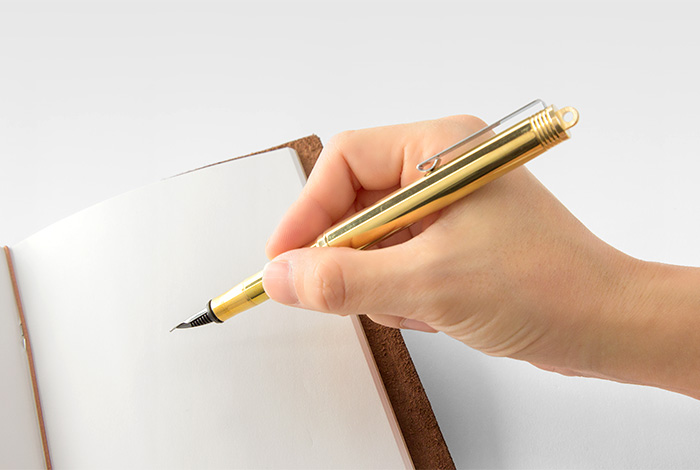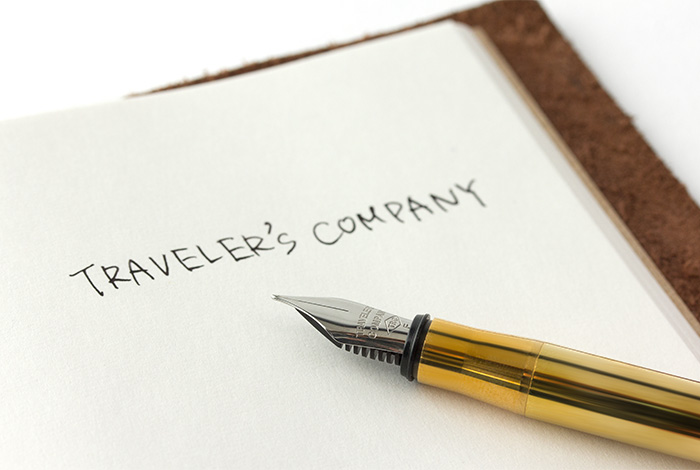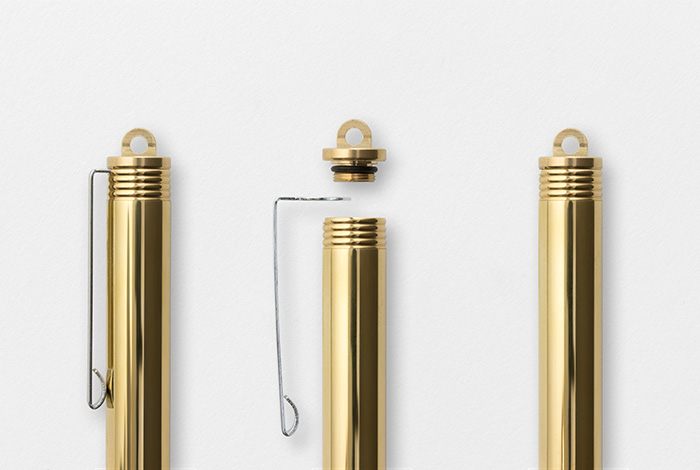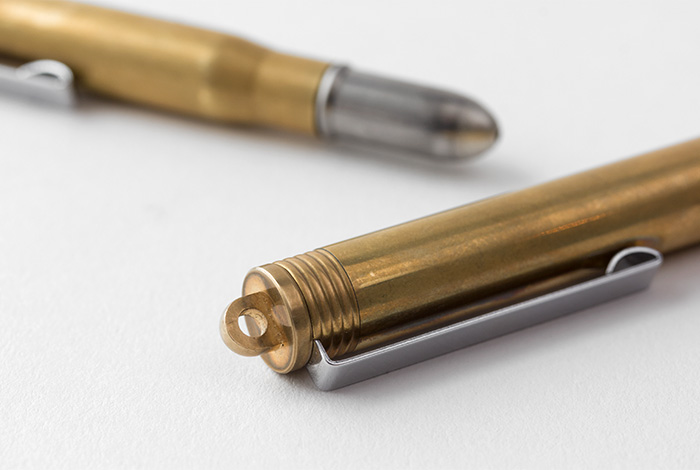 使い続けるうちに真鍮の表面が酸化することで、深く味わいのある柔らかな色調に変化し、独特の雰囲気を醸し出します。また真鍮の素材感や経年変化を楽しんでいただくため表面処理はしていないため、表面に細かな傷があります。使ううちに色合いが変化することで気にならなくなります。
Through its use, the surface starts to oxidize, and this deepens the color and adds taste to the material. Besides, there may be slight scratches as the surface is not plated to enjoy the texture of brass and change as it ages. By a long time use the change in color lessen the concern.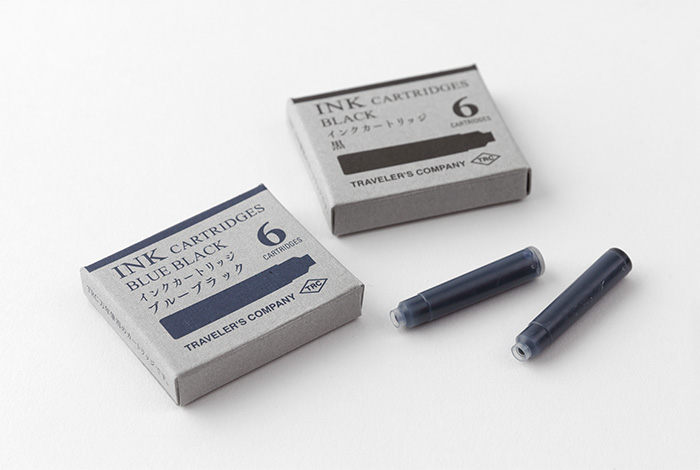 4,800円 + 税
ペン先/スチール製、文字幅/F、カートリッジ色/黒
Pen tip / Steel, Nib size / Fine, A Cartridge Black included
Package / PET case, H38 x W112 x D19mm
BRASS Fountain Pen / 11mm in diameter x H102mm
MADE IN JAPAN
No.38071006
---
※「TRAVELER'S COMPANY」は株式会社デザインフィルの登録商標です。
*"TRAVELER'S COMPANY", "TRAVELER'S notebook" and "TRAVELER'S FACTORY" is a trademark of Designphil Inc.

 Unfortunately, we don't export to individual customers out of Japan.