BRANIFF INTERNATIONAL / ブラニフ・インターナショナル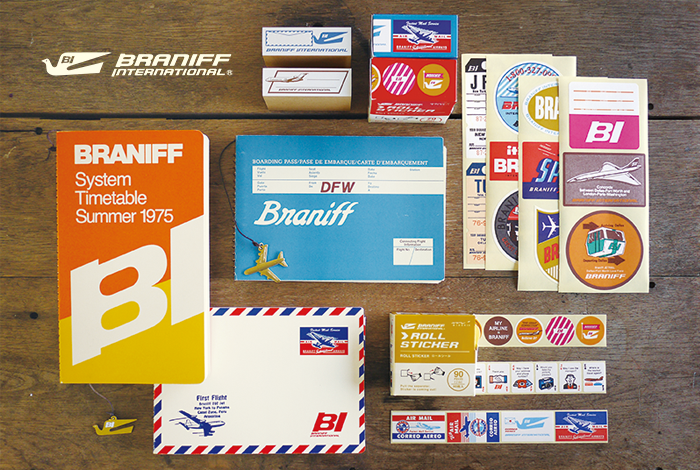 ブラニフ・インターナショナル
「THE END OF THE PLAIN PLANE さよなら退屈な飛行機」、このキャッチフレーズのもと、アレキサンダー・ジラルド、エミリオ・プッチなど60~70年代のクリエイティブが集結した伝説のエアライン、ブラニフ・インターナショナル。世界ではじめてカラフルにペイントされた飛行機を飛ばしたり、ミュージアムのような機内の内装や、ファッションショーを彷彿とさせる客室乗務員の制服などの斬新なアイデアで、1982年に運航を停止するまで、飛行機の旅に夢を与え続けてくれました。
ボーディングパスやタイムテーブルをイメージしたスパイラルリングノート、搭乗記念ステッカーやバゲッジタグをデザインしたステッカー、バードロゴの胸章を模したチャームなど、手にするだけで夢のエアラインの旅がよみがえるノートとそのカスタマイズアイテムです。
※限定商品につき、欠品、完売の場合はご容赦ください。
BRANIFF INTERNATIONAL
With the catch phrase, "THE END OF THE PLAIN PLANE," Braniff International gathered together creative talents of the 1960s and '70s, including Alexander Girard and Emilio Pucci, and became a legend of the sky. Braniff was the first airline ever to fly colorfully painted aircrafts and adopted airplanes' interior suggestive of a museum. The cabin attendants' uniforms made the passengers think of a fashion show. With these iconoclastic ideas, the airline enchanted fliers until it gave up operation in 1982.
The items include "Spiral Ring Notebook" designed after Braniff's boarding pass and time table, "Sticker" based on the airline's boarding memory sticker and baggage tags, and "Charm" fashioned after the airline's chest badge featuring its bird logo, which are notebook and customization items allowing you to go back in time to a happy flight with the dream airline.
*BRANIFF INTERNATIONAL products are only available in the following countries because of copyright.
(Japan,Korea,Taiwan,China,HongKong)

BRANIFF SPIRAL RING NOTEBOOK
ブラニフのタイムテーブルやボーディングパスを表紙にデザインしたスパイラルリングノートの中紙は、すべてのページが紙のポケットになっています。また、機内で使用していたエアメールをデザインしたノートは、中紙が窓付きの封筒になっています。旅先で手に入れたチケットやマップなどを収納できる、旅に便利なノートです。
All the pages of Spiral Ring Notebooks featuring Braniff's time table and boarding pass have a paper pocket. Spiral Ring Notebook featuring the airmail used on board contains inside pages that are window envelopes. These are quite handy notebooks that can contain tickets, maps, etc., you obtain on your travels.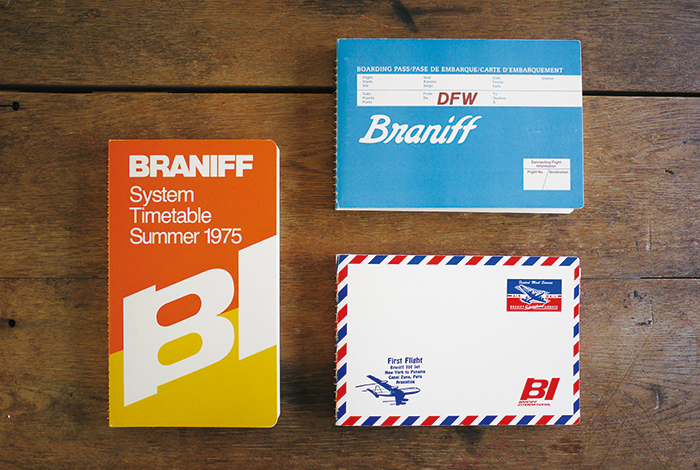 BRANIFF STICKER
キャンペーンの際に配られた搭乗記念ステッカーや荷物用のラベル、バゲッジタグなどをモチーフにして作ったシールです。スーツケースに貼るようにノートの表紙に貼ってカスタマイズし、旅人気分でノートを持ち歩いてみてはいかがでしょうか。
"Sticker" features the boarding memory sticker distributed as part of Braniff's campaign, and a baggage tag and label as motifs with different tastes. Paste it on your notebook to customize it, just as you do with your suitcase, and you can carry the notebook around, while feeling like you are on an airplane voyage.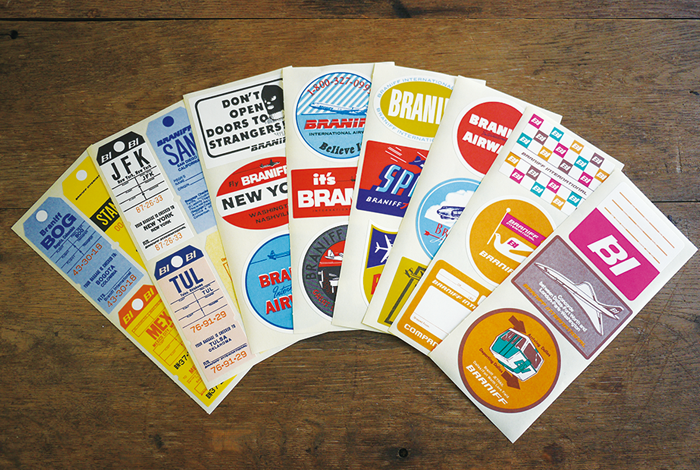 ステッカー01、ステッカー02、ステッカー03、ステッカー04 各300円+税
BRANIFF STICKER 01, BRANIFF STICKER 02, BRANIFF STICKER 03, BRANIFF STICKER 04
BRANIFF ROLL STICKER
ブラニフの機内で配られていた一言会話集として使えるトランプ、ブラニフのロゴやキャンペーンのロゴステッカー、機内で使用していたエアメールラベル。それぞれのシールがロール状の台紙たっぷり入っています。ノートや手紙、カードなどに気軽に貼ってカスタマイズしてください。
"Roll Sticker" contains a large number of stickers on the rolled sheet including: playing cards distributed on board, which served as a phrase booklet as well; Braniff's logo and campaign logo stickers; and airmail labels used on board. Paste it onto your notebook, letter, card, etc., to easily customize them.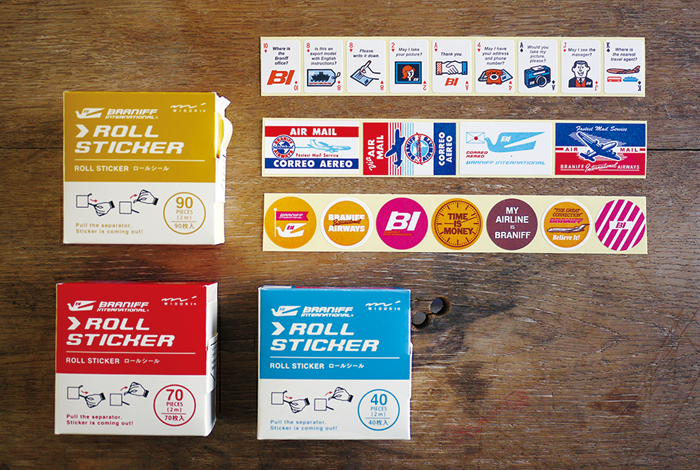 ロールシール<M>ブラニフ プレイングカード柄 480円+税
ロールシール<M>ブラニフ 丸 480円+税
ロールシール<M>ブラニフ エアメールラベル柄 480円+税
BRAINFF ROLL STICKER Playing Card
BRAINFF ROLL STICKER Circle
BRAINFF ROLL STICKER Airmail Label
BRANIFF CHARM
60年代、アメリカの女の子の憧れの的だったブラニフの客室乗務員が付けていたバードロゴの胸章と、ブラニフの機体をモチーフに真鍮で作ったチャームです。リングノートのリングに紐を結んでしおりに、またキーホルダーやストラップなどにご使用ください。
"Charm," made of brass, is designed after a Braniff aircraft and the Bird logo chest badge worn by the airline's cabin attendants, who were worshipped by many American girls in the 1960s. A Charm can make a nice bookmark, if you tie its string down to the spiral binding of a notebook. You can also use it as a key holder or a strap.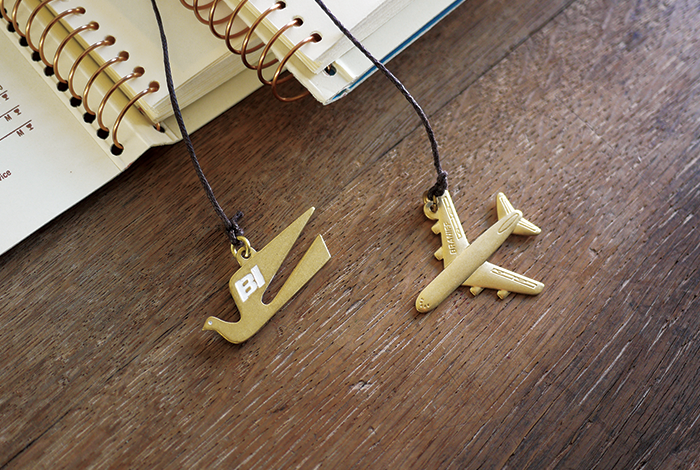 チャーム ブラニフ バード柄 900円+税、チャーム ブラニフ 飛行機柄 900円+税
BRAINFF CHARM Bird, BRAINFF CHARM Airplane
BRANIFF STAMP
ブラニフの機体とブラニフバードをデザインしたスタンプです。タイトルや日付、名前が記入できるブランクスペースがありますので、ノートに押してタイトルを記入したり、手紙に押して名前や日付を記入したりして、カスタマイズをしてみてください。
"Stamp" features a Braniff aircraft and Braniff Bird. In the blank space, you can write down a title, date, name, etc., to make your customization easier. For instance, you can place a "Stamp" on your notebook and write the title in the space. Or place a "Stamp" on a letter, and write your name or date there.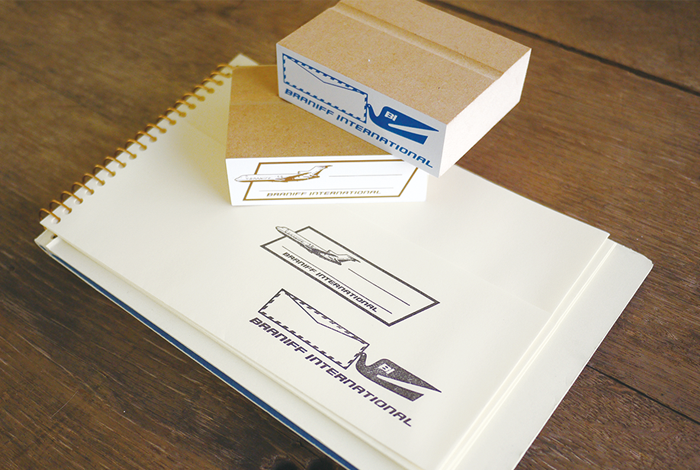 スタンプ ブラニフ 飛行機フレーム柄、スタンプ ブラニフ エアメールフレーム柄 各1,200円+税
BRANIFF STAMP , Airplane Frame
---
※「TRAVELER'S COMPANY」および「トラベラーズノート」は株式会社デザインフィルの登録商標です。
*"TRAVELER'S COMPANY", "TRAVELER'S notebook" and "TRAVELER'S FACTORY" are trademarks of Designphil Inc.