BACK TO LIST
PAPELERÍA DEBOD
(Madrid, Spain)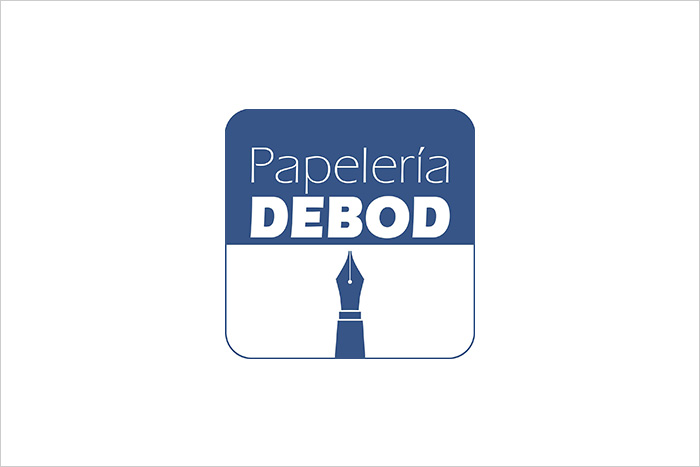 Papeleria Debodは、マドリードの観光名所の一つ、デボド聖堂の目の前にある文具専門店です。マドリッドの中心地に位置し、マドリード王宮やアルムデナ大聖堂もすぐ近くにあります。ふらっと立ち寄る観光客から、地元の文具好き、わざわざ遠くから来てくれる人まで様々なお客様が足を運んでくれますが、みんな店舗の隅々まで楽しんでくれます。定番から、他ではなかなか手に入らない珍しいステーショナリーも取り扱っているので、マドリードを旅する時は、ぜひ足を運んでみてください。
トラベラーズノートを扱うきっかけは、まだトラベラーズカンパニーがミドリブランドだった頃、常連のお客さんが教えてもらったとのこと。その後、トラベラーズカンパニーのスペインのパートナーのMUYと展示会で出会い、取り扱いが始まりました。どの商品もお客さんからも大変好評いただいているそうです。
"Papelería Debod" is located in a very particular environment, close to the Royal Palace, the Almudena Cathedral, and just in front of the "Temple of Debod".
The customer of Papelería Debod goes from the occasional tourist, the native passionate about stationery, as well as people who prepare their visit, especially to tour all corners of the store and enjoy the different items we select for them, because one of our main objectives is to offer our customers products that are difficult to find in Madrid and thus distinguish us from other stores in our sector.
The shop owner met TRAVELER'S notebook when it was known as "Midori", and it was the customers that made me investigate it. The distribution in Spain was a bit complicated, and I was constantly facing walls and dead ends until the "MUY" team showed up. They have been for me from the beginning a bunch of opportunities and facilities to be able to offer a large part of those "different" items that our customers like so much.
---
STORE LOCATOR
---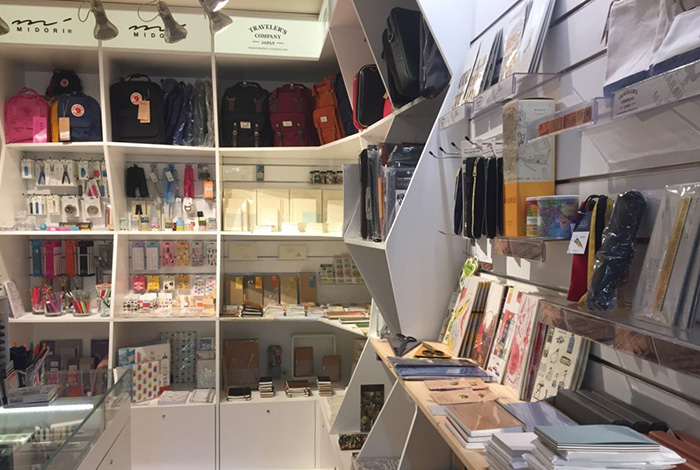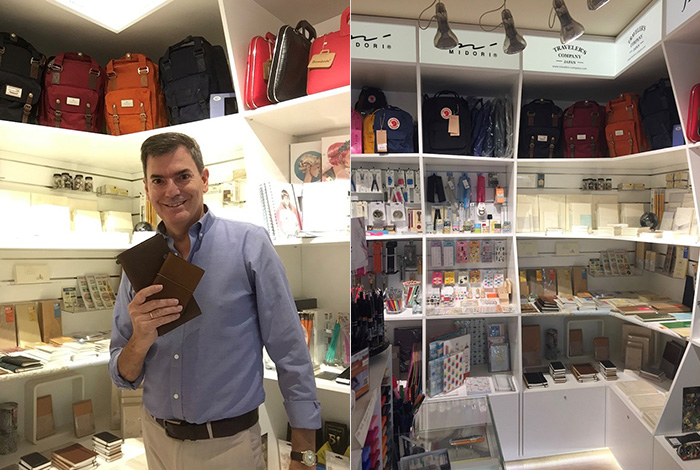 ---
Collect TRC PARTNER SHOPS Original Stamps!
店舗限定のオリジナルスタンプをご用意しています。パートナーショップを訪れた旅の証として、ぜひ皆さんのトラベラーズノートにスタンプを押してみてください。
Original stamps exclusive to our Partner Shops are available. We hope you will stamp your TRAVELER'S notebook as a proof of your trip to our Partner Shops.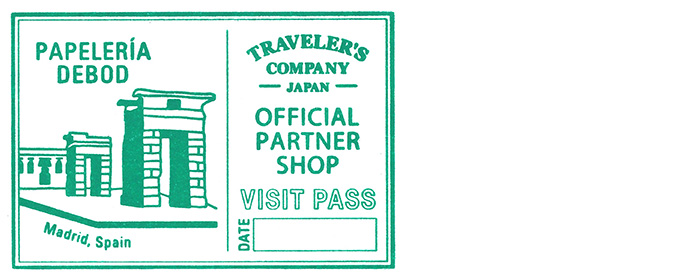 ショップのすぐ目の前にある、マドリードの観光スポットのひとつデボー聖堂をモチーフにデザインしました。デボー聖堂は夕焼けとともに眺めるのがおすすめです。
The design was inspired by the Temple of Debod, one of Madrid's most popular tourist attractions, which is located right in front of the store. The Temple of Debod is best viewed during sunset.
---
Recommended Spots from The Shop Owner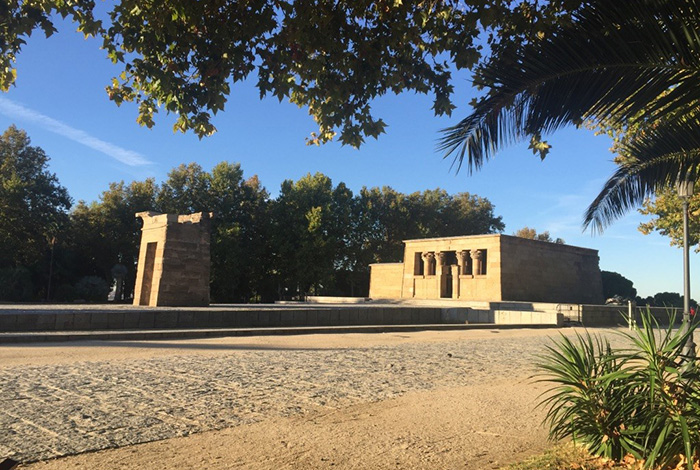 Temple of Debod gardens (Garden / 庭園)
デボド聖堂の庭園は、店主のお気に入りの場所のひとつ。とてもリラックスできて、想像が膨らむ場所でもあります。特に夕暮れ時がおすすめ。都会の一角にも関わらず、きっと今まで見たことがないような美しい夕日を見ることができるはずです。
This is one of my favorite places to relax and let my imagination roll out. Take a walk through the "Temple of Debod", late in the afternoon, and you will enjoy one of the best urban sunsets you'll ever see.
Temple of Debod gardens
CALLE FERRAZ, 1 28008 Madrid
---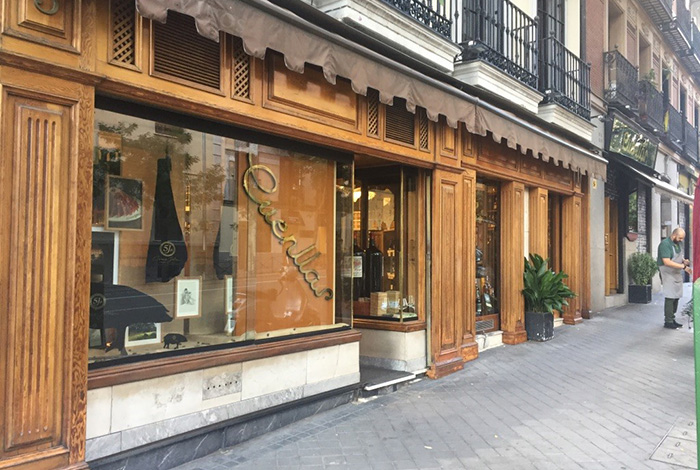 Cuenillas (Restaurant/bar / レストラン・バー)
Papeleria Debodのすぐ近くにある、100年以上続く伝統的なレストランCUENLLASもおすすめ。最高のワインに、世界中から集めた魅惑のチーズのコレクション、繊細なスペインの生ハムバターなどを愉しむことができます。
Very close to PAPELERÍA DEBOD there is a place with a special "flavor". Cuenllas is a gourmet place where you can find the best wines, an impressive selection of cheeses from around the world, exquisite Iberian hams, and butter products that hide behind the corners of this 100 years old store.
---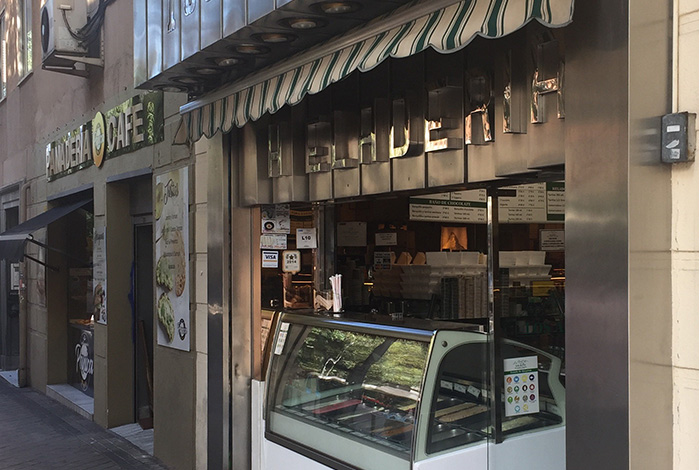 Los Alpes (Ice-cream parlor / アイスクリームパーラー)
私が幼いころから通っている、思い入れのあるアイスクリーム屋です。人生をアイスクリーム作りに捧げてきたような家族が運営し、多くの賞も獲得しています。常に新しいフレーバーにチャレンジするなど、アイスクリーム界のトップランナーであり続けています。さまざまなフレーバーのアイスクリームとともに、オルチャ―タ(キハマスゲの地下茎の絞り汁に水、砂糖や蜂蜜を加えたスペインの飲料)もマドリードで一番の味。
This ice cream shop means a lot to me because I know them since I was a child. The shop is run by a family of artisan ice cream makers of a lifetime and has been countlessly awarded. They have always wanted to be at the forefront of their sector through innovation. They make ice cream of all kinds of flavors, and their chufa horchata is also recognized as one of the best in Madrid.
---
※「TRAVELER'S COMPANY」および「トラベラーズノート」は株式会社デザインフィルの登録商標です。
*"TRAVELER'S COMPANY", "TRAVELER'S notebook" and "TRAVELER'S FACTORY" are trademarks of Designphil Inc.